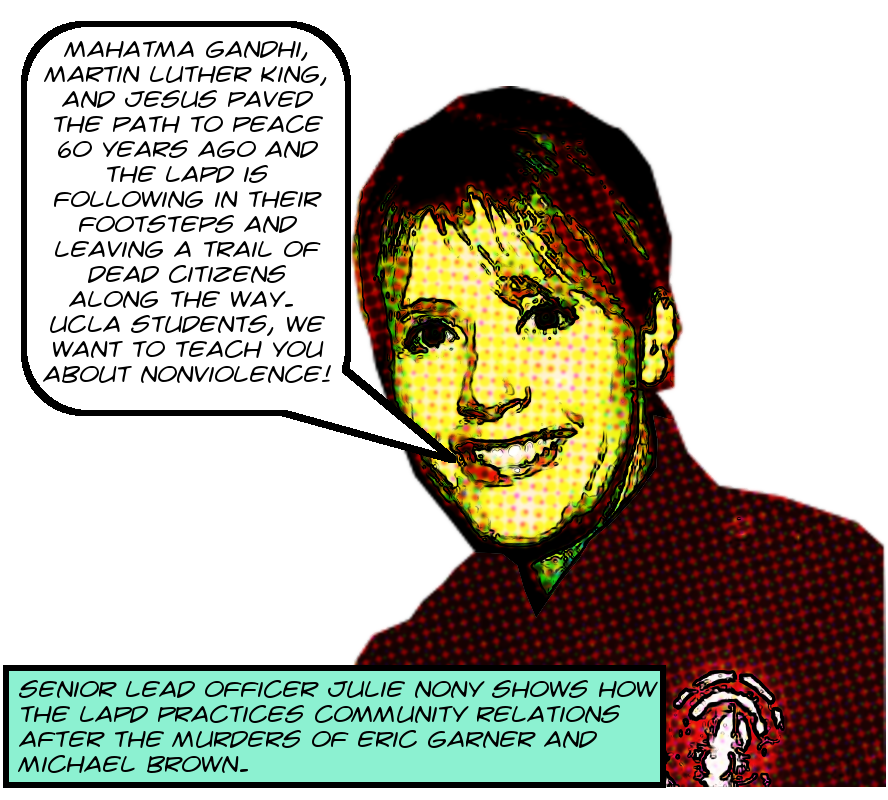 As you're probably aware I have been trying to understand the situation with the Westwood Village BID and the Westwood Neighborhood Council and all them uppity UCLA students who want more bars open more hours.1 But, as you're probably also aware, Westwood Village BID Boss BIDdie Andrew Lloyd Thomas, probably under the reeking influence of his lawyer, the ballistic barrister of Burbank, which is to say Carol Freaking Humiston, is really, really less than forthcoming with public records.2
One useful strategy for combating the kind of rabid knee-jerk obstructionism practiced by Carol Humiston's zombie clients is to request records involving them from every possible agency that might have any. This may give access to the records more quickly.3 It's also possible that this strategy will reveal interesting but hitherto unsuspected issues.
And that's exactly what happened when I hit up UCLA for emails between their campus coppers and the WVBID. I threw in LAPD for good measure because LAPD is always interesting, and I got a small pile of emails, which you can find here on Archive.Org. Surprisingly, there were a bunch of emails between an old frenemy of this blog, Senior Lead Officer Julie Nony, a UCPD cop name of Kevin Kilgore, and a bunch of random undergraduate student government types.4
The short version is that Julie Nony was trying to get the students to host some blabbermouth jive known as Days of Dialogue and she was surprised that students were dragging their feet about it because everyone knows they're a bunch of damn bomb throwing radical firebrands who would totally be interested in sitting down with some cops and having a conversation like this:
Non-cops: Hey, we're scared you're going to kill us when we're just walking to the corner to buy milk.
Cops: I hear what you're saying which is that you're scared we're going to kill you when you're just walking to the corner to buy some milk.
????
World Peace!!
Turn the page for the long version and transcriptions of the relevant emails.
Continue reading Senior Lead LAPD Officer Julie Nony Says LAPD Continues Along The Path To Peace Paved 60 Years Ago By Ghandi [sic] And MLK — Senior Lead LAPD Officer Julie Nony Is Surprised That UCLA Students Drag Feet With Respect To Hosting Cop Discussion Group Because "This Seems Unusual For A School That Usually Participates In Protests" — Evidently Senior Lead LAPD Officer Julie Nony Is Now Assigned To The "Community Relationship Division" Of The LAPD Trying To Head Off Riots Before They Begin — TLDR: Senior Lead LAPD Officer Julie Nony Is A Lizard-Loving Moron →