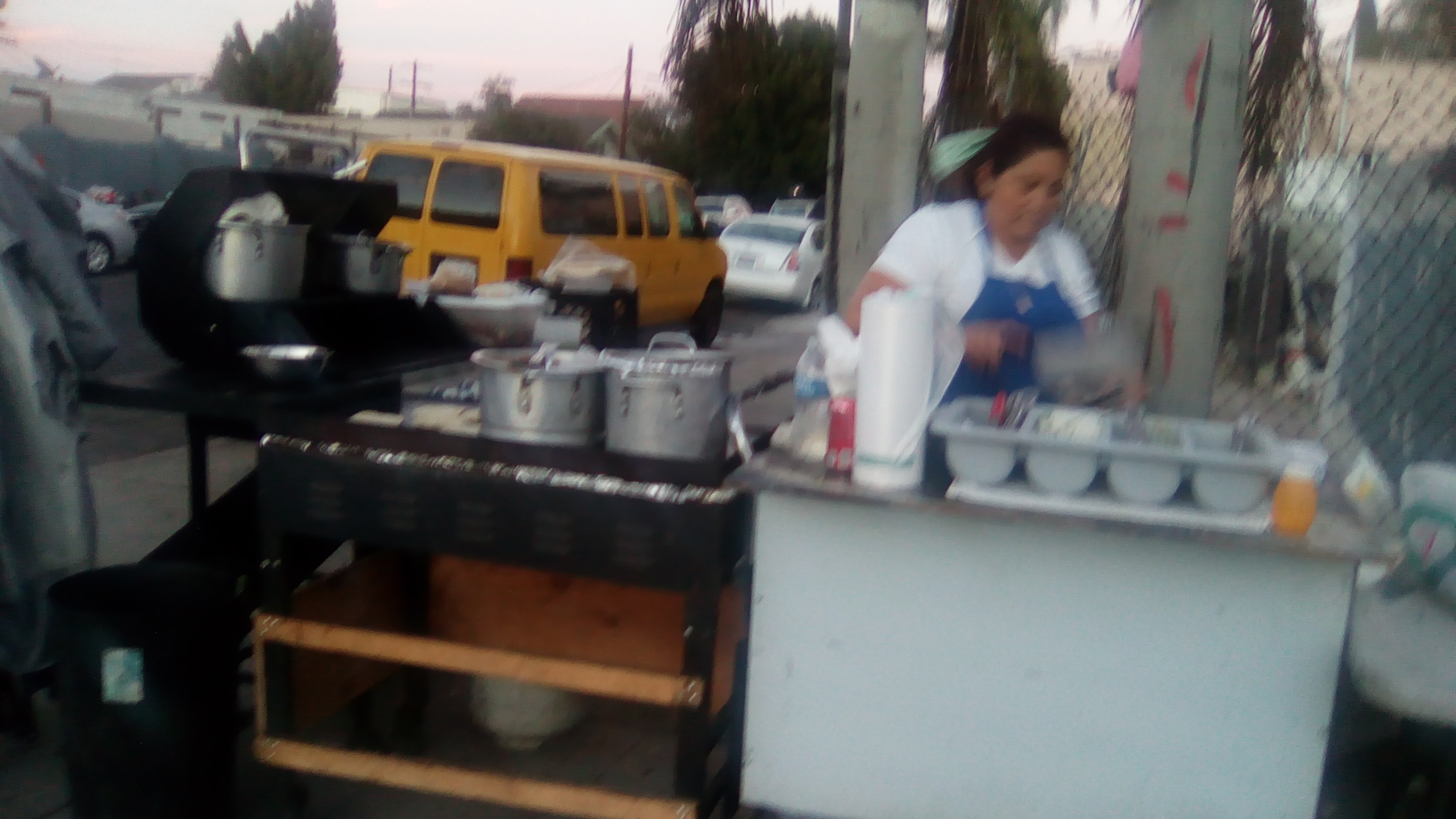 As you know the City of Los Angeles has been arguing over how to regulate street vending for pretty much forever now, with business improvement districts and chambers of commerce and other such-like weaponized implements of zillionaire-aligned white supremacy using every last bit of their political juice to introduce all kinds of complex conditions like opt-in districts, opt-out districts, permission from business owners, limitations on number of vendors per block, immediate confiscation of equipment, fees paid to BIDs, and on and on and on, all obviously designed for the sole purpose of continuing the wholesale arrest of street vendors.
But as I'm sure you also know just last week governor Jerry Brown signed Ricardo Lara's Safe Street Vending Bill into law, severely limiting the power of cities to regulate vending. This bill has been working its way through the legislature since January 2018 and was well known to have an excellent chance of becoming law, and obviously voids pretty much every single feature of the City's proposals, and yet nevertheless the City Council didn't even start thinking about it officially until August.
But oh, they do have to think about it now. If the City doesn't have an actual regulatory ordinance in place by January 1, 2019 they won't have the power to regulate vendors at all. This, I guess, was enough to move them to action, and therefore this morning Councilmembers Curren Price And José Huizar introduced a motion in Council instructing the City Attorney to draft an ordinance that would comply with SB-946. The whole deal is memorialized in Council File 13-1493-S5.
And the BIDdies don't have any leverage over this ordinance because state law compels all the essential features. This is a huge blow for our City's business improvement districts and other nasty, selfish opponents of vending, and a huge win for humanity. We're going to see some snakey creepy nasty rhetoric from the BIDs over this, you wait and see! Turn the page for the complete text of Price and Huizar's motion.


MOTION
ECONOMIC DEVELOPMENT
On April 17,2018, the Los Angeles City Council adopted rules and regulations for the establishment of a Sidewalk Vending Program (C.F. 13-1493). To further strengthen its intent, the City Council requested the City Attorney to prepare a draft ordinance with the goal of establishing a permit process by January 1, 2019. This was the culmination of a robust Citywide community engagement process which took into account the insight of community stakeholders such as sidewalk vendors, community advocates, business owners, business associations and health and public safety experts. These health and safety regulations included compliance with the American Disabilities Act (ADA), the California Food Retail Code and mechanisms to address concerns related to traffic and pedestrian congestion. The City Attorney transmitted a proposed ordinance on July 2, 2018 (C.F. 13-1493).
The City of Los Angeles embraces sidewalk vending through a regulated program that will enrich the City's streetscape by creating a vibrant marketplace, encourage entrepreneurship, and provide economic opportunity' for families.
On September 17, 2018, Governor Brown signed Senate Bill 946 (Lara) w'hich allows sidewalk vending to occur and establishes guidelines and requirements for cities who wish to regulate vendors. The bill also authorizes cities to develop additional regulations for sidewalks and parks based on health, safety and welfare concerns. Lastly, the bill becomes effective on January 1,2019 and the City will need to have an adopted program prior to this date in order to enforce local regulations on vending on any sidewalks and in any parks.
To ensure that the City's program is aligned with SB 946 and reflects the intent of the Council, it is imperative that City staff be requested to review the provisions of the bill, prepare a new ordinance and develop revised rules and regulations consistent with State law.
I THEREFORE MOVE that the City Council request the City Attorney, with the assistance of the CLA, to:
1) Draft a new' Sidewalk Vending Ordinance consistent with SB 946, including provisions related to parks.
2) Revise the draft ordinance to remove sections related to rules and regulations (these will be part of a separate document to be submitted by the Bureau of Street Services and approved by Council), including but not limited to:
a. Section 42.13 C – Duties and Responsibilities of the Vending Service Provider
b. Section 42.13 E – Vending Licenses and Permits
c. Section 42.13 F – Additional Operating Requirements
d. Section 42.13 G – Placement of Stationary or Mobile Carts
e. Section 42,13 I – Other Provisions
3) Include any other necessary revisions to current provisions of the Administrative Code and/or Municipal Code to ensure consistency with State law.
4) Present the revised Sidewalk Vending Ordinance to the Economic Development Committee on October 9, 2018, or as scheduled by the Chair of the Economic Development Committee.
I FURTHER MOVE that the City' Council instruct the Board of Public Works, Bureau of Street Services, with the assistance of the CLA and any other necessary' department, to review SB 946 and submit to Council for approval, revised Rules and Regulations consistent with the intent of the Council and in compliance with State law.
PRESENTED BY
CURREN D. PRICE
SECONDED BY
JOSE HUIZAR

Image of taco stand near Vermont and Vernon is ©2018 MichaelKohlhaas.Org.