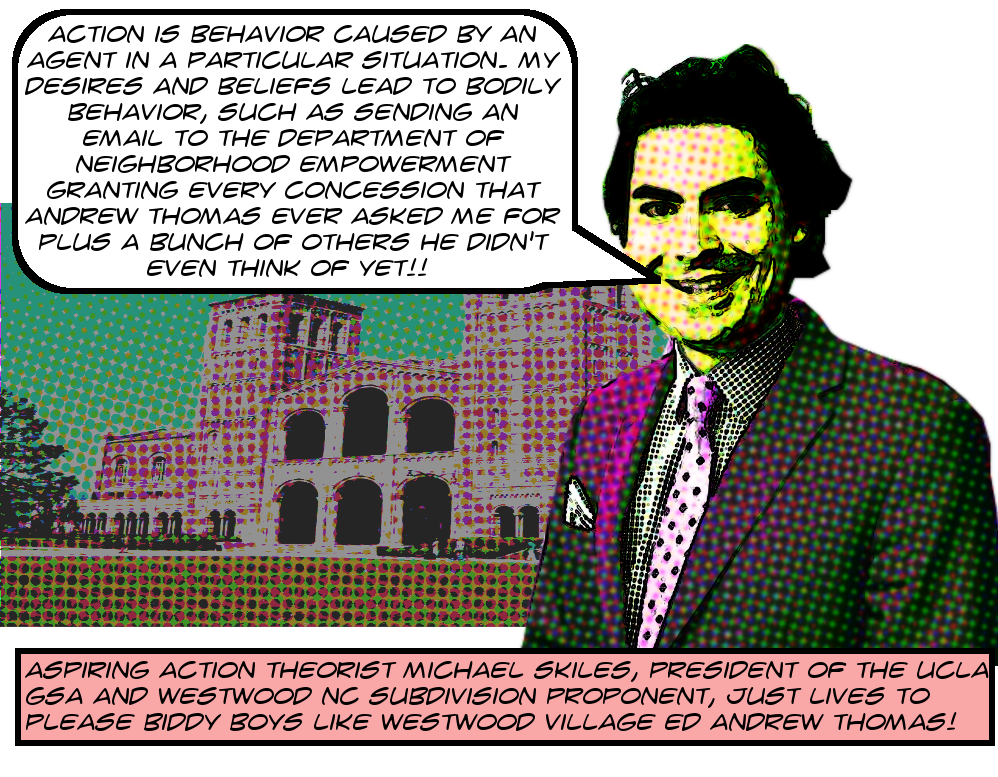 Maybe you heard about the movement to subdivide the Westwood Neighborhood Council and form the North Westwood Neighborhood Council. This subdivision was led by UCLA students calling themselves Westwood Forward, with incipient philosopher Michael Skiles, whose academic specialty is, of all things, action theory, at the helm. The City held an election in May and the subdivision was approved.
However, unlike the heartrending pain created by the sinister schemings of zillionaires in Skid Row and environs last year, the local Westwood zillionaires were all eleventy jillion percent in favor of this particular subdivision. The reason seems to be a widely shared perception that students will be much more in favor of building more residential megaplexes and handing out more liquor licenses than the mostly über-füddy-düddy single family house dwellers on the regular Westwood NC have proved to be over the last few decades.1
Knowing all this, it occurred to me in March 2018 that the Westwood Village BID might be involved in this whole subdivision thing and, with that in mind, I fired off a CPRA request to them asking for the goodies. After many painful months of lawyers, recriminations, stupidity, frustration, and whatever,2 Andrew Thomas, the BID's ickety-skickety executive director finally coughed up some small percentage of the records to which I'm entitled.
Check out the whole collection here on Archive.Org. In particular, though, for tonight's sermon, take a look at this little gem (of which there is a transcription after the break), which reveals Andrew Thomas as the puppet master pulling the strings that make Michael Skiles dance. And the tune he's dancing to is, you'll not be surprised to learn, all about more seats for zillionaires on the new neighborhood council's board of directors. And Michael Skiles not only dances to the tune, but he dances like he likes dancing! He'll go far in academia, friends.
Continue reading One Outcome Of The Unholy Alliance Between North Westwood Neighborhood Council Subdivision Advocate Michael Skiles And Icky-Skicky Biddy-Boy Andrew Thomas Was That Skiles Changed The Bylaws To Give Zillionaires Even More Representation Just Cause Thomas Asked Him To — Which Might Be The Kind Of Thing That Andrew Thomas Wants To Cover Up Via His Myriad Surreal CPRA Violations — Although That Relies On Dubious Assumption That The Guy Feels Shame →