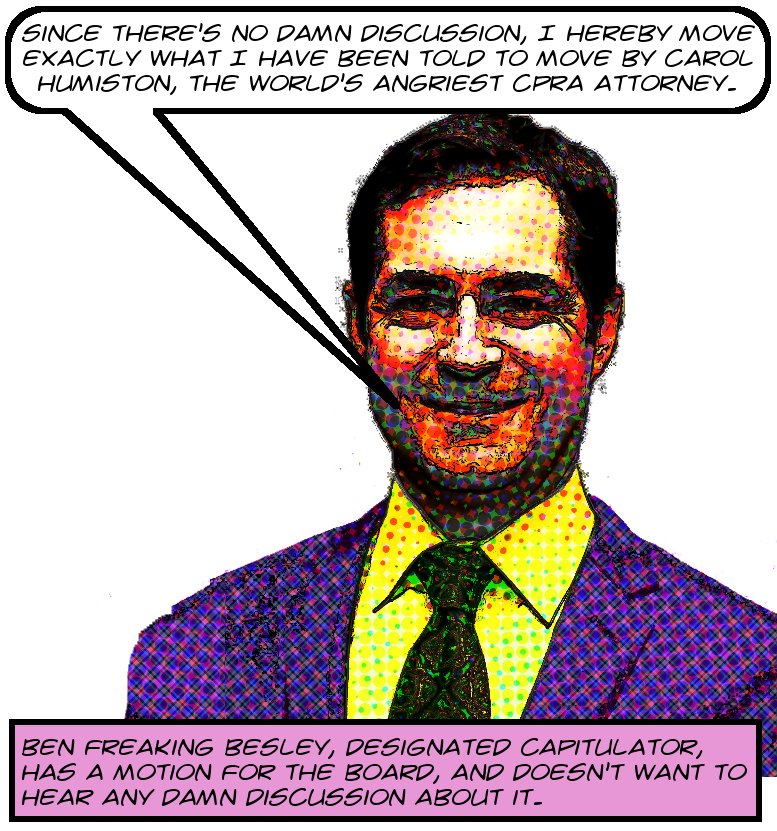 Ah, the Studio City Business Improvement District! As you may recall, a few weeks ago I sent them a demand letter insisting that they stop violating the damn Brown Act by requiring ID to get into their meetings, by not describing their closed session business adequately, by failing to reconvene in open session after a closed session, and by discussing issues by email outside of an open meeting. You can read the actual letter here if you are so inclined.
This project is based on the Brown Act at §54960.2, which allows the BID to avoid litigation by issuing an unconditional commitment never again to violate the particular sections of the law in contention.1 One of the interesting aspects of this section is that it requires the BID to approve the sending of the letter in an open session of a publicly noticed meeting,2 and that's just what the BID did yesterday! You can watch a video of the whole meeting, all eleven minutes of it, here on YouTube or if you prefer here on Archive.Org.
I don't have an actual letter from the BID in hand yet, so I'm going to refrain from commenting on or speculating about what it's going to contain. You can watch Ben Besley make the motion here and he goes on to describe what the letter will be about. Also watch Mike Sitkin ask for clarification and then watch as Dr. John Walker Ph.D. explains everything exactly wrong!
This bit is worth transcribing, and you can find not only that, but a bunch of other interesting stuff after the break! Not least is the episode where after the Board votes to commit to not violating the Brown Act in those specific ways in the future, they go ahead and violate it in a whole new way! Gonna send them another letter quite soon! After I have this one in the bag, that is.
Continue reading Studio City BID Holds Special Board Meeting — Capitulates To Demand Letter — Votes 7 to 1 To Issue Unconditional Commitment To Stop Violating The Freaking Brown Act — Hires Bradley & Freaking Gmelich At $400 Per Hour To Advise And Write Response For Them — Ben Besley Reads The Motion Like A Robot — Michael Sitkin Then Proceeds To Violate The Brown Act In A Whole New Way — Watch For New Demand Letter Coming Soonish! →