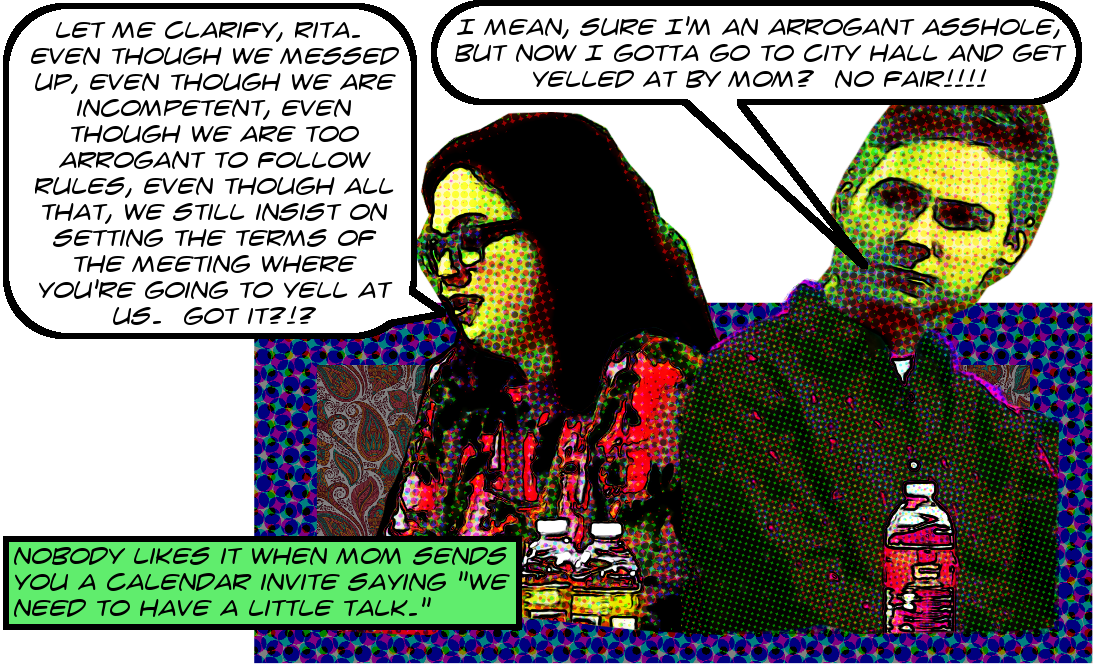 A bunch of new documents for you this morning, friends! You can look through the whole pile of them here on Archive.Org, and read on for some selected gems!
First of all, recall that the Venice Beach BID is being required by the City to refund most of the money collected from property owners in 2017 because they were too damn arrogant and/or incompetent to actually do anything other than pay themselves salaries with the almost two million dollars the City handed over to them.1
You can read this copy of the letter to property owners along with instructions for filling out the necessary affadavit. This was scheduled to be sent out on May 11. What's more interesting, though, is this email exchange from May 8 between Tara Devine and Rita Moreno about when this letter was to be sent. First Rita Moreno emailed Tara Devine at 3:20 p.m. and said:

Hi Tara,
For your information, attached is the notice and instructions that will be mailed out on Friday. Also included will be the actual Affidavit and the return envelope.
Let me know if you have any questions.
Rita

A mere seven minutes later2 the shadowy one fired off this intemperate reply:

Thank you. To clarify, we want to sit down before anything is mailed . It is important that we understand the entire process.
I'm working now to schedule something as early as possible next week. (Monday is launch, so it can't be Monday.)

Amazingly, Tara Devine does not seem to understand that she's not in charge of this situation. She and her BIDdies out in Venice have messed up far, far beyond what's acceptable to the City, and it takes an awful lot to get to that point. She does not have the leverage to set terms. Which is essentially what Rita Moreno said to her in reply.
Turn the page to read that reply as well as the story of Tara Devine and Steve Heumann's May 18 meeting at City Hall with a bunch of angry City officials and the story of how as of this Wednesday, May 23, Tara Devine still hasn't gotten that damn annual planning report in!
Continue reading Last Friday, May 18, Devine And Heumann Got Called On The Carpet At City Hall To Get Yelled At By Wolcott, Hoppes, Moreno, Bazley, And Possibly Molnar! — We Have A Copy Of The Refund Affadavit Letter Being Sent To VBBID Property Owners! — As Of This Wednesday, May 23, Tara Devine Still Hadn't Submitted The Freaking Annual Planning Report — Moreno Coming At Her All Salty! — And Rightly So! →