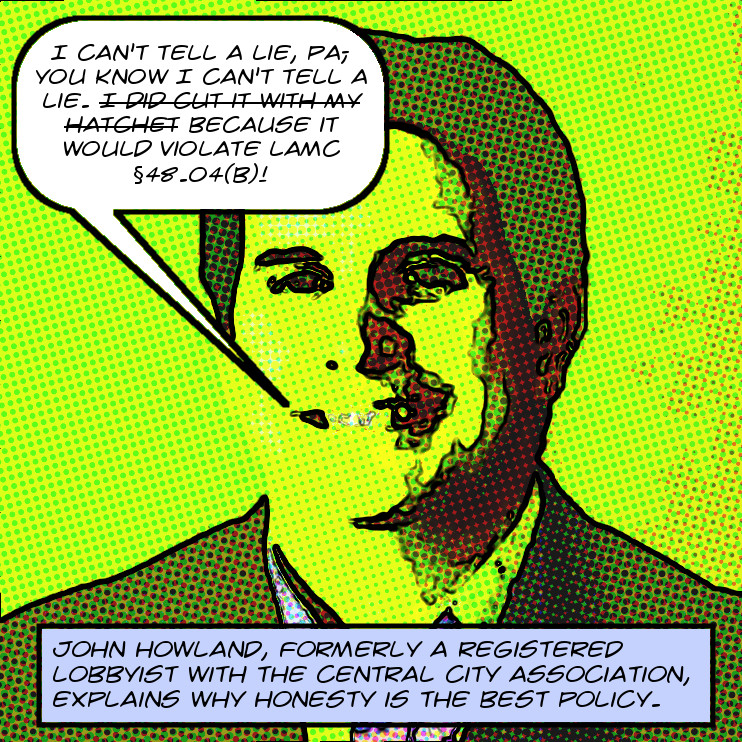 Background: You can read my previous stories on the Skid Row Neighborhood Council formation effort and also see Gale Holland's article in the Times for a more balanced perspective.
As you may recall, I've been tracking the illegal lobbying carried out by and on behalf of various shady downtown zillionaires with the support and connivance of the staff of various downtown business improvement districts in opposition to the Skid Row Neighborhood Council formation effort. As part of their creepy conspiracy, the usual motley crew of zillionaires and zillionaire-identified-groupies showed up at the March 20, 2017 meeting of the Board of Neighborhood Commissioners (affectionately known as BONC) to speak what passes for their minds in zillionairelandia.
In the ordinary course of events, BONC posts audio of their meetings on the open internet, but, for whatever reason, when I took a look a few weeks ago, the March 20 meeting did not appear. After a few weeks worth of pleasant emails with various City employees, though, the audio has now been posted. I also published it on Archive.Org along with a copy of the minutes so you can follow along if you wish.
There's a lot of interesting stuff in there, some of it inspiring, most of it horrifying in that special spine-tingly manner that glimpses into the seething caucasian-hot liquid id-core of the local politics of resentment are wont to horrify. I plan to write occasionally on episodes from this meeting, as the mood strikes, and today's story concerns comments by Scott Gray and Debbie Welsch of shadowy zillionaire real estate conspiracy Capital Foresight,1 and shadowy lobbyist-to-the-zillionaires, John Howland.2
The gist of the matter is this, though. Debbie Welsch and Scott Gray told lie after lie, some of them beyond surreal in their fundamental disconnect with reality. On the other hand, John Howland, who at the time of the meeting was employed as a registered lobbyist with CCA, mostly, although he is quite an evil fellow indeed, told the truth. This is arguably less due to his inherent honesty than it is to the fact that registered lobbyists are required to sign a form upon registration acknowledging that they are aware of LAMC §48.04(B), which states that:

No lobbyist or lobbying firm subject to the requirements of the Article shall…[f]raudulently deceive or attempt to deceive any City official with regard to any material fact pertinent to any pending or proposed municipal legislation.

Anyway, after the break you will find embedded audio and transcriptions of the comments of all three of these dimwits, along with as much detailed mockery as I was able to type before I had to run off to the loo to eat lunch backwards​.
Continue reading Tales From The BONC-Side Part 1: In Which Scott Gray And Debbie Welsch Of Capital Foresight Reveal Themselves As Whiny Ignorant Little Liars And John Howland, Formerly Of The Central City Association, Reveals That He May Be Whiny, He May Be Ignorant, He May Be Little, But He's Not A Liar, At Least Not When He Would Violate LAMC §48.04(B) By Lying →