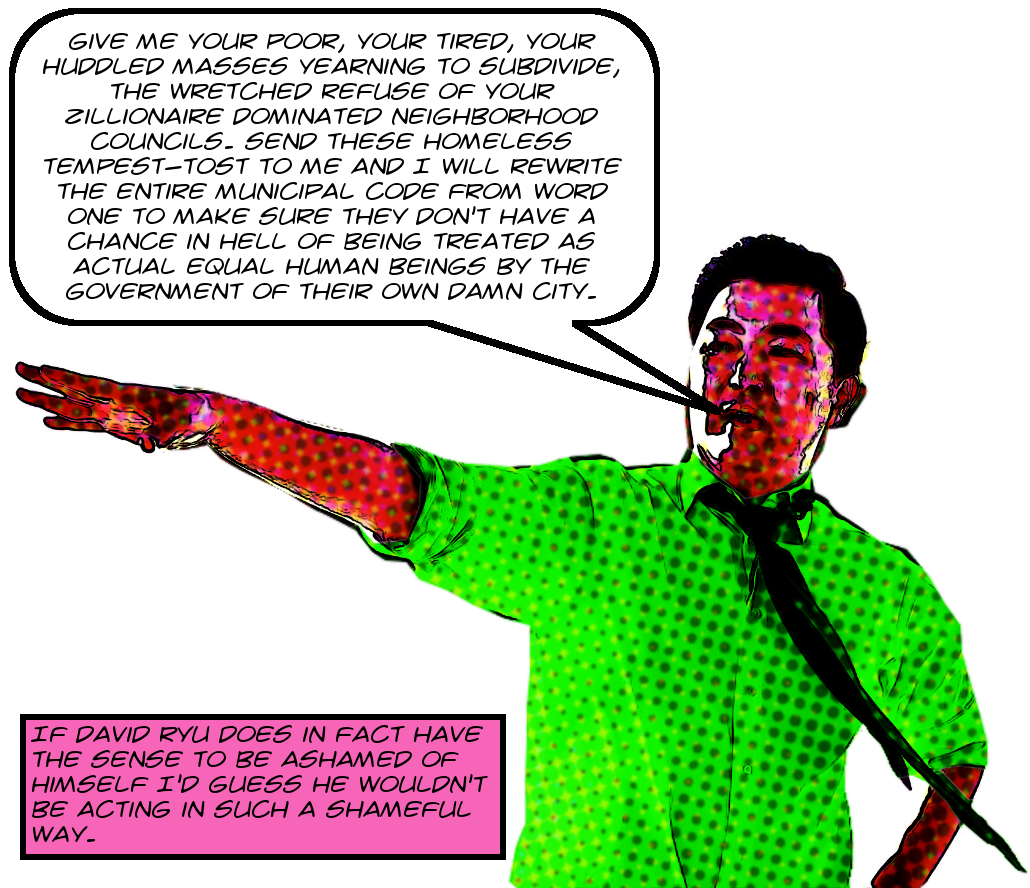 After yesterday's debacle at the Budget and Finance committee where Jose Huizar and David Ryu's turd1 of a motion funding an online voting pilot in neighborhood council elections next year passed even though all four members present said explicitly and at great length that they hated it2 I guess I wasn't expecting any kind of sanity to prevail in the fraught arena of neighborhood council politics.
And this morning's crop of email much more than confirmed that dark prediction. Included there in the usual packet of motions filed in Council, there amongst the usual inconsequential nonsense like attempts to outlaw parking RVs on another two blocks in Venice and whatnot appeared this tyrannical slab of class warfare by formerly sane3 councilmember David Ryu.
This motion is memorialized in CF 12-1681-S3 if you want to follow it, and you should.There's a complete transcription after the break, and here are a few of the more egregious proposals:
✰ Subdivision elections would be held only every four years starting in 2022.
✰ There would only be three subdivision elections allowed in each cycle.
✰ If more than three apply in a given election year only the three largest by population would have elections. This means that as long as there are three larger every four years, some neighborhoods could never hold an election whether or not they met all the other criteria.
✰ Required mediation with existing neighborhood councils before a subdivision election could proceed.
Oh, and for the record, the reason David Ryu thinks we need this putatively reformist crapola is because the five subdivision elections already held " have generated unnecessary discord in neighborhoods." The fact that he thinks this is a bad thing is very revealing. What are we, children who must be kept calm by our parents? Is it ever a bad time to quote Fredrick Douglass?4
It's no coincidence that any one of the proposals would have killed the Skid Row Neighborhood Council Subdivision in its cradle before it even got to an election. Of course the city's zillionaires would have greatly preferred this because it would have prevented their exposure as evil puppetmasters. Almost every law we have has been adjusted, tweaked, and refined to give zillionaires full control over everyone else without having to expose themselves.
The SRNC debacle was a rare exception, not in the sense that the zillionaires lost the battle. At least for now they won it. But because they had to expose the ways in which they wield their power and win every battle. If this motion Ryu's proposing takes effect that'll never happen again.5 Turn the page for a transcription.
Continue reading David Ryu Introduces Motion In Council This Morning Seeking To Completely Reform Neighborhood Council Subdivision Process — Only Three Subdivision Elections Would Be Allowed Every Four Years — Starting In 2022 — Ten Thousand Minimum Stakeholders Per Subdivided NC — Failed Subdivisions Could Only Try Again After A Minimum Twelve Year Wait And Retry Is Not Guaranteed — Some Proposed Subdivisions May Never Get An Election Just Because Others Are Larger — Mandatory Pre-Subdivision Mediation With DONE — ICK! →