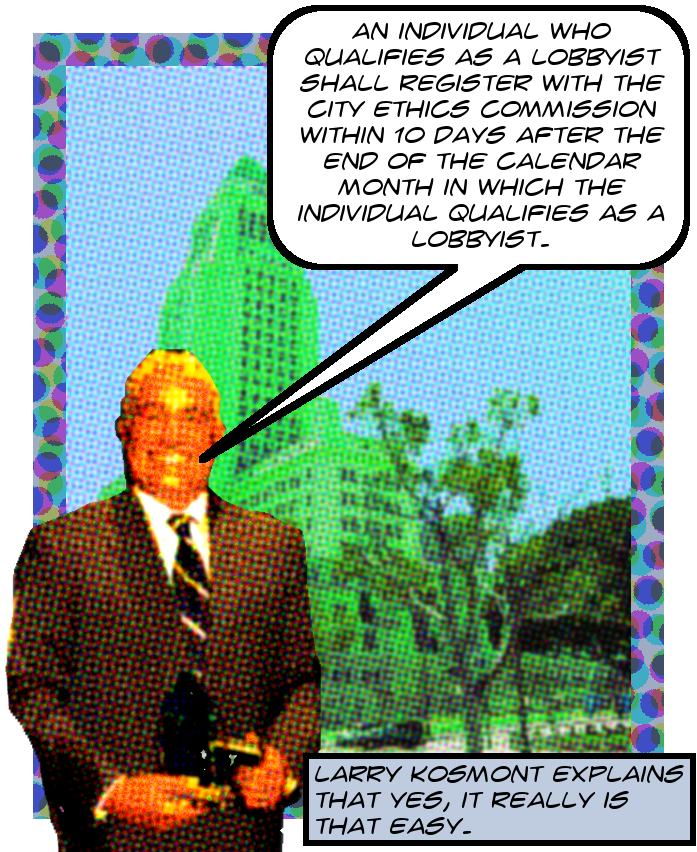 It's a long term project of mine to turn in as many BID consultants as possible to the City Ethics Commission for failing to register as lobbyists. So far, though, I've only managed to report Tara Devine for her work on the Venice Beach BID because the work is so involved. Such a report has two essential components:
An argument that BID consultancy satisfies the definition of lobbying activity found in the the Municipal Lobbying Ordinance at LAMC §48.02.
An argument that a specific BID consultant was paid for sufficiently many hours over sufficiently few months to trigger the registration requirement found in the MLO at LAMC §48.07(A).
It occurred to me recently that the first argument will be the same for all BID consultants, and that therefore it would be possible to streamline the reporting process by writing it up in a generic format that would apply to any given BID consultant. So that's what I did, and you can read the result here. I will be using this to make a number of complaints against BID consultants in the near future, which I will report on here.
Meanwhile, if you have no idea what I'm talking about, you can find explanations of everything after the break, along with a fairly detailed summary of the argument that BID consultancy qualifies as lobbying under the MLO.
Continue reading In Which I Present A General Argument That BID Consultancy Is Lobbying Activity In Order To Simplify And Regularize The Process Of Reporting BID Consultants To The Ethics Commission For Failure To Register →