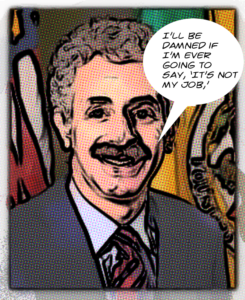 If you want to skip the explaining and go straight to
the complaint, here it is
.
Friends, take a look at the exceedingly fascinating LAMC § 48.04(B). This lovely little slab of ethicalliciousness illegalizes any occasion when a lobbyist might:

Fraudulently deceive or attempt to deceive any City official with regard to any material fact pertinent to any pending or proposed municipal legislation.

And of course, you recall what a lobbyist is, it's a technical term in this setting.1 Lobbyists are defined in LAMC §48.02 to be:

any individual who is compensated to spend 30 or more hours in any consecutive three-month period engaged in lobbying activities which include at least one direct communication with a City official or employee, conducted either personally or through agents, for the purpose of attempting to influence municipal legislation on behalf of any person.

Well, as you may recall, I spent the last two months assembling a highly detailed argument that Tara Devine met this definition. If that's right, and I certainly think that it is, she's also forbidden from fraudulently deceiving Mike Bonin, e.g., about material facts in regard to the formation of the Venice Beach BID which, as I'm sure you know, requires legislation for the BID to be brought into existence.
The argument is that she got everyone to believe that it was required under state law to include commercially zoned properties in the BID, even though not only is this not true, not only did she know it was not true, but her having convinced everyone of this led to more properties being in the BID, which increased the amount of money under the control of her clients, the Venice Beach Property Owners Association. If you're still interested enough to follow me into the weeds, turn the page!
Continue reading How I Reported Shadowy BID Consultant Tara Devine To Los Angeles City Attorney Mike Feuer For Knowingly And Fraudently Deceiving Mike Bonin With Regard To A Material Fact Pertinent To The Establishment Of The Star-Crossed Venice Beach BID →