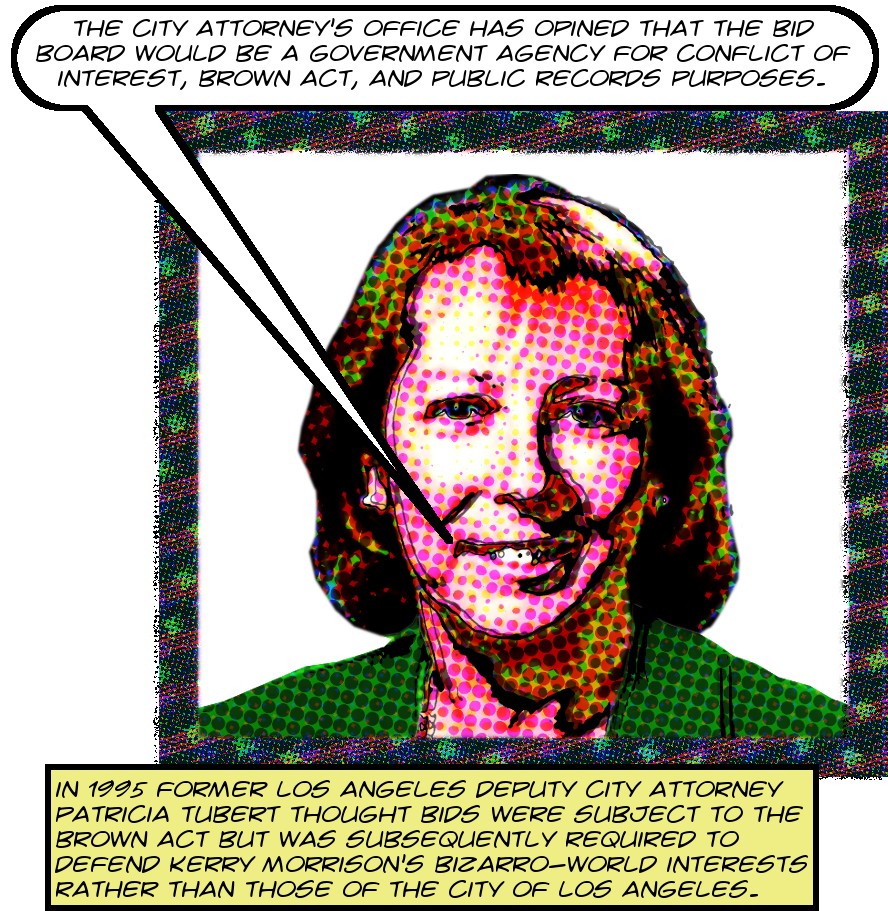 I've written many times about the monumental case Epstein v. Hollywood Entertainment District BID and will, I have no doubt, write about it many more times to come. The issue in 1998 was that Hollywood property owner Aaron Epstein thought that he ought to be able to attend BID meetings whereas executive director Kerry Morrison, then at the very dawn of her BIDdological career but as characteristically secretive as ever, refused to let him in to watch his money being spent.
He sued in 1999, claiming that the BID1 was required to comply with the Brown Act by virtue of §54952(c)(1)(A), which makes an entity of the following type subject to its transparency requirements:

A board, commission, committee, or other multimember body that governs a private corporation, limited liability company, or other entity that … [i]s created by the elected legislative body in order to exercise authority that may lawfully be delegated by the elected governing body to a private corporation, limited liability company, or other entity.

The case yielded a monumental opinion from the Court of Appeal, dripping with sarcasm and barely disguised contempt for the weak arguments of the defendants. It's worth reading in its entirety, or take a look here for selections. But for our purposes here it's enough to know that both the BID, driven by Ms. Kerry Morrison and her absolute disgust at the possibility of public oversight of her publicly funded activities, and the City of Los Angeles in the person of then-deputy-City-Attorney Patricia Tubert, argued vehemently that the BID was not in any way subject to the Brown Act.
So what a surprise it was, the other day, to obtain a copy of this 1995 report from the Los Angeles City Attorney, authored by none other than Patricia Tubert, which explicitly stated that in the opinion of the City Attorney BIDs were in fact subject to the Brown Act, exactly as the Court of Appeal ruled in 2001 over the City's objections. And attached to this report was a 1994 opinion issued by the Fair Political Practices Commission in response to an explicit request from none other than the Los Angeles City Attorney which reached precisely the same conclusion.
And not only that but both agencies agreed that BID board members are in fact public officials with respect to these laws and also subject to state prohibitions on conflicts of interest.2 So it's really a mystery now why in 1998 when Aaron Epstein wanted to attend BID meetings the City of Los Angeles didn't just tell Kerry Morrison and her infernal board of directors that they had to let him in. Why they spent three long and undoubtedly expensive years defending a position that they already knew to be wrong.
At this late date and because the attorney client privilege between the City and the City Attorney is doubtlessly implicated, we are probably never going to know for sure why they made the obviously wrong decision to defend an indefensible position. But if they were thinking about Kerry Morrison and her weirdo schemes back then like they are now, and why wouldn't they have been, they wouldn't have needed any more of a reason beyond Kerry Morrison's request. Shameful. And harmful. But not a surprise. Turn the page for selected transcriptions.
Continue reading In 1995 The City Attorney And The Fair Political Practices Commission Both Agreed That BIDs Were Government Agencies And Their Board Members Were Public Officials Subject To The Brown Act And The CPRA — So When Aaron Epstein Sued The City And The Hollywood BID In 1999 Why Did The City Take Kerry Morrison's Side Even Though They Already Knew Epstein Was Right? — Probably Yet Another Case Of Yielding To Her Every Damn Whim No Matter How Dire The Consequences — Ironically The Same Lawyer, Patricia Tubert, Argued Both Contradictory Sides Of The Dispute →