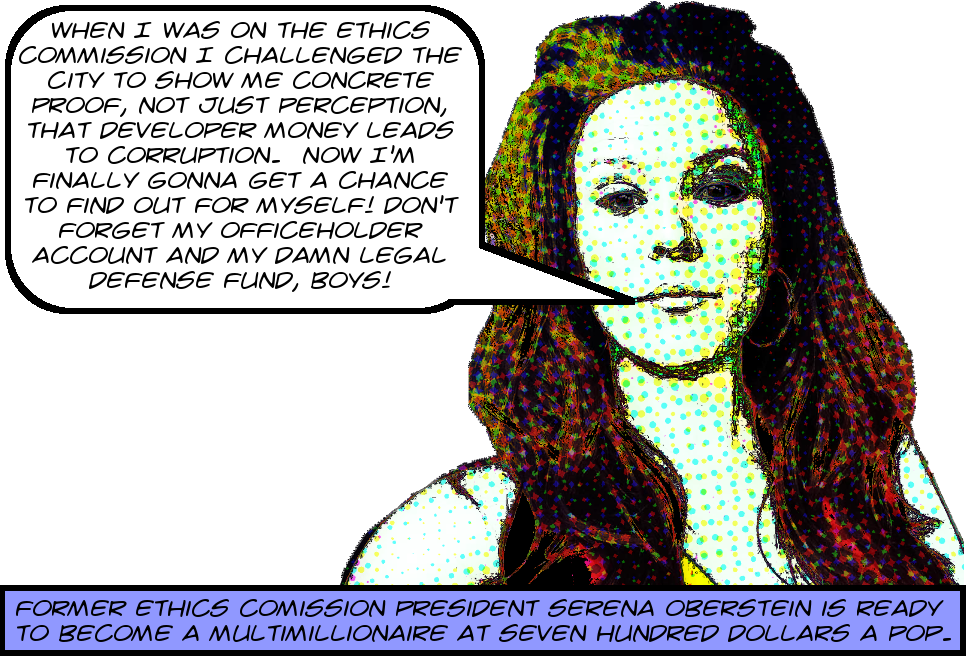 According to the incomparable Emily Alpert Reyes, worst-of-the-bunch Los Angeles City Ethics commissioner Serena Oberstein resigned her position on Monday, apparently to prepare a run for Mitch Englander's to-be-vacated seat as Council District 12 repster. As an Ethics Commissioner Oberstein was so horrible, so corrupt, so willing to betray the interests of the City in favor of her own interests, the interests of her employer, and the interests of her weirdo buddies in the non-profit community, that I have no doubt she'll fit right in on the Council, at least until the inevitable FBI raid.
And it looks like Brad Smith, who ran unsuccessfully against Mitch Englander in 2011 is going to run against her for the seat.1 And yesterday, evidently because of my incisive, revelatory, and critical reporting2 on Serena Oberstein's corrupt and destructive habits, I was contacted by some guy calling himself Howard P. Cohen and claiming to be involved with Brad Smith's campaign and asking for my help to defeat Serena Oberstein.
So I agreed to help cause Brad Smith was endorsed by Democrats last time he ran so that's good, and she's so bad. But then later in the day I was CCed on this email from Howard P. Cohen explaining exactly why he thinks Serena Oberstein should be defeated, which seems to boil down to the facts that first, she's "a YOUNG JEWISH FEMALE,"3 and second, that she, as a woman, shouldn't run for office, shouldn't "prioritize POWER," because she has a young child. In his estimation this makes her a bad mother and therefore unfit to serve on City Council. This is wrong on so many levels it's really hard to express.
First, it doesn't make her a bad mother to run for office or to seek power no matter what the age of her child. Second, what about her husband, who has the same kid she has and also has a high power high visibilty political job. Where's the attack on him for being a bad father? Third, even if she were a bad mother who freaking cares? The only relevant question is whether she's a good politician. I'm sure there have been plenty of bad mothers who were good politicians. God knows there've been plenty of bad fathers.
And there's worse, which I don't even want to soil my keyboard by discussing. The email is transcribed after the break, though. And now I can't have anything to do with either of these people. Howard P. Cohen and anyone who associates with the guy politically are at least a zillion times worse than Serena Oberstein. She will be bad for the City of Los Angeles in the kind of mainstream sell-out way that our City's mainstream politicians have been bad for us since Harry Chandler invented Los Angeles.
The office of Councilmember in Los Angeles was purposely designed by Chandler and his criminal cronies to encourage selling out to developers, so it's not a surprise that the job attracts sell-outs. We can survive her like we've been surviving people like her for well over a century. But anyone who associates with people who think like Howard P. Cohen thinks will be bad for the City in deep, cosmic, existential ways.
A campaign opposing Serena Oberstein's candidacy because she's Jewish and a woman and a mother seeking power rather than because she's a corrupt politician is intrinsically damaging and is unsupportable by sane people. That's surely no reason to vote for Serena Oberstein, but it's certainly a reason not to vote for Brad Smith. And as I said, turn the page for a transcription of the email.
Continue reading On Monday Serena Oberstein Quit Her Position As Ethics Commission President — Evidently To Run For Mitch Englander's Council Seat — She Was A Corrupt And Horrible Commissioner And Would Doubtless Be A Corrupt And Horrible Councilmember — But At Least Some Supporters Of Her Likely Opponent Brad Smith Are A Zillion Times Worse — Repellent Misogynist Neanderthal Piggies Who Think She Shouldn't Run Because She Has A Young Child — And Other Attack Vectors Too Gross To Put In A Headline — As Bad As She Is There Are Worse Things Out There →