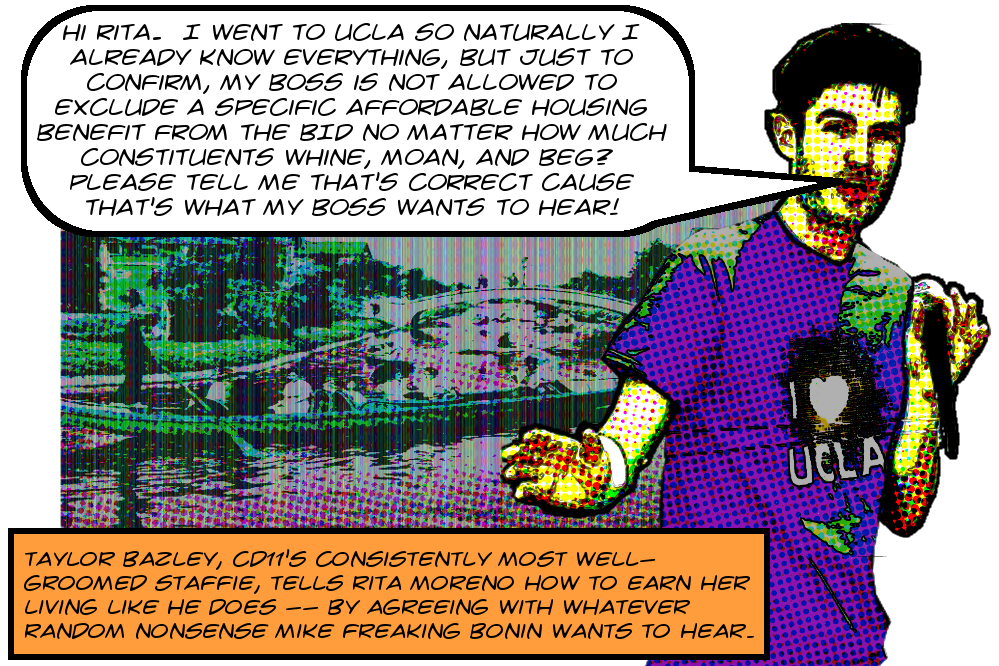 Remember at the end of the hearing at which the City Council established the Venice Beach BID in November 2016 CD11 repster Mike Bonin told the audience that he was going to help get residential-use properties out of the BID. Listen to him here, and here's what he said:

And I would just say one final thing to those who talked about the fact that they have properties that are zoned commercial but are used as residential. As I said when I met with [unintelligible] recently, I am happy to help those folks get their properties rezoned as residential properties.

Bonin reneged on that promise, and since then he's been parroting Tara Devine's mendacious theory that there's no way for commercially zoned properties to be removed from a BID even though the PBID law very clearly states otherwise.1 It empowers the City Council to lower assessments and/or to remove properties from a BID for any reason or no reason at all.2
Mike Bonin is so committed at this point to hewing to Tara Devine's bizarre interpretation of the law that he even lets her respond to press inquiries on the matter using his name. And the City Clerk, Ms. Holly Wolcott, is also all-in on this theory, even though it's provably wrong, wrong, wrong. So presumably her staff in the Clerk's office are also true believers.
Thus it was not much of a surprise to learn from this January 2018 email exchange between CD11 Venice field deputy Taylor Bazley and City Clerk BID honcho Rita Moreno that Bonin was still obsessed with finding legal support, no matter how shaky and wrong it might be, for never ever removing any property from the BID ever.3
The short version is that Taylor Bazley wrote to Rita Moreno and was all can we remove a particular affordable housing project from the BID?! And Rita Moreno, who is evidently not even worried about getting popped for the unlawful practice of law, was all no way Taylor!! Properties can't be removed from the BID for any reason whatsoever until the end of the BID!!
And to support her position she quoted a bunch of wrong-headed contradictory nonsense from Tara Devine! Anyway, there's a transcription of the email thread and some commentary after the break, so read on, friends!!
Continue reading Mike Bonin Told Taylor Bazley To Ask Rita Moreno If It Was Possible To Remove "A Specific Affordable Housing Development From The BID" — Rita Moreno Wrongly Told Him It Was Not Possible And Cited Tara Freaking Devine In Support Of Her Incorrect Theory — Yet Again The City Of Los Angeles Cedes Its Lawful Authority To BIDdies For Nefarious Reasons Of Its Own →