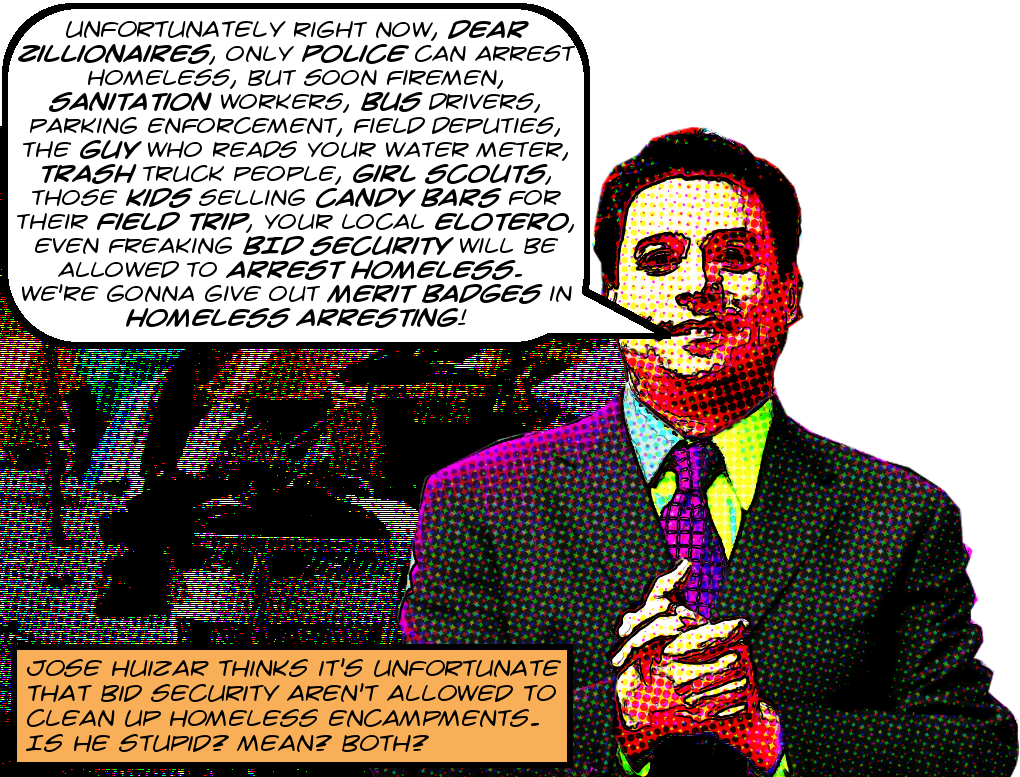 Last Thursday the Fashion District BID held its annual meeting. You may recall that Assemblymember Miguel Santiago gave a reprehensible little speech to kick things off, but CD14 repster José Huizar was the keynote speaker. You can watch his whole speech here, but the parts I'm specifically interested in tonight are his remarks about homeless encampments and, especially, his discussion with some guy whose name I didn't get on the same subject. Of course there are transcriptions of all this poppycock after the break, as usual.
About homeless encampments, well, it was the usual jive. We're going to build a lot of shelters and housing and of course, once we have enough shelters and housing we can start arresting the homeless again, so that's good!1 Unsurprisingly, though, things got more interesting during the questions. An unnamed guy asked José Huizar about the homeless fires problem.2 After some chit-chat, the questioner asked José Huizar who, exactly, was allowed to remove the property of homeless people from the sidewalk. In response José Huizar said:
The police department. Not the fire department, the police department. They don't give that right to the BIDs, unfortunately. But the LAPD can remove it if it is blocking the right of way.
What is the guy thinking? Is he thinking that the City and the BIDs haven't been sued enough by Carol Sobel, LAFLA, and the National Lawyers Guild? There is a really good reason that only police are allowed to remove the property of homeless people, and that is because society endows sworn officers with extraordinary powers to take actions that would be and should be absolutely illegal for anyone else to do. Like kill people,3 or kidnap them,4 or take their stuff off the sidewalk, which is theft when anyone but an officer does it. This is why BID officers aren't allowed to remove people's property, because they're just ordinary people and it would be stealing. Does he think it's "unfortunate" that ordinary people can't steal stuff? Maybe he also thinks it's "unfortunate" that BID officers can't kidnap and kill homeless people like the police are allowed to do.5 Bizarre.
And ironically, he's speaking to the Fashion District, which famously was sued in Federal Court in 2015 for conspiring with the City to illegally confiscate the property of street vendors.6 The Fashion District is right next door to the Downtown Industrial District BID, also in José Huizar's district, sued in Federal Court in 2014 for the very thing that José Huizar is lamenting the impossibility of here. The City ended up paying half a million dollars to LAFLA because the BID Patrol can't keep its grubby hands off other people's stuff and José Huizar thinks this is unfortunate? It's not his money, of course, but still…
And, as usual, turn the page for transcriptions of the relevant remarks and a little more mockery!
Continue reading José Huizar Told A Bunch Of Zillionaires At The Fashion District BID Annual Meeting That It Is "Unfortunate" That BID Security Guards Are Not Allowed To Steal Homeless People's Property — Evidently José Huizar Thinks The City Of Los Angeles Has Not Yet Paid Carol Sobel Enough Money →