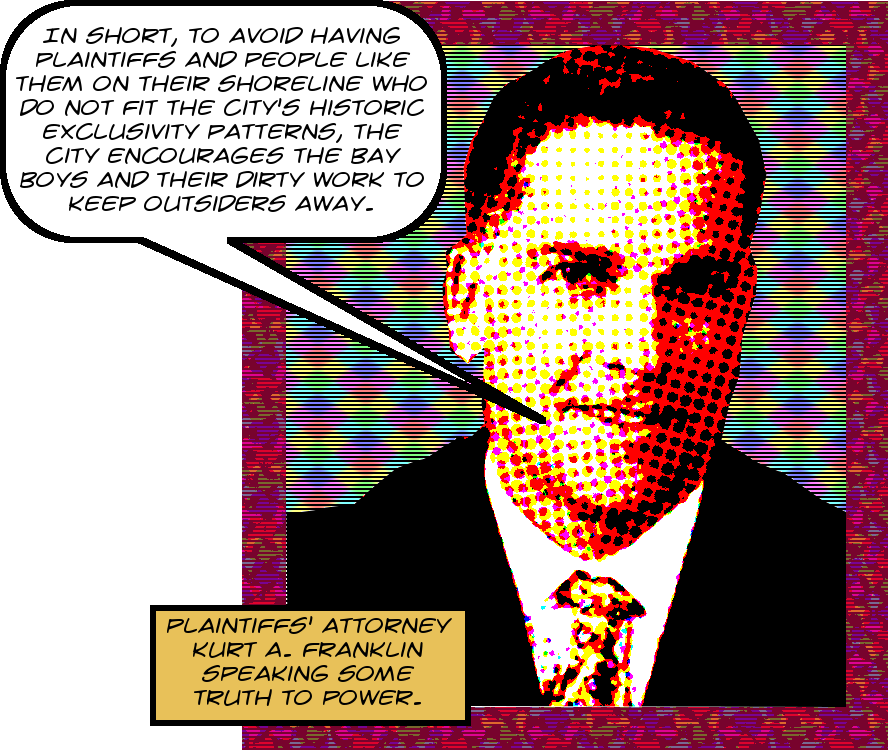 For background take a look at this excellent article from the Times on this lawsuit. Also see here to download all pleadings in this case. You can also read all my posts on the case.
There's so much going on right now that I barely have time to list the recent paper filed in the Lunada Bay Boys case, but there's a lot of interesting stuff here.
• First of all, recall that during last week's hearing on sanctions against defendants Charlie Ferrara, Frank Ferrara, and Sang Lee, magistrate judge the honorable Rozella Oliver strongly hinted to the Ferraras' attorney, Alison K. Hurley, that she really ought to consider withdrawing her clients' motion for summary judgment. Well, I suppose that when judges hint, smart people listen, and, additionally, it seems that Alison K. Hurley does as well. Thus on Monday the Ferraras filed this notice of withdrawal of their previous motion.
• Next we have the Plaintiffs' supplemental brief in opposition to City defendants' motion for summary judgment. The overarching issue is that the City of PVE has been so remiss in its duties to release documents that they've made it impossible for the plaintiffs to respond effectively to this motion for summary judgment. This is worth reading, and there's a partial transcription at the end of this post.
• Also, this item comes with a statement of supplemental facts and a bunch of exhibits. These contain tons of super-interesting, formerly confidential, documentary evidence. The point is to enumerate all the ways in which the City defendants failure to provide this new evidence, some of it obtained as recently as yesterday, hindered the plaintiffs' response. The new evidence is fascinating. There's a list of links and descriptions after the break.
• Finally, there's a supplemental brief in opposition to the individual defendants' motions for summary judgment, which plays a role parallel to the analogous document for the City defendants. This too is well worth your attention, and there's a partial transcription after the break. This also comes with a statement of supplemental facts, also worth reading, with lots of new creepy Bay Boy texts and so on.
Continue reading Lunada Bay Boys Case: Charlie And Frank Ferrara Withdraw Motion For Summary Judgment, City Of PVE Releases A Bunch Of Formerly Confidential Material Proving Among Other Things That Former Police Chief Jeff Kepley Wanted To Charge Bay Boys As A Gang, More Papayans Text Messages, Powerful Plaintiffs' Opposition To City Defendants' Motion →