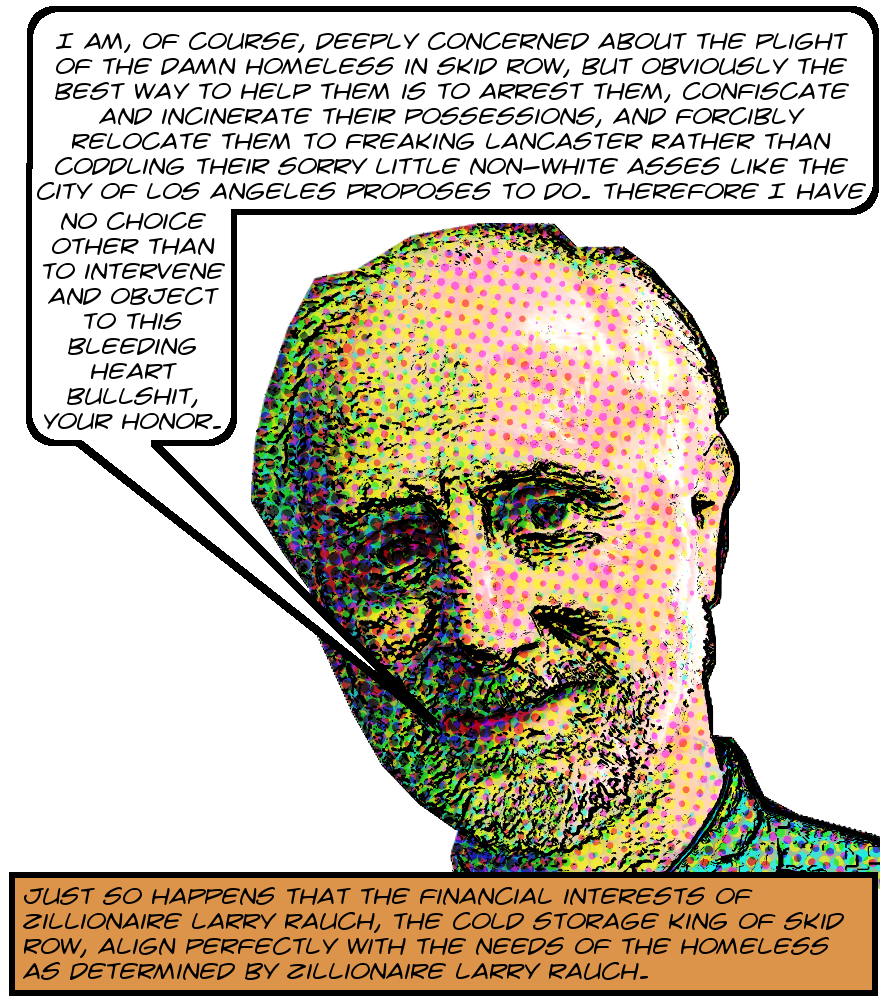 In March 2019 the Los Angeles City Council voted to settle Mitchell v. City of LA, the monumental federal civil rights case over homeless property rights. The impending settlement has inspired an astounding amount of delusional ranting from zillionaires and their willing minions over the last year or two, including this unparalleled slice of whatever-it-is from the CCALA. And no one listened to them, although the Daily News, which, it's true, is not exactly Der Sturmer but, it's also true, is not exactly not Der Sturmer, did publish this pandering slab of nonsense from Councilmember Joe Buscaino, one of two to vote against settling.
And a few weeks ago all these zillionaires got together and filed a motion with the court hearing the case, presided over by James Otero, asking for permission to intervene for the purpose of objecting to the settlement, a story covered by no one, it seems, other than the Daily News. There are transcribed selections below. And I don't really know enough to be able to comment on the motion, other than to say I have mixed feelings.
That is, the people seeking to intervene are certainly fascists and liars. They mix incredibly disingenuous claims about their love and compassion for all humanity with lies about disease and advocacy for extreme oppression of homeless people. They actually cite the actual freaking Daily Freaking Mail in their brief. They lie about the levels of crime, of violence, they cite Drew Freaking Pinsky as if he were anything more than a lying hack himself. If they're given a free hand to set policy they'll deport homeless people, even housed poor people, off to the desert to live in camps, bleating the whole while about how they only want the best for their victims.
On the other hand, I do agree that their interests, as abhorrent as they are, aren't adequately represented by any of the parties to the case, and I do agree in general that there are such circumstances in which people ought to be able to intervene in court cases when that happens. And I also agree with them that the fact that the City Council deliberated on the settlement in closed session is antithetical to democracy. So I'm going to leave the commentary up to the only person whose thoughts really matter, and that's Judge Otero. The parties' reply briefs are due tomorrow and I will publish them here if any are filed, which I imagine they will be.
Continue reading Coalition Of Local Fascists File Motion Asking Judge Otero To Let Them Intervene And Object To The City's Settlement With The Mitchell Plaintiffs — Here's A Copy Of Their Self-Serving And Mendacious Motion — Hearing On Calendar For August 12, 2019 At 10 AM — Courtroom 10C — First Street Federal Courthouse →