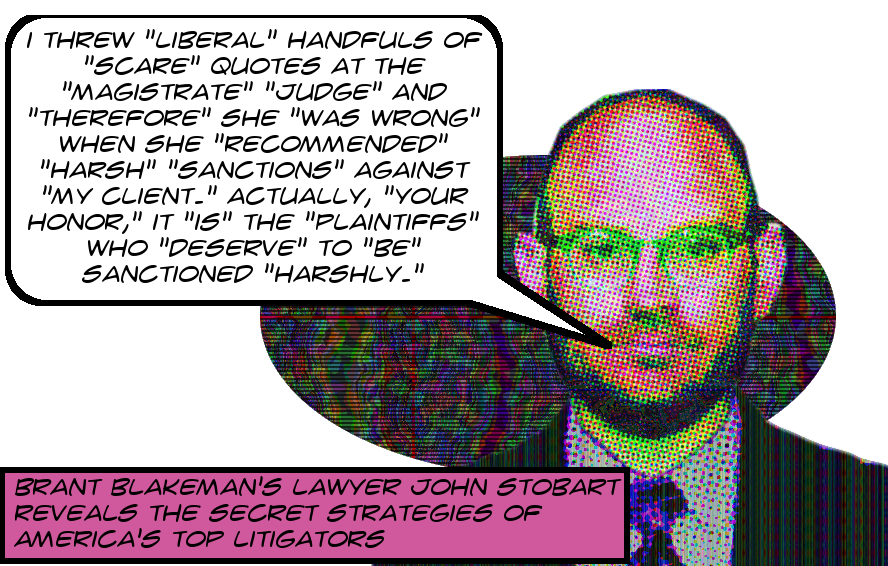 For background take a look at this excellent article from the Times on this lawsuit. Also see here to download all pleadings in this case. You can also read all my posts on the case.
So maybe you recall that in December, Magistrate Judge Rozella Oliver filed an amended report and recommendation to the court regarding the plaintiffs' motions for sanctions against Charlie and Frank Ferrara and Sang Lee for their plausibly willful mishandling of evidence in the case. Yesterday Judge James Otero filed an order accepting Oliver's recommendations. In particular, following Oliver's recommendations precisely, Otero ruled:

… that Plaintiffs are permitted to depose Defendants Sang Lee, Charlie Ferrara, and Frank Ferrara regarding issues relevant to spoliation, with costs to be shared by Plaintiffs and the deposed Defendants. At trial, the parties will be permitted to present evidence and argument related to the unrecoverable text messages for Defendant Lee and the Ferrara Defendants and the unavailable cellular billing records for Charlie Ferrara.

This was not unexpected, but it's interesting nevertheless. However, the plaintiffs' motion for sanctions against these three clowns was not the only such motion concerning which Rozella Oliver has recommendations. There's also, of course, her report on Brant Blakeman and his wildly antisocial handling of evidence in his possession. Well, on December 27, John Stobart, Blakeman's lawyer, filed an opposition to Oliver's recommendations, and this morning the plaintiffs responded to Blakeman's objection. The two pleadings are available here:
The plaintiffs' response was written by the agressively sane Samantha Wolff of Hanson Bridgett. And it's definitely worth reading, but it's, you know, competent, prudent, measured, and so on. Therefore there's not much for me to comment on.
On the other hand, Brant Blakeman's objection, written by John Stobart, is, as befits the rapiest Bay Boy, a surreal sludge pot of scare quotes, sophomoric sarcasm, and generalized cack-handedness, and, as such, is required reading!1
Selections after the break, and please, note that I didn't add a single quotation mark. Not a single one. Footnotes also are as in the original,2 and read them if you want to see some of John Stobart's most flamboyantly weird scare quotation.
Continue reading Lunada Bay Boys Defendant Brant Blakeman Objects To Magistrate Judge Rozella Oliver's Recommendation That He Be Sanctioned Via The Sarcastic Use Of About A Zillion Scare Quotes — Meanwhile Judge Otero Issues Order Accepting Oliver's Recommendations With Respect To Charlie and Frank Ferrara and Sang Lee And Thereby Casts Much Doubt On The Likely Efficacy Of Blakeman's Middle-School-Style Strategy →