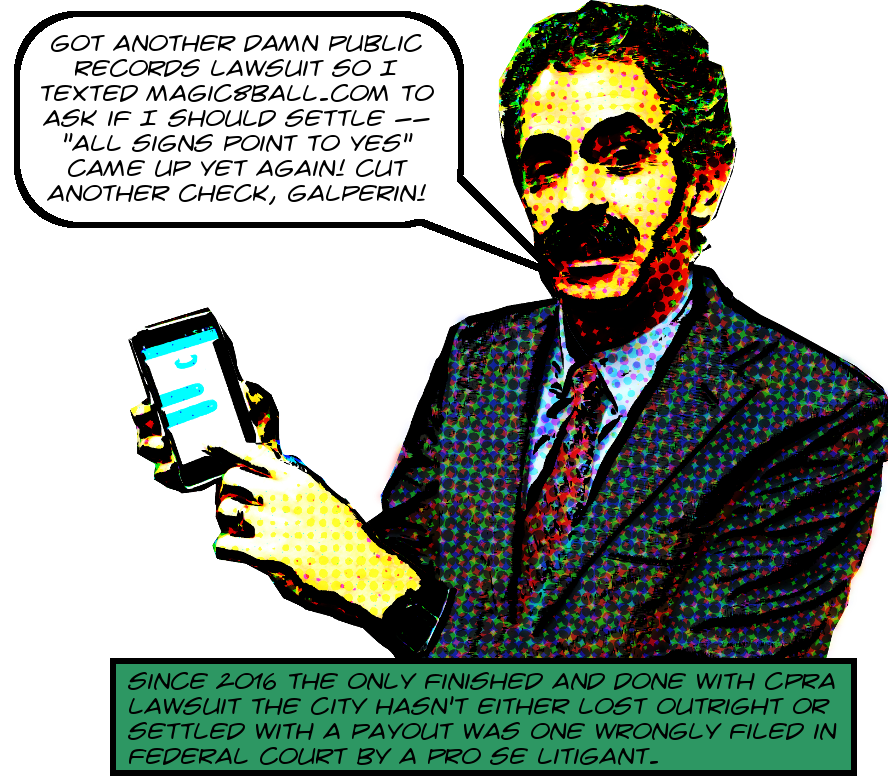 If you make requests of the City of Los Angeles under the California Public Records Act you will have learned by now that they fail to comply in almost every possible way. They delay access to records, they wrongfully withhold records as exempt, they fail to respond to requests at all, they say that there are no responsive records when in fact there are, they manipulate requesters into asking for far less than they have a right to by wrongly citing authorities, they insist on printing electronic records onto paper and then charge for copies, and so on and on and on. It's a real nightmare.
Some of the City's shenanigans are due to the fact that the state legislature, in its wisdom, has made judicial action the only means of enforcing the CPRA. The City, probably with reason, assumes that most requesters don't have the resources or the tenacity to follow through with a lawsuit, so the expected consequences for their abject noncompliance are pretty minimal. And that may be an accurate assessment, it's hard to tell because I don't have access to all the data.
But not having access to all doesn't mean it's impossible to get access to some, so I have been investigating CPRA suits against the City of Los Angeles. I first started thinking about this matter in 2015 but was at that time told by Deputy City Attorney Mike Dundas1 that the City had no way of listing CPRA suits against it. But after all that nonsense happened in San Diego recently, what with their City Attorney,2 Mara Elliot, tricking Senator Ben Hueso into introducing his appalling and since-withdrawn CPRA-gutting SB 615 and then some people got a spreadsheet showing how much the City of San Diego had spent on CPRA suits since 2010.
So I thought I'd ask Mike Dundas again and what do you know!? He came through and also informed me that the City Attorney3 had assigned a cause code to CPRA suits in 2016 so that it was now possible to track them individually.4 And then, kablooie! He produced this list of ten closed cases with payouts since 2016!5 And then later he told me that there was this one other closed case that didn't involve a payout since the City was dismissed from it on a motion.6 And according to him he will be producing7 a list of the currently open cases.8
And just the bare numbers here are really interesting, but not a good look for the City of Los Angeles. Since 2016 eleven CPRA cases against the City have been disposed of. The City went to trial on two of these and lost, paying a total of $558,690.57 to petitioners' lawyers. The City unfavorably settled eight of them before trial, paying a total of $104,032 to petitioners' lawyers. And the City got itself dismissed from one before trial, but only because the petitioner mistakenly filed the case in federal court.
I obtained copies of all ten of the properly filed petitions, and you can find them here on the Archive and there are also links to the individual files below. From a practical point of view, those eight cases that the City settled without going to trial are the most interesting of all. First of all, they were all avoidable. None of them hinged on any subtle interpretations of the statute. If the City had just followed the explicit requirements of the law none of them would have been brought in the first place.
I describe each of them briefly below, by the way. The City has really come to rely on not being sued, and I don't think we have any hope at all of improving their compliance without a lot more petitions being filed. It's my hope that these statistics along with access to these cases will encourage more lawyers to get involved in suing the City over CPRA violations. It really looks like there's some money to be made.
But, much, much more importantly, it looks like it might be not only practically possible, not only morally desirable, but also economically feasible to get the damn City of Los Angeles to just comply with the damn CPRA in some kind of predictable way. The money they spend settling these cases could easily fund a Citywide CPRA coordinator and another staff member just to keep all the City departments on track so that we get access to our records and the City avoids an endless parade of these entirely avoidable suits.
Continue reading Since 2016 Eleven CPRA Lawsuits Against The City Of Los Angeles Have Been Disposed Of — The City Lost Two At Trial And Paid Up — And Settled Eight Before Trial And Paid Up — And The Only One They Didn't Lose Was The One Wrongly Filed In Federal Court By A Pro Se Litigant — For A Total Of $662,722 — And Given That They're About To Pay More Than $324,000 To The ACLU To Settle Another Loser — This Is More Than A Million Dollars In Less Than Four Years That They Wasted Because They Can Not Or They Will Not Comply With The Law — For That Kind Of Money They Could Hire A Damn CPRA Coordinator — And Some Staff — And Stop The Bleeding →