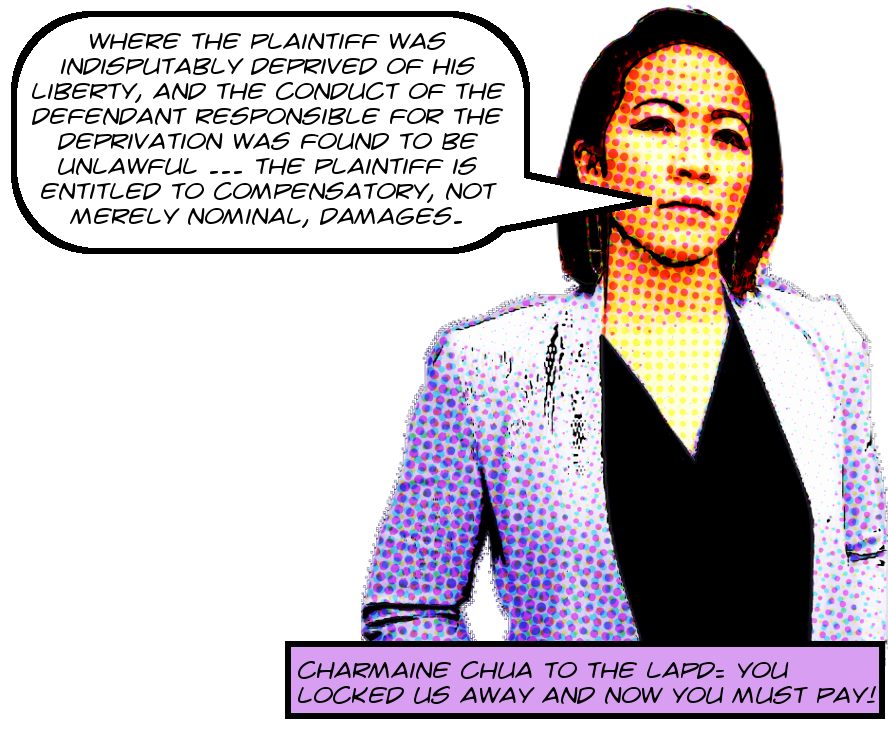 UPDATE: This hearing has been changed to February 4, 2019 at 8:30 a.m. The trial has been reset as well. The new dates are set here in this order.
Almost three years ago now, in January 2016, Charmaine Chua and others sued the City of Los Angeles for civil rights violations arising from 2014 protests over the killing of Michael Brown in 2014 in Ferguson, Missouri. In May 2017 the case was certified as a class action, but it seems like not that much has happened since then, I guess maybe because it still seemed like there was some chance that it might settle.
Well, evidently that's not going to happen, and the case is revving up again. In September of this year Judge John Kronstadt issued a scheduling order which, in part and barring settlement, which didn't happen, ordered the plaintiffs " to file a motion ("Motion") for leave to present claims of alleged general damages on a classwide basis at trial of the corresponding claims for liability, which shall include a proposed trial plan for the presentation of evidence as to such alleged damages."
I guess the point is that usually in a lawsuit the plaintiff can get damages to make up for what the defendant's conduct cost them but if they're suing for so-called general damages, where no specific objective dollar value can be assigned, it's necessary to argue that such payments are appropriate. Anyway, as always, I'm not a lawyer, but that seems to be what the motion, filed by plaintiffs on November 5, 2018, seems to be arguing.1
It seems that the way to make this argument in cases of police misconduct, false imprisonment, and so on, is to introduce an expert witness who has studied and/or been involved in many such cases. The plaintiffs also filed, therefore, a declaration by Michael Avery, who analyzes more than 20 cases of police misconduct involving wrongful imprisonment in which, at least in the class action ones, victims were paid between $1,800 and $23,000 as compensation for their loss of liberty. There is a transcription of this after the break, along with links to other interesting materials and a little background as well.
Note that the hearing on this motion is scheduled for January 14, 2019 at 8:30 a.m. in John Kronstadt's courtroom in the First Street Federal Courthouse, which is 10B. Don't be misled by the wrong date which appears on a bunch of these pleadings. It was an error, as reflected in this notice of error filed with the court a couple days ago.
Continue reading Charmaine Chua V. City Of Los Angeles — Motion For Leave To Present Classwide Damages Filed — Hearing Scheduled For January 14, 2019 At 8:30 A.M. Before Judge John Kronstadt — First Street Courthouse Courtroom 10B →