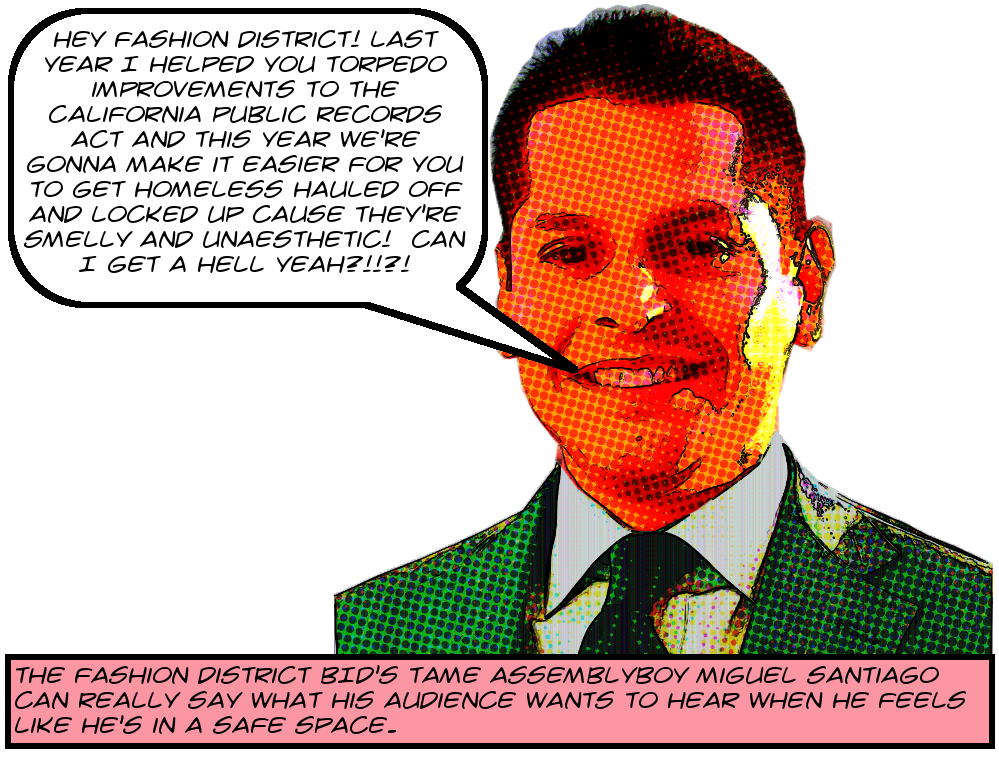 Look, kids, I know you appreciate what I do to provide you all with the freshest possible news about our fair City's business improvement districts, but I don't think anyone who doesn't go to meetings with me really truly understands the pain involved.1 Or at least that's how I felt after sixty freaking five minutes2 of the Fashion District BID's annual stakeholder extravaganza this morning. But I made it out alive and now you can watch the whole thing on YouTube or here on Archive.Org if you prefer.
José Huizar was the headliner, but there was a surprise appearance by Assemblymember Miguel Santiago which was very revealing, and a long spiel from City planner Bryan Eck, which was too technical for me to follow, but I am sure is of great interest to those who're interested in that stuff. Huizar's talk was loaded with his usual weirdo revelations, and I'm going to have to wait till Saturday to write about it because I surely don't have time right now.
Miguel Santiago had a lot to say about the legislature's current BID-endorsed effort to gut protections against the abuse of conservatorship, which BIDdies all over the state are salivating over as it will make it so everybody with a uniform, up to and including parking enforcement officers, will be able to take homeless people into custody and lock them up somewhere far, far away from here, for e.g. smelling funny or scaring the nice shiny customers or whatever. Of course, the City Council is all over this issue as well.
He had the nerve to thank the freaking Fashion District BID for their "advocacy around the issue of homelessness.."3 He also mentioned offhandedly that, as part of last year's BID-induced gutting of AB-1479, which would have amended the California Public Records Act in a number of excellent ways, the Fashion District BID had phoned his office for help and he had helped them. Which is despicable in any number of ways, although not surprising.
As I said, I don't have time to do justice to most of this material tonight, but if you turn the page, you'll find links to the various speakers and a transcription of Miguel Santiago's reprehensible little spiel.
Continue reading Video Of Fashion District BID May 24, 2018 Annual Meeting Now Available Featuring Special Guest Stars Miguel Santiago, José Huizar, And Bryan Eck — Introduced By Chunk-Headed Yobbo Zillionaire And Em Freaking Cee Mark Chatoff — The Crap These People Say When They Think They're Surrounded By Friends Is — Well, Just Watch It If You Have The Stomach →