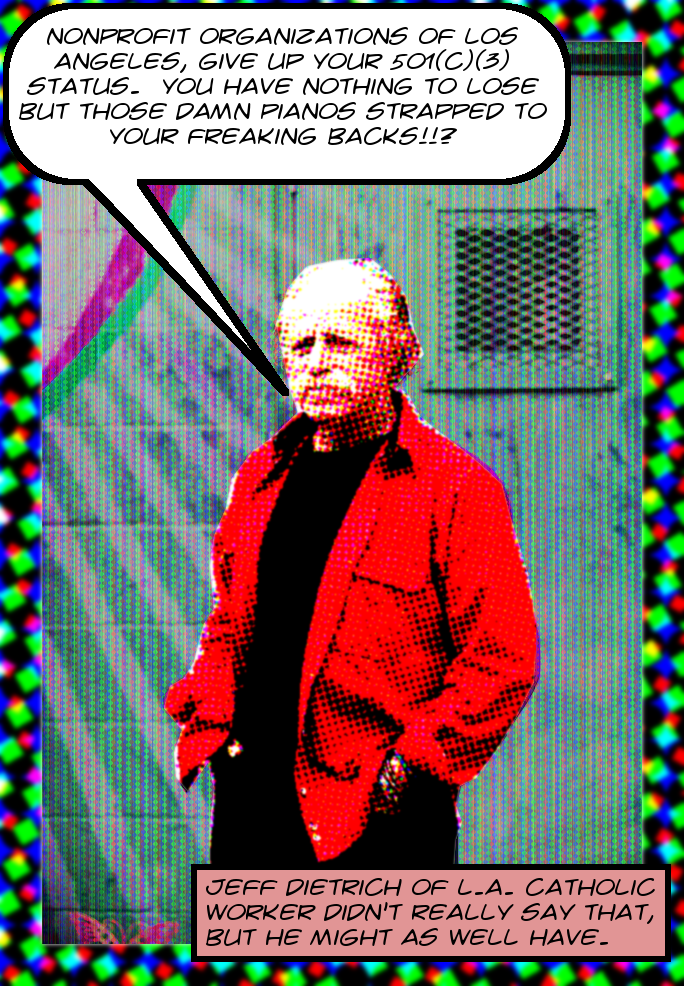 No doubt you recall that the Los Angeles Ethics Commission is presently working on proposing revisions to the Municipal Lobbying Ordinance (MLO) and that part of the process has been to hold a bunch of meetings to gather input. I recorded the first of these, which turned out to be quite interesting. The second focused on neighborhood councils and I'm working on obtaining an audio recording of it.
The third meeting focused on nonprofit organizations that lobby the City. I wasn't able to make it, but fortunately for all of us, it was recorded by Bobby Buck, a brave citizen journalist. He posted his recording on YouTube for all to watch and listen. The main issue under discussion here is which 501(c)(3) organizations will be exempt from the registration and disclosure requirements of the MLO. Currently the law at §48.03(E) presently exempts 501(c)(3)s from the requirements if they receive:

… funding from any federal, state or local government agency for the purpose of representing the interests of indigent persons and whose primary purpose is to provide direct services to those persons, if the individual or individuals represented by the organization before any City agency provide no payment to the organization for that representation.

The Ethics Commission staff is proposing1 that this be tightened up to exempt only:

501(c)(3) organizations that receive government funding and are created primarily to provide basic life assistance to disadvantaged clients at a rate that is significantly below market (and their employees engaged in the same activity).

The meeting is more than 90 minutes of the usual bitching and moaning, and I'll write on various episodes as I have time. Tonight's installment concerns these comments by yet another genius, this one from the Inner City Law Center, who thinks that just because he claims to be doing good in the world no one really has the right to question anything he says or does, let alone subject his organization to any kind of registration or disclosure requirements.2 Turn the page for a transcription of some of his remarks and some commentary.
Continue reading Video Of Third Interested Persons' Meeting Now Available, Featuring Among Other Things Some Exceptionally Whiny Non-Profits Whose Whole Argument Against Regulation Seems To Be That The Ethics Commission Is Strapping Extra Pianos To Their Back Just Like Donald Trump Does To Poor People, Conveniently Forgetting The Fact That Nonprofit Status Is A Huge Freaking Public Subsidy →