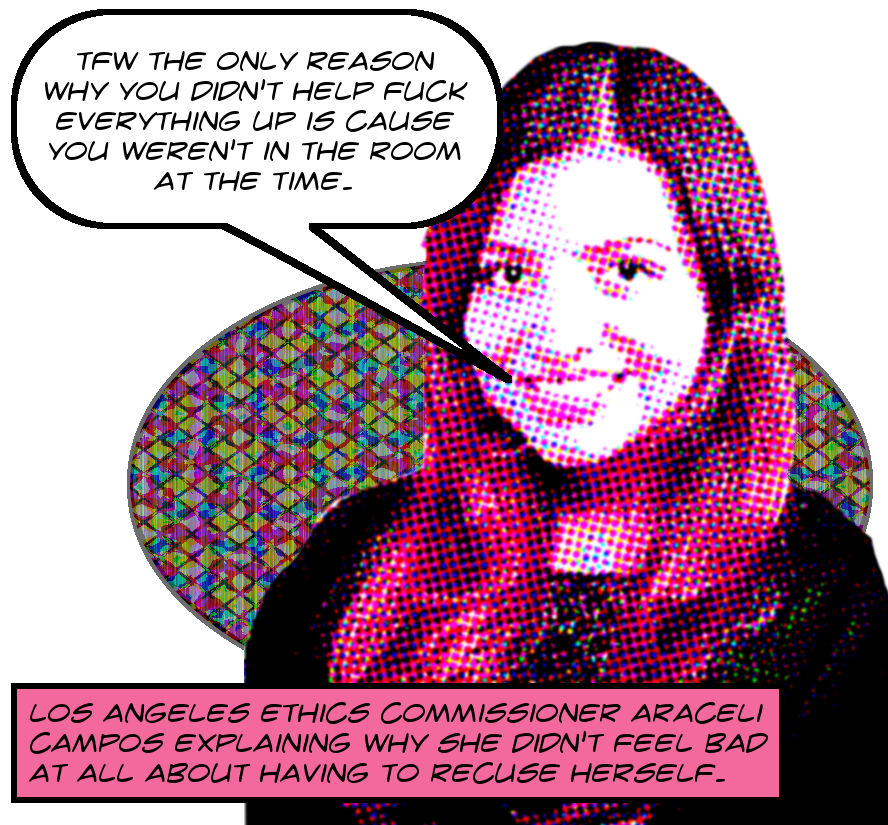 It seems like forever now, although it's only been two years, that the Los Angeles Ethics Commission has been discussing proposed changes to the Municipal Lobbying Ordinance (MLO). At this point I just don't have it in me to summarize the discussion any more, although you can find links to most of my posts on the subject in this post on the penultimate phase of the matter.
At the Commission's meeting on Tuesday, which you can watch in its entirety right here (or here on Archive.Org if you prefer), there were only two matters left to settle. One was the issue of detailed reporting of contacts between lobbyists and City Officials. I hope to write on what happened with that later on. The other, and the subject of today's post, had to do with exemptions from the MLO for 501(c)(3) nonprofits. You can watch the whole discussion beginning here. These organizations enjoy some exemptions now by virtue of LAMC §48.03(E,F). You can read the statute for yourself, but essentially it exempts 501(c)(3)s1 which have "… the purpose of representing the interests of indigent persons and whose primary purpose is to provide direct services to those persons…"
As they are wont to do, the staff, in the persons of Director of Policy Arman Tarzi and Mark Low, head of the lobbying program, provided the Commission with a detailed set of recommendations. There were four different options given that had to do with nonprofits, which you can read in the proposal. Of these, three were developed by staff and the fourth2 was provided by nonprofits and proposed to exempt all nonprofits, no matter what they do, which have gross annual receipts of under $2.5 Million.
Never content to leave well enough alone, these hyperorganized nonprofits presented the Commission with a so-called "Option 5," which they circulated at the meeting. This option proposed to modify LAMC §48.03(E) to exempt from the MLO:

E. Any organization exempt from federal taxation pursuant to Section 501(c)(3) of the Internal Revenue Code that:
1. Provides assistance, such as food, clothing, shelter, child care, health, legal, vocational, relief, educational, and other similar assistance to disadvantaged people for free or at a significantly below-market rate; OR
2. Has gross receipts of less than $2.5 million.
This exemption also applies to the organization's employees and board members while engaged in official duties. This exemption does not apply when an organization is seeking funding, property, or a permit from the City on its own behalf.

Continue reading Los Angeles Ethics Commissioners Fail To Understand Their Powers And Duties Under The City Charter And Thereby Inadvertently (??) Set The Stage For Exempting Nearly All 501(c)(3) Tax Exempt Organizations In Los Angeles From The Municipal Lobbying Ordinance →