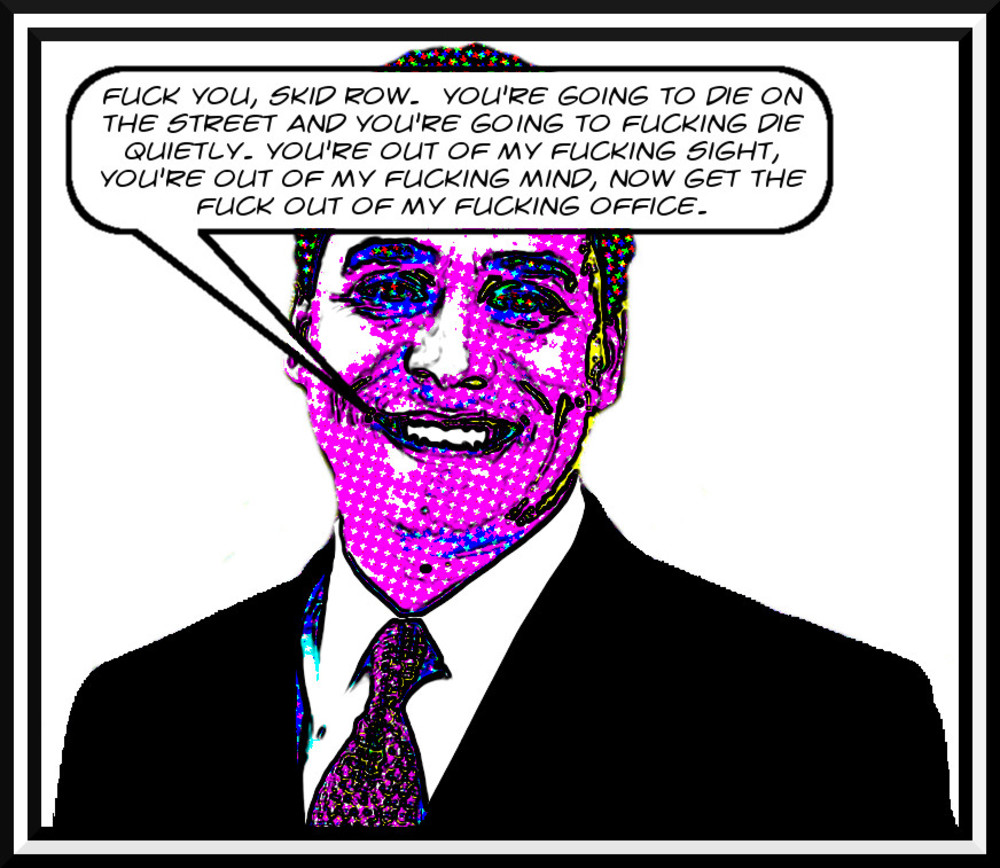 When I first started working on this post, I meant it to be a typical humorous take on a comment that Grayce Liu made at the March 20 meeting of the Board of Neighborhood Commissioners, much like the nonsense I wrote the other day.
But in preparation for mocking the arrogant rich white supremacists who turned out at every meeting about the SRNC to bumble their whiny way through their idiotic decontextualized lies about "outreach" and "voter participation" and "united Downtown" and fucking "inadequate notification," I listened to a recording of the March 22 meeting of the Rules and Elections Committee, which sickened me to the point that I lost any taste for making jokes about any of this.1 Huizar's behavior is not funny, and I'm in no state of mind to make fun.2 He is a horrible person.3
In particular, here's what I learned. Much of this information has been published before, but as far as I can tell, not all of it has:
Huizar decided to change the rules for the SRNC formation election to allow online voting. The change took place merely two weeks before voting began, even though he almost certainly had his mind made up weeks if not months earlier. If he had implemented the decision when he had made it at least there would have been time for the SRNC proponents to address this dispositive change in the rules.
He did this in the face of explicit testimony that online voting would disadvantage homeless people, who have extremely limited internet access. Even worse, he knew that the online voting system to be used by the Department of Neighborhood Empowerment would preregister more than 1000 DLANC and HCNC voters from 2016, thereby overwhelming any online voters that the SRNC-FC might manage to register in two weeks and thus dooming any SRNC-FC online registration effort to irrelevance.
Huizar made this change unilaterally. It's true that it was passed by the Rules and Elections Committee and then by the full Council, but if you listen to the recording.4 You will hear Huizar reading out his proposal and Herb Wesson pronouncing it adopted with neither discussion nor a vote.
Huizar ignored all the warnings he heard against allowing online voting with respect to the SRNC, but he took them all into account for other NC elections by stating explicitly that SRNC would be the only election to use online voting until further notice. This proves yet again that as far as the City of Los Angeles is concerned, rules do not apply to poor people. They're not usually this overt about it, though.
Somehow Huizar allowed multiple polling locations distributed widely in both space and time. He did this in the face of Grayce Liu's explicit statement that one polling place open for four hours is absolutely standard in NC elections. Again, Huizar unilaterally changed the rules for Skid Row.
Turn the page for the full, detailed story with links to and transcriptions of the audio of the meeting.
Continue reading Revealed: The Actual Technical Means By Which José Huizar, Who By The Way Is A Liar And A Deceptive Sneaky Little Creep, Destroyed The Skid Row Neighborhood Council Formation Effort, Quite Possibly At The Behest Of Michael Delijani, Whose Family Has Given José Huizar $25,000 Over The Years →