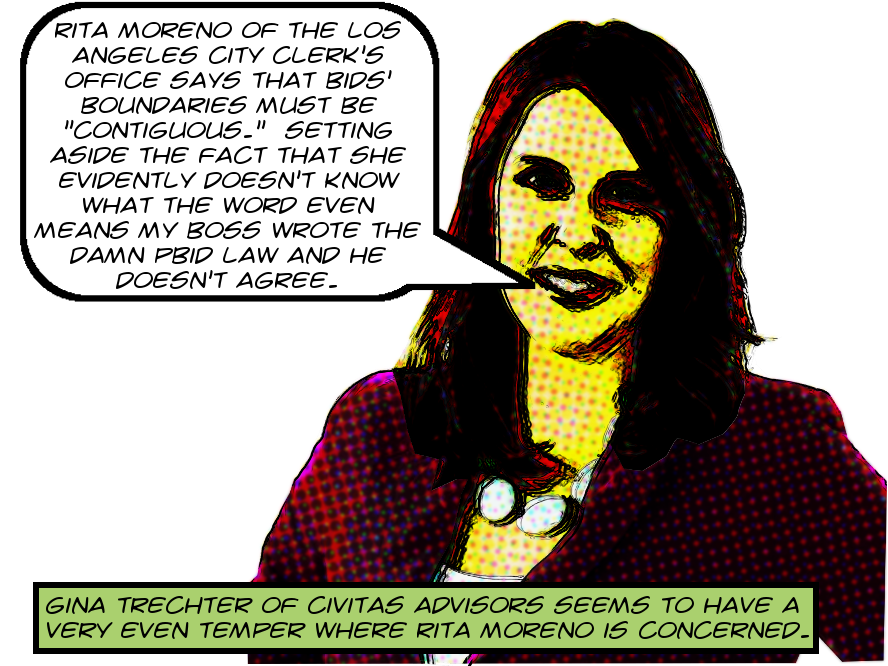 OK, I'm sorry, this post is on kind of a technical subject, but I think it's important and also it reveals a kind of weird off-handed incompetence amongst the City Clerk's BID analyst staff that I think is worth memorializing. The central issue is whether the Property and Business Improvement District Act of 1994 requires a BID to be in one piece. I'm going to use the technical term "connected" here.1
It's not just an idle question, either. You may recall that the proposed Hollywood Route 66 BID runs up Santa Monica Blvd. from Vine Street to Hoover Street. The problem is that Vermont Avenue crosses Santa Monica right in the middle of that stretch, and every building that touches Vermont is already included in the East Hollywood BID.
Regardless of what the PBID law has to say about connectedness of BIDs, it's very, very clear on the fact that BIDs can't overlap.2 Hence commercial buildings on both Santa Monica and Vermont must be excluded from the Hollywood Route 66 BID, which leaves its territory disconnected. Plausibly, also, the EHBID could cede those buildings to the Route 66 BID, but, interestingly, doing so would leave the EHBID disconnected, so nothing would be gained. Here's a copy of the map if it'll be useful.
Thus a correct understanding of what the law allows is essential for the formation of at least that BID, and probably others in the future. And I'm not a lawyer, but I read the whole damn PBID law about a zillion times and the connectivity of a BID is not mentioned in there at all. It's my not-a-lawyer understanding that if a law doesn't explicitly forbid something then that something is allowed.
But the famous Rita Moreno of the City Clerk's Neighborhood and Business Improvement District division didn't agree with me in 2017! Then she did agree with me in 2018! And Misty Iwatsu spent some time in 2016 babbling on about the matter and thought 2017 Rita Moreno was right! And Rita Moreno didn't just think, she advised! And it strikes me that her advice looked an awful lot like practicing law without a license, which is illegal in California!3
And of course you want to see details! And primary sources! Turn the page and there they are!!
Continue reading Rita Moreno Thinks The "Boundaries Of A BID Must Be Contiguous" — Misty Iwatsu Agrees!! — No! Wait! Rita Moreno Thinks "There's No Legal Requirement That The Boundaries Be Contiguous"! — Whichever It Is, We Think That Rita Moreno (A) Is Practicing Law Without A License And Ought To Stop It Right Now Cause It's Illegal And She's Confusing Everybody And (B) Does Not Know What The Word "Contiguous" Means →