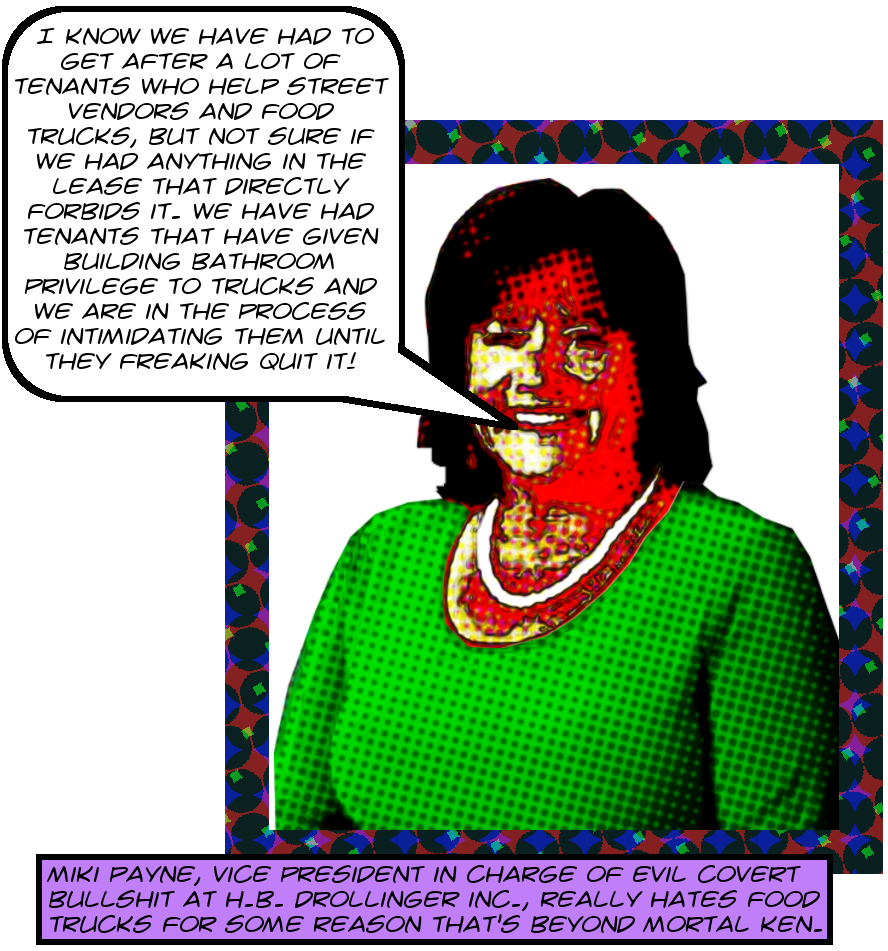 One of the most hotly contested components of the evolving street vending framework in Los Angeles over the last few years has been a clause requiring vendors to get permission from businesses that they operate near. BIDs and other organized gangs of zillionaire-identified minions have pushed, and pushed hard, for such a requirement.1 And, as usual, their public-facing reasons are exceedingly altruistic. They're looking out for the small business owners or whatever.
This requirement, greatly desired by BIDdies of all stripes, was heavily promoted by their spokescreepers at the Central City Association. Their position on this issue was described in a set of talking points propagated by the CCALA in March 2018, where the BIDdies talk about how such consent is necessary for the success of the program, but don't worry cause e.g. "Property or business owner consent should not be an unreasonable hurdle for vendors it is a much more straightforward process than a public notification process."
And maybe it should not be unreasonable, but don't forget that these businesses are situated in commercial buildings, and BIDs are made up of commercial property owners. That is, the very people who are pushing one anti-vendor initiative or another are, on the surface, trying to give their tenants, the business owners, power over the vendors, and it's presented as being for the good of the vendors. But some emails, newly obtained from Karen Dial's embarrassingly Freudian monument to Daddy AKA the Westchester Town Center BID, reveal how commercial property owners are likely to abuse such a requirement.2
The discussion, between BIDdological freak show specimen Donald Duckworth, zeck dreck of the WTCBID, and Karen Dial's consensual Svengali AKA Miki Payne, vice-president for gratuitously creepy zillionairitude at H.B. Drollinger Inc., took place in January 2017, right at the height of gratuitously creepy BID anti-vendor hysteria.
And the idea is as simple as it is deadly to street vendors, who are, don't ever forget, part of the heart and soul of our City. It is to convince commercial landlords to write clauses into their leases forbidding their tenants, the business owners, from granting permission to vendors both to use adjacent sidewalks and to use their bathrooms.
Turn the page for more ranting, along with links to and transcriptions of the emails, and also a special bonus item revealing an incident in 2011 when a businessman in Westchester allowed a food truck operator access to his restroom and was forced to publicly recant his permission and confess his sins after pressure from the BIDdies.

The above-quoted CCALA talking points state that "We have not heard of any of these requirements leading to extortion by a property owner and believe that is because there are regulations in place." And it's true that what the Westchester BIDdies are proposing isn't extortion, because no one's trying to get the vendors to do anything.
It's worse than extortion. It removes from human hands what would otherwise be a social negotiation between human beings about vending and about bathroom access, a fundamental human right, and places it in the realm of power wielded on the basis of property ownership. It's extraordinarily corrupt, and yet precisely the kind of thing we have learned to expect from business improvement districts, which are tools designed to focus precisely this kind of power.
⚝ January 7, 2017 12:15 pm Duckworth to various at Drollinger

From: Donald Duckworth <duckworth.donald@gmail.com>
To: Miki Payne2 <miki@hbdrollinger.com>, Miki Payne2 <geminimik@yahoo.com>, Andy Loos <Andy@hbdrollinger.com>
Date: Sat, 7 Jan 2017 12:15:00
Subject: Something the BID Board Should Probably Do re Street Vending Preparations
Formally request the Exe Director to write all property owners recommending lease amendments that prohibit tenants or their employees from giving street vendors permission to use the sidewalks in front of their properties. Maybe you could let me know about the language that Drollinger is using it so that I could suggest something without attribution.
Do you have something that prohibits tenants or their employees from allowing use of their restrooms without landlord's approval? This is the food truck issue.

And then Miki Payne passes it off to her flunky, Andy Loos.
⚝ January 7, 2017 1:08 pm Payne reply-all

From: Miki Payne <geminimik@yahoo.com>
To: Donald Duckworth <duckworth.donald@gmail.com>, Andy Loos <andy@hbdrollinger.com>
Date: Sat, 7 Jan 2017 21:08:42 +0000 (UTC)
Subject: Re: Something the BID Board Should Probably Do re Street Vending Preparations
Hi Don,
Since Andy works with the PM's and Leases I will let him address this next week. I know we have had to get after a lot of tenants, but not sure if we had anything in the lease that directly forbid it. We have had tenants at WPC and PB that have given building bathroom privilege to trucks.
Hugs,
Miki

And then the record is somewhat incomplete, but Andy's reply is buried down in a chain from a few days later. He says that Drollinger already has this language in their leases.
⚝ January 9, 2017 11:21 a.m. Miki Payne reply-all

From: Andy Loos
Sent: Monday, January 09, 2017 10:22 AM
To: Donald Duckworth; Miki Payne; Miki Payne2
Subject: RE: Something the BID Board Should Probably Do re Street Vending Preparations
We have implemented language into all of our leases that prohibits our tenants from making any arrangements with outside vendors for the use of bathroom facilities in our properties.
You will see from the street vendors website that they must rely upon brick-and-mortar businesses to allow them access to restrooms…so they are getting the benefit of the retailer whose businesses is being threatened…makes no sense.
Who can we meet with at the Council Office?
Andy
Andy Loos
Vice President of Development
Drollinger Properties

So on the one hand BIDdies are pushing for required consent of business owners and on the other they're using the political power illegitimately bestowed on them by their property ownership to make obtaining such consent impossible. The plan is even more reprehensible because it implicates such a fundamental human right as access to a bathroom.
And this isn't the first time the Westchester BIDdies have used bathroom access as a weapon in their incomprehensible forever war against street food. It seems that Los Angeles County used to require food truck operators to possess a so-called "bathroom letter" from a nearby business, granting them the right to use their bathroom. This requirement was rescinded in its entirety in July 2012, but until then it was evidently useful to the BID as a stick with which to beat food truck operators.
See for instance this email from June 2011, in which Don Duckworth, addressing our old friend CD11 staffer Laura McLennan,3 well, why not just read it for yourself:

Subject: Re: Food trucks
Date: Thu, 30 Jun 2011 09:56:24 -0700
From: Donald Duckworth <duckworth.donald@gmail.com>
To: Laura Mclennan <laura.mclennan@lacity.org>
Cc: Nate Kaplan <Nate.Kaplan@lacity.org>, Miki Payne <miki@hbdrollinger.com>, "De Wildt, Sander @ Beverly Hills" <sander.dewildt@cbre.com>, jruhlen916 <JRuhlen916@aol.com>, Heather Lemmon <iselpdr@gmail.com>
I was trying to find out about the status of the City's enforcement of existing food truck rules. I was told that it was suspended pending completion of the food truck task force work. Thus the Hollywood BID's (HED & S&V) security officers were not enforcing, for example, the rest room letter requirement. The WTC BID is scheduling a special enforcement day to address the illegal food cart vendors that are stubbornly refusing our requests that they move and the recent arrest by BSS enforcement. So I had asked that they take a look at the Taco truck that is apparently operating with no valid restroom letter. The business community is unanimously against these guys; no one will give them a rest room letter. (Actually there is 1 holdout; Pep Boys store manager has apparently traded free lunch for a rest room letter although his landlord is not in accord with that.) So what happens if we find he's operating improperly? Citation? Or no citation? I think the answer to the question will depend upon the City Attorney's Office current status. Can you help us understand it?

This is characteristic of El Duckworth's delusional tone when discussing any kind of mobile food.4 And even though he tells Laura McLennan that "[t]he business community is unanimously against these guys; no one will give them a rest room letter," well, that's evidently not true.
If it were true, how to explain the existence of this tragic item, wherein Francisco the Barber was forced to revoke a bathroom letter he'd given to a taco truck and, at the same time, publicly confess his wrongdoing. Francisco's letter came attached to this email from El Duckworth:

Date: Tue, 5 Jul 2011 20:51:53 -0700
Subject: Francisco the Barber's Revocation of Restroom Letter
From: Donald Duckworth <duckworth.donald@gmail.com>
To: "Senior Lead Officer (slo) Ruben Garcia" <33236@lapd.lacity.org>
Cc: Miki Payne <miki@hbdrollinger.com>, Terrance Powell <tpowell@ph.lacounty.gov>, Laura Mclennan <Laura.McLennan@lacity.org>, Nate Kaplan <nate.kaplan@lacity.org>
Per our conversation, here is a copy of the most recent letter… An enforcement person from L. A. County Health Department was going to try to check out the restroom letter of the Tacos & Mariscos truck on Westchester Parkway east of Sepulveda as well.

And I will leave you with a transcription of this most tragic item, more evidence of the damage that unfettered class warfare perpetuated by BIDs does to human relations in this City:

January 20, 2011
To Whom It May Concern:
On December 3, I unintentionally signed a letter authorizing use of my restroom facilities by Taco & Mariscos food truck. I did not realize that authorization might be harmful to some of my neighboring businesses in the area. That letter is hereby revoked and declared void. My restroom facilities are for the use of myself and my patrons only.
Francisco
8901 Sepulveda Eastway
Westchester, CA 90045
(310)215-3246


Image of Miki Payne is ©2018 MichaelKohlhaas.Org and is tangentially related to this Miki Payne here.