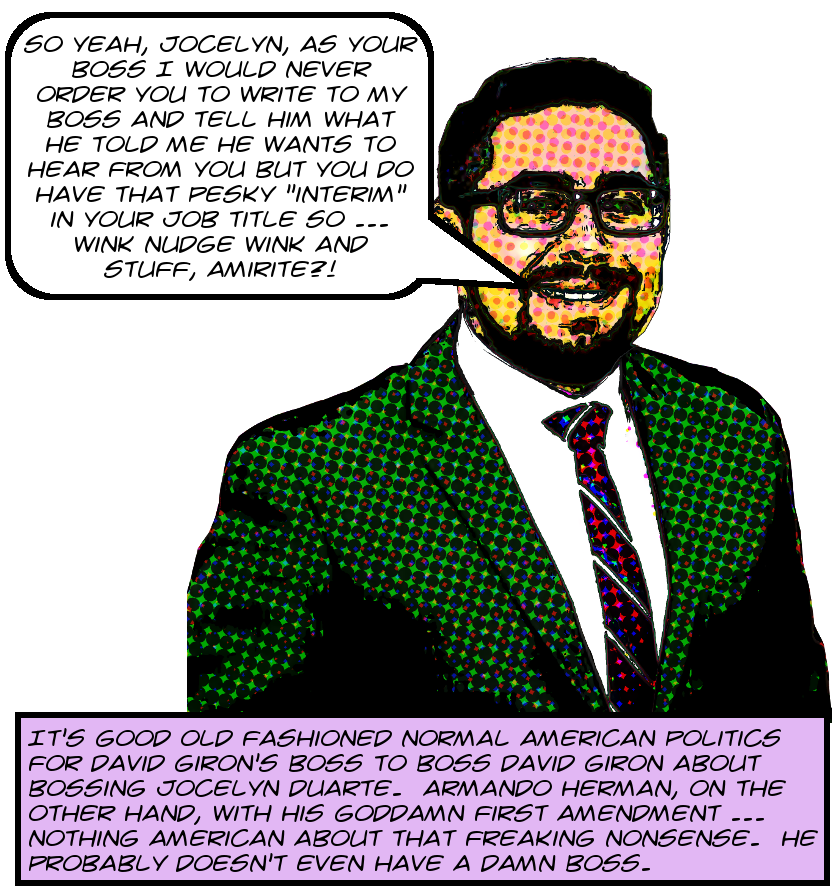 Oh man, the whole damn city is buzzing over Herb Wesson's latest attempt to use the U.S. and the California Constitutions as so much toilet paper just in order to score an ephemeral point or two against his nemeses Armando Herman and Wayne Spindler. Noted civil rights lawyer Stephen Rohde, who's grown rich and fat from our City Council's previous transgressions against freedom and decency, even had a piece in City Watch about it.
Kerry Morrison of the Hollywood Property Owners' Alliance, who never met a fascist she didn't worship the walking-on-ground of,1 predictably wrote an intensely stupid letter to the Times supporting Wesson. And the interim executive of the Salvadoran-American Leadership and Educational Fund, Jocelyn Duarte, famously had to cover her kid's ears to keep out Armando Herman's admittedly foul language and then she wrote this letter to Mitch O'Farrell begging him to think of the damn children.2
Herb Wesson famously solicited the letter from Duarte, just as this master of astroturfing famously solicits letters of support for all manner of his crackpot ideas.3 But this letter from Jocelyn Duarte is astroturfed in a whole different dimension. Take another look at the actual letter. See the board of directors on the left. Notice Mitch O'Freaking Farrell's legislative director David Giron listed there. Note that Jocelyn Duarte is the interim executive director. And who else but David Giron and his board cronies is going to be filling the permanent position? Oh, of course, Mitch O'Farrell, who also never met a fascist he didn't adore, seconded Wesson's motion.
In one sense there's nothing that shocking here. Our City's council files are, it turns out, just full to the very rim with this kind of stage-managed illusion of popular support for every random whim of every random Council repster, submitted on demand in the hope of currying favor for God knows what sinister purposes. In another sense, it really is shocking, or at least interesting enough for me to keep writing about! Of course there's a transcription of the letter after the break.
Before that, though, watch this video of a bunch of angry rich white anti-homeless people screaming at David Ryu last night to the point where he could no longer speak. See the cops standing around watching? No one's getting clubbed, tased, banned from future meetings, arrested, or even ejected, which is amazing because, unlike saying "fuck" at a Council meeting, this kind of thing is actually a freaking crime.4 But of course these rich angry white people don't bother Herb Wesson and the rest of them at all. No need to pass new laws against them or even to enforce existing ones. These angry rich white people make freaking campaign contributions!
Continue reading Jocelyn Duarte Wrote A Letter To Mitch O'Farrell Supporting Herb Wesson's Anti-Gadfly Motion — In Fact It Was Her Kid Whose Ears Famously Got Covered Due To Armando Herman's Foul Mouth — Duarte Is The Interim Executive Director Of The Salvadoran-American Leadership And Educational Fund — O'Farrell Staffie David Giron Is SALEF's Vice President — Who Presumably Will Decide If Her Position Is Made Permanent — Astroturfing Much? — Daily Irony Supplement: A Bunch Of Angry Rich White People Disrupt Public Meeting — Scream At David Ryu About Homeless Shelters — Don't Get Banned From Future Meetings — Let Alone Ejected From That One — Or Even Arrested For Violating §403 PC →