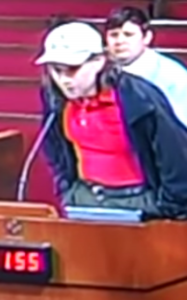 Habitual City Council commenter Wayne Spindler, he of the
don't-go-near-Herb-Wesson restraining order
and the subsequent entirely righteous
we're-not-gonna-prosecute-because-being-an-asshole-isn't-illegal decision
by L.A. County D.A. Jackie Lacey's office,
1
has filed a federal suit against the City of Los Angeles for violating various Constitutional rights in connection with his May 2016 arrest.
The incomparable Emily Alpert Reyes has the story in this morning's Times and we have the primary sources, hot off of PACER! As long as I was getting these pleadings, I figured I'd go ahead and get the ones from the case he filed last July as well,2 and all of them are available here:
I'll collect the papers in those directories as they're filed because the cases interest me, but I probably won't be writing more about them unless something extraordinary occurs. Spindler is an attorney3 and seems to be acting pro se in both these cases. As always, this makes for some fairly lively legal writing, samples of which you can find after the break if you, like so many these days, are PDF-averse.4

The Law in California for public meetings and access to them is called The Ralph M. Brown Act. This law has been trampled on, not just violated, but TRAMPLED ON by the Defendant and its agents, employees, and other volunteers. The Public is limited to 1 minute of public comment or and when they speak they are cut off in mid sentence, are tossed out of meetings for false claims of "disruption" or their speaker cards are "misplaced" or "lost" over "overlooked" many times. [sic, sic, sic]5
…
The Defendant always ignores its resident's claims of help. They also have draconian ways to deal with those they disagree with or who expose their Corruption at times.
One such occasion happened at the Van Nuys City Hall building of the powerful Rules, Elections, and Neighborhood Empowerment Committee meeting of May 11, 2016 at 6 pm. The meeting chair, Defendant Herman J. Wesson Jr. who uses the fake first name "Herb" was unbelievably angry at Plaintiff for his comments the D.W.P. proposal and read out his true name, breaching his anonymity and called Plaintiff and "idiot" and threatened to beat him up and then was told to LEAVE THE BUILDING — even though they were with some exceptions allowed to attend the remainder of the PUBLIC MEETING UNDER THE BROWN ACT.
…
The Defendants hates the Plaintiff and is using suppression tactics against his rights to public participation in a strategic litigatory and vindictive way. There are many other incidences of these Brown Act and 1rst Amendment violations. Wearing a hood and drawing KKK like drawings and swastikas and the like on Speaker cards are expressions of Plaintiff's political message protected by the First Amendment in protest over the suppression of free speech, in general and the oppression of Plaintiff as a White American by Afro-American and Jewish American City Officials, in particular the incendiary epithet "Nigger," and "Jewboy" are symbols of blatant racism toward African Americans by LAPD. Wearing a hood and drawing KKK like drawings and swastikas and the like on Speaker cards are expressions of Plaintiff's polictical message protected by the First Amendment in protest of the suppression of free speech, in general.
The detention for the false arrest on May 13, 2016 was excessive force and cruel and unusual punishment for something merely to try to speak at a public meeting for a minute or two … Comment Speakers requires a "warning" before a person who has violated the Rules can be ordered to leave, on the other hand The Rules of Decorum, as interpreted and as applied by Defendants, are impermissible prior restraints on free expression and the right of assembly; are vague and ambiguous, and allow for unbridled, discretion enforcement based on subjective analysis by Defendants The Rules of Decorum have been and will continue to be used to chill; intimidate, and deny constitutionally protected political expression and freedom of assembly, in the absence of declaratory and injunctive relief from the Court.


Image of Wayne Spindler is from this video and appears here under a claim of fair use.