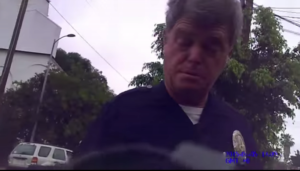 Shawn Nee is a documentary photographer who lives in Hollywood and films police around the City of Los Angeles.
Here's an excellent interview
with him along with a selection of his work. I also recommend
this short film about Nee's work on Hollywood Boulevard
on Halloween 2014.
His YouTube channel is filled with recordings of LAPD officers angry with him for photographing them. In particular, on July 5, 2015, LAPD Officer Stuart Jaye blocked his line of sight while he was taking still photos of police activity. Also, on November 10, 2015, LAPD Officer Pearson actually grabbed his phone while he was recording police activity. These two incidents form the basis of a suit filed by Nee on July 7, 2016. This episode is also worth watching even though it isn't mentioned in the suit.
This seems like it's going to be interesting, so I started a page for this suit in the menu structure, or you can access the material directly from local storage. There's not much in there yet, but the initial complaint is well worth your time to read. There are some selections after the break as well as a description and some documentation of a tangential BID Patrol connection from 2008!

It seems that in 2008 Nee was harassed by A/I security guards at Hollywood and Highland for taking pictures.1 Somehow the BID Patrol got called in, and, according to Nee:

While the BID Patrol security guards gave me a very nice lecture on humanity, they didn't seem to care about the way Ferguson #4730 and the other officers reacted in an unlawful, belligerent, and inhumane manner towards me.

It just so happens that I have a copy of a BID Patrol daily activity log from that date. Their description of this incident is consistent with Shawn Nee's, but see how different the tone:

RADIO CALL- 6801 HOLLYWOOD BLVD- H&H COMPLEX
RESPONDED TO A BACK UP CALL WITH H&H COMPLEX SECURITY PERSONNEL REGARDING A 415 M. UPON ARRIVAL, WE MET WITH OFFICERS WHO ADVISED US THAT A M/W WAS ARGUMENTATIVE AND TAKING THEIR PICTURE UP CLOSE. WE ADVISED AND SITUATION WAS DE-ESCALATED.

And here are some interesting bits from the complaint:

Officer Jaye and Officer Pearson violated Mr. Nee's First Amendment right to record police activity in public. Officer Jaye stood in front of Mr. Nee's camera wherever he pointed it, using his body to block Mr. Nee from being able to take photos of the police activity on the street. Officer Pearson shined a light directly at Mr. Nee's iPhone to prevent it from being able to film, and forcefully grabbed Mr. Nee's iPhone out of his hands, thereby committing an assault and battery against Mr. Nee and preventing him from exercising his First Amendment right to record police in public.
…
The LAPD has a custom and practice of deterring "citizen journalists" from recording poice activity in public places and used threats and intimidation tactics to prohibit this well-established First Amendment activity. There is an endemic custom and practice inside the police department of harassing, intimidating, and using force against "citizen journalists" who attempt to videotape or otherwise record police activity.
…
Defendants' actions violated Plaintiff's rights to freedom of expression under the First Amendment to the United States Constitution by prohibiting Plaintiff from exercising his constitutional right to free speech and expression in a traditional public forum, as well as freedom of the press.
Defendants violated these rights when they physically blocked Plaintiff's ability to photograph public police activity while Plaintiff stood on an open public sidewalk. Defendants again violated these rights when they forcefully grabbed Plaintiff's phone out of his hands so that he would not be able to use it to record public police activity while standing on an open public sidewalk.


Image of LAPD officer Jaye is a screen capture from Shawn Nee's video, available on YouTube and appearing here under a claim of fair use.