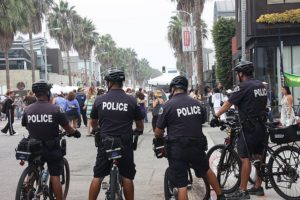 See
this earlier post
for some brief background on this case and
this collection of pleadings
in the case.
Late last night the plaintiffs filed a searing opposition to last month's defendants motion to dismiss. Part of the plaintiffs' argument relies on the fact that the Boardwalk is actually a public sidewalk, and in support of that argument they also filed a request for judicial notice that included a certified copy of the deed by means of which Abbott Kinney gave the boardwalk to the City (of Ocean Park; Los Angeles didn't get it until 1926). To understand the issues it may be useful to look at the text of LAMC §42.15.
The issue is whether or not the Boardwalk is a public forum. If it is, the First Amendment places a very, very high barrier before the City's attempt to regulate speech there at all. Sidewalks, as opposed to City-sponsored Disneylandesque bullshit tourist-trap money magnets, are quintessential public forums,1 and this is the heart of the argument:2
The Venice Boardwalk is a traditional public forum long recognized by the City as perhaps the most prominent free speech area in the City. Although called a "boardwalk," this pedestrian passageway is a public sidewalk, deeded to the City as a sidewalk in perpetuity in 1906. See Plaintiffs' Request for Judicial Notice and Exhibit 1.
Public sidewalks "occupy a 'special position in terms of First Amendment protection' because of their historic role as sites for discussion and debate[.]" They are the locations where people encounter speech they "might otherwise tune out." "From time immemorial," public sidewalks have been locations where "normal conversation and leafleting" have occurred as part of the First Amendment's guarantee of "sharing ideas." Indeed, public sidewalks are, perhaps, the most important traditional public forum because of their availability at any time at no cost.

It's worth reading the whole response, and some selections that caught my eye appear after the break.
Continue reading Plaintiffs File Opposition to City's Motion to Dismiss, Include Certified Copy of Deed for Venice Boardwalk Proving that Abbott Kinney Gave it for Use as a Public Sidewalk and No Other Purpose →