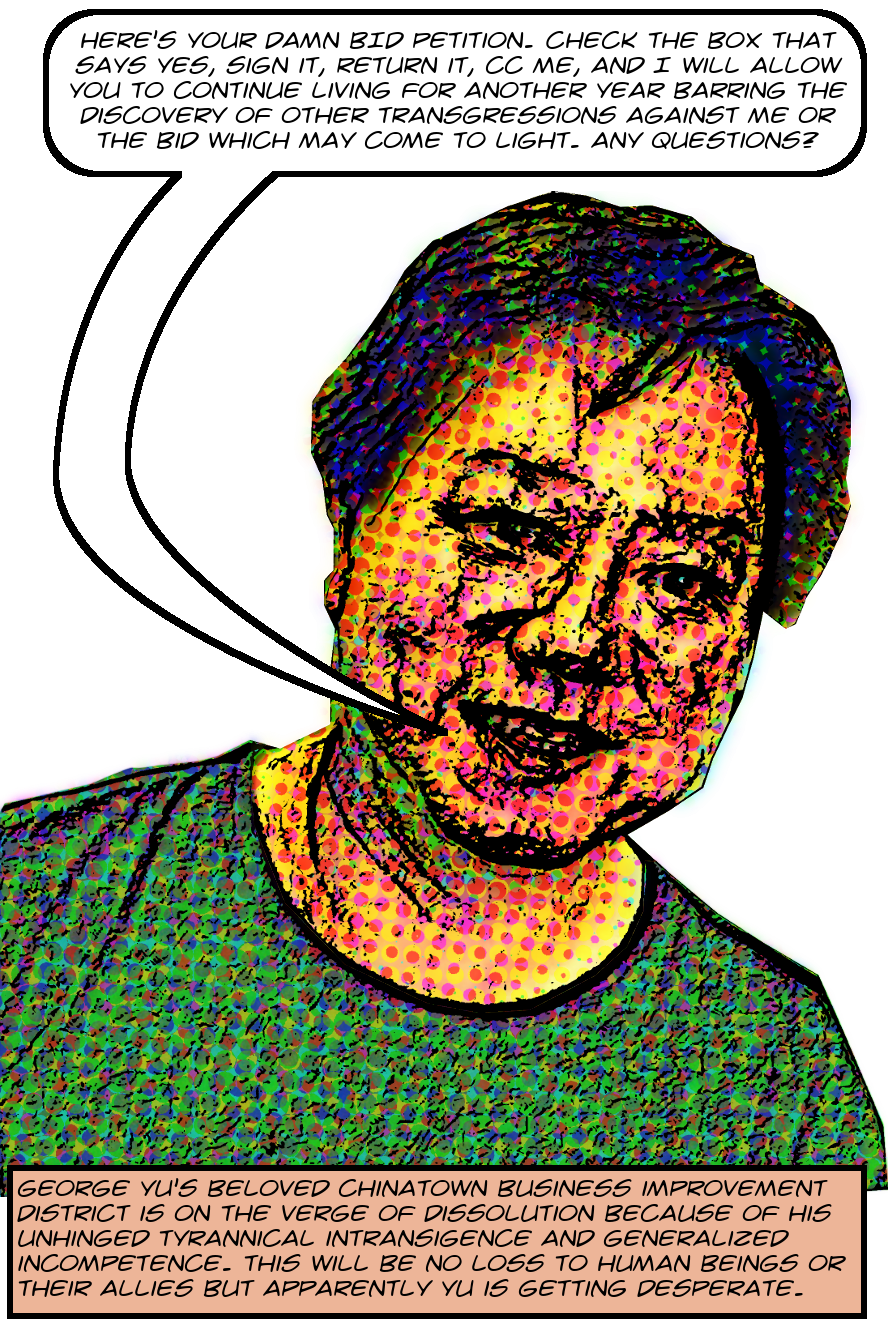 I would like to thank volunteers from Chinatown Community for Equitable Development for calling my attention to the monumental significance of these records.
Based on a set of records I recently obtained from the Los Angeles City Clerk's office, it appears that the Chinatown Business Improvement District has failed to gain sufficient support for its scheduled 2021 renewal and will cease to exist on December 31, 2020. On June 8, 2020 the Clerk sent a letter to the BID's executive director, the famously unhinged George Yu, informing him of the pending expiration:

June 8, 2020
George Yu, President
Los Angeles Chinatown Business Council, Inc.
727 North Broadway, Suite 208
Los Angeles, CA 90012
Dear Mr. Yu:
The Greater Chinatown Business Improvement District (Chinatown BID) will expire on December 31, 2020 and must cease all BID operations after that date. The Office of the City Clerk is requesting a letter indicating the intention of the BID to renew or expire. If it is the BID's intention to expire and not renew, this Office will require the following:
1. A letter from the Board President indicating intent to allow the BID to expire.
2. An inventory of all assets currently held by the Chinatown BID.
3. A timeline for winding down the Chinatown BID and an estimate of the associated costs.
Additionally, in accordance with Section 10 of Contract No. C-118431 between the City of Los Angeles and the Los Angeles Chinatown Business Council, Incorporated, all remaining revenues of the District, after all outstanding debts have been paid, derived from the levy of assessments, or derived from the sale of assets acquired with the revenues, shall be refunded to property owners in the manner described in Division 6, Chapter 9, Section 6.619 of the Los Angeles Administrative Code.
If you have any questions, please contact Eugene Van Cise of my staff at (213) 675-2960.
Sincerely,
Patrice Y. Lattimore, Chief
Business Improvement District Division
Office of the City Clerk
PYL:CG:RKS:ev
c: Honorable Gilbert Cedillo, Councilmember, District 1

Continue reading It Appears That The Chinatown Business Improvement District Has Failed To Gain Sufficient Support For Its Scheduled 2021 Renewal And Will Cease All Operations On December 31, 2020 →