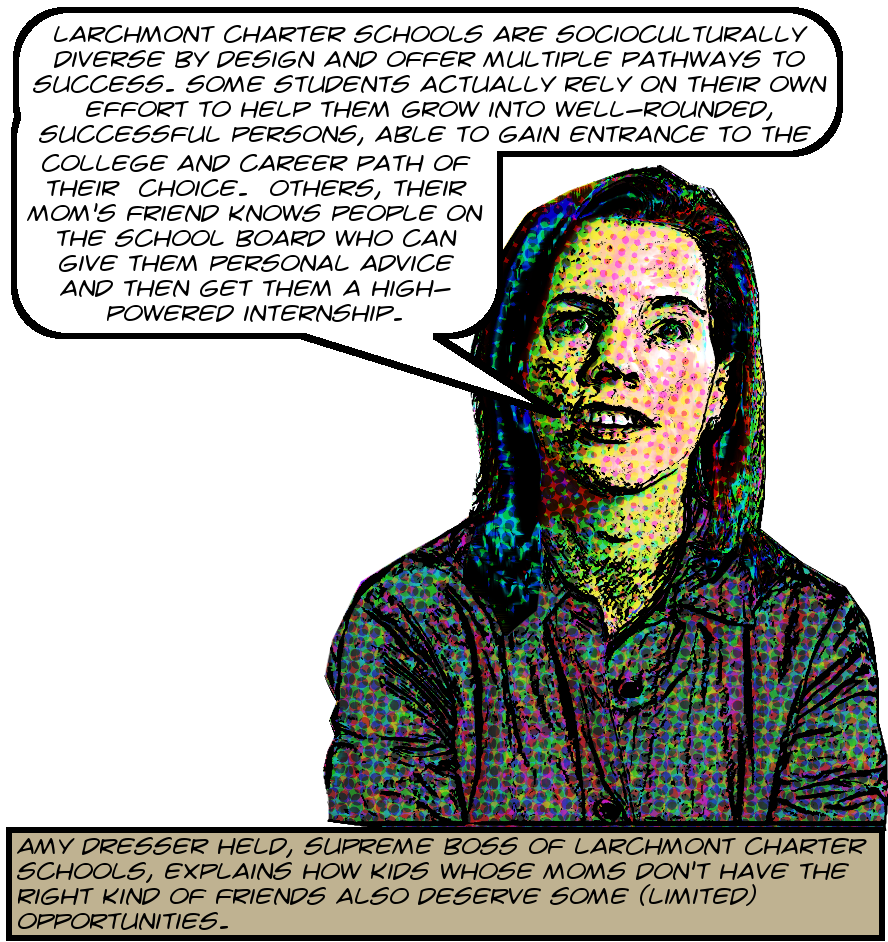 Here's the short version of charter school theory from the point of view of the privatizers: people who run public schools are dumb and incompetent which is harmful to kids therefore pay a bunch of zillionaires and their usefully idiotic minions to create private schools and run them with essentially no oversight and they'll innovate the hell out of everything and also the kids will be better off, so yay!
Just for instance, consider the Larchmont Charter School, a self-proclaimed fermentatory constructivist1 hotbed of quantumly cosmic disruptive innovation, diverse by design, guided by the idea that racially integrated classrooms are good for the kids of color, who gain all the apparently myriad benefits of going to school with the white kids.2 And what they claim is that they're going to teach these putatively disadvantaged3 kids how to pull themselves via an extraordinary education right on up:

The high expectations of Larchmont Charter School's High School Program prepare students for college … rigorous college preparatory humanities, mathematics, and science instruction from quality educators who focus on the unique needs of the learner through the constructivist lens … positively address challenges occurring in the world around them … leadership and arts opportunities … grow as well-rounded, successful persons, able to gain entrance to the college and career path of their choice.

And although around this blog we never ever take any of these people at their word for anything because it's turned out always, every last time, that they were lying, well, at least I'll admit that if we were naive enough to take them at their word in this case all this nonsense wouldn't be so bad. Teach poor kids, kids without the social connections to skip to the head of the line, kids whose parents can't afford to pay a zillion dollars in bribes to get them into USC, teach them the skills they need to get into "the college and career path of their choice."
But whatever the delusional conscience-easing narrative according to which these Larchmontane privatizers have managed to convince themselves they're operating, the truth, as revealed by a massive steaming heap of emails I recently obtained from these antisocial parasites on the public realm,4 turns out to be quite different. Behold 27 emails, mostly between LCS supreme boss Amy Dresser Held and senior supremo-slash-advisory Icky Sticky Nicky5 staffer Allison Polhill Holdorff.6
These reveal a much, much different set of rules. When it comes to students, not even LCS students, who are friends of the family, Held is not so much about hard work, education opening doors, and so on. Instead she's all like phone a friend for the kid, get her an internship. A service, I am going to go out on this limb now, I would wager, access to which she does not facilitate for the students whose career-path-choosing skills she's meant to be cultivating, that she's paid out of public funds to cultivate.
And even worse than that from Holdorff's side, two months after she started in with these conversations between her and Held about internships LAUSD posted the position, presumably inviting members of the public to apply, but the fix was in, as you'll see below. Many organizations have rules requiring jobs to be posted widely, precisely to preven the kind of nepotism you'll see unfolding here. The conversation kicked off on December 14, 2017, when Held wrote to Holdorff thusly:
Continue reading Larchmont Charter School's High-Concept Constructivist Educational Programs "Help [Students] Continue To Grow [And Become] Able To Gain Entrance To The College And Career Path Of Their Choice" — And Amy Dresser Held — Supreme Boss Of The LCS — Will Use All The Force Of Her Personal Relationships With Stratospherically Elite LAUSD Staff To Get A Family Friend An Ultra-High-Powered Internship In Nick Melvoin's Office — Which Is A Much More Realistic Picture Of How The Ruling Class Reproduces Its Power Than All That Booshwah About "Gain[ing] Entrance" Through Education →