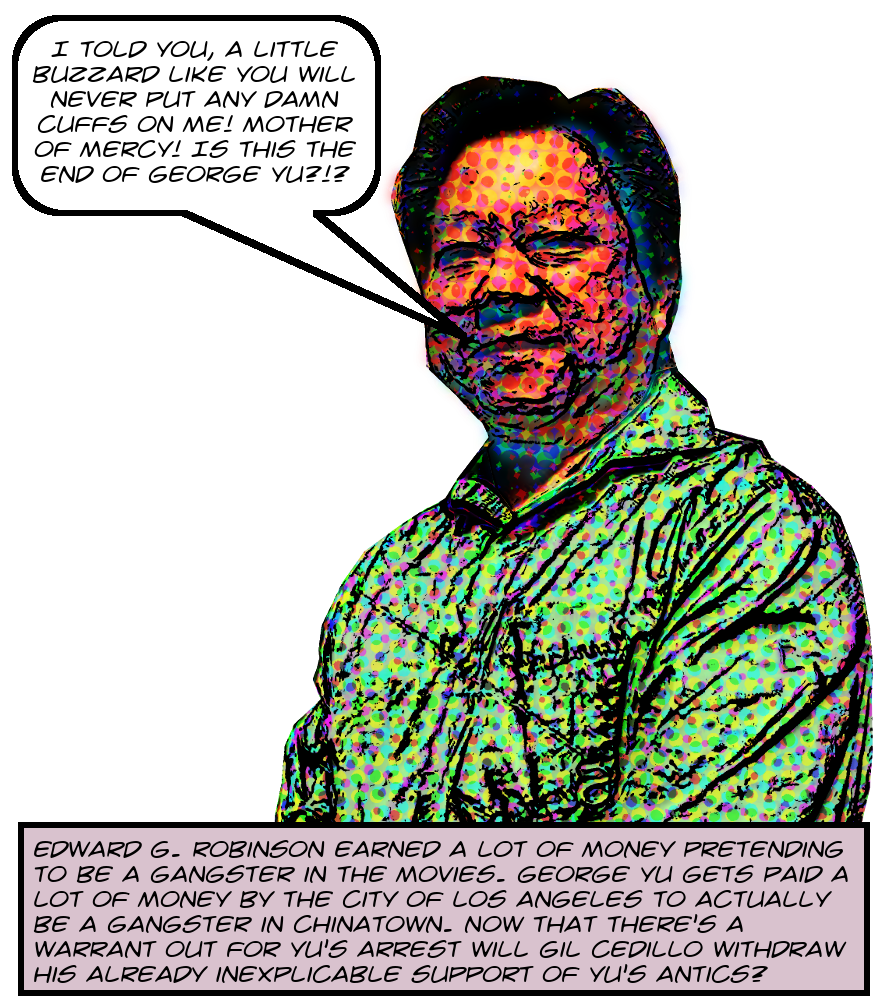 UPDATE: Today, February 7, 2020 Judge Beckloff changed his mind about the bench warrant for technical reasons that I don't understand. Not sure what's going to happen next and even though it remains quite likely that George Yu will be hauled off in chains in the near future, it won't be because of the warrant that was issued on Wednesday. Here's a copy of today's order.
In 2018 Katherine McNenny and I sued the Chinatown Business Improvement District over their failure to comply with the California Public Records Act. And for the last 18 months neither BID director George Yu nor anyone else from the BID has appeared in court at all. In due course they lost, Judge Mitchell Beckloff issued an order to them to hand over the records, and they ignored that as well. Late last year we moved to have Yu held in contempt for his failure to obey the order, and the judge issued an order for Yu's arrest and suspended it pending a hearing at which he ordered Yu to appear in person and explain why he shouldn't be held in contempt.
That hearing was held this morning. Perhaps predictably, Yu didn't show up today either, and the judge released the arrest warrant.1 Apparently this isn't the kind of warrant where the cops go out and hunt down the offender, but if he's pulled over or a cop has some other reason to enter his name into a computer, this will come up and he'll be arrested and hauled before the judge. The Chinatown BID is in CD1, Gil Cedillo's little kingdom, and as do all BIDdies with their Councilmembers, Yu has hitherto enjoyed Cedillo's unconditional love. But having the guy arrested and hauled by force before a judge to explain why he refuses to obey the law may, just may, not saying for sure, erode that affection, that tolerance, just a bit. We can hope!

And in other, more routine, news about this case, at the same hearing Beckloff considered our attorneys' motion for fees. You'll recall, no doubt, that the CPRA requires public agencies, like Yu's damnable BID, to pay costs and attorneys' fees to prevailing2 requesters. The judge awarded our very able lawyers, Abenicio Cisneros, Anna von Herrmann, and Joseph Wangler, $21.2K for their work. Which is not as much as they asked for, but it's certainly not nothing. It's almost exactly the same amount of money that Gil Cedillo just handed over to George Yu last October to pay for the BID's renewal consultant.
If Yu had shown up in court, or even just followed the damn law in the first place, they would have had this money out of the savings from what they're now having to pay our lawyers, so it sure seems like a waste of City money. I told Cedillo staffer Mel Ilomin about this at the time and he wasn't willing to act on the information. Perhaps this new development and the attendant bad publicity that may well come of it, will change Cedillo's calculations. We also can hope about that! And, as always, stay tuned!

Image of George "Little Caesar" Yu is ©2020 MichaelKohlhaas.Org.

It's technically called a body attachment, which is a name used in some jurisdictions including, evidently, this one, for arrest warrants issued in connection with civil contempt cases.
Here "prevailing" is a term of art in CPRA litigation. If a requester wins then they prevail, but it's possible to prevail with a result that's short of outright victory. For instance if the litigation causes the agency to produce more records than they already did then the requester prevails even if the judge finds against the requester on other issues or parts of the case. These fees can run quite high.