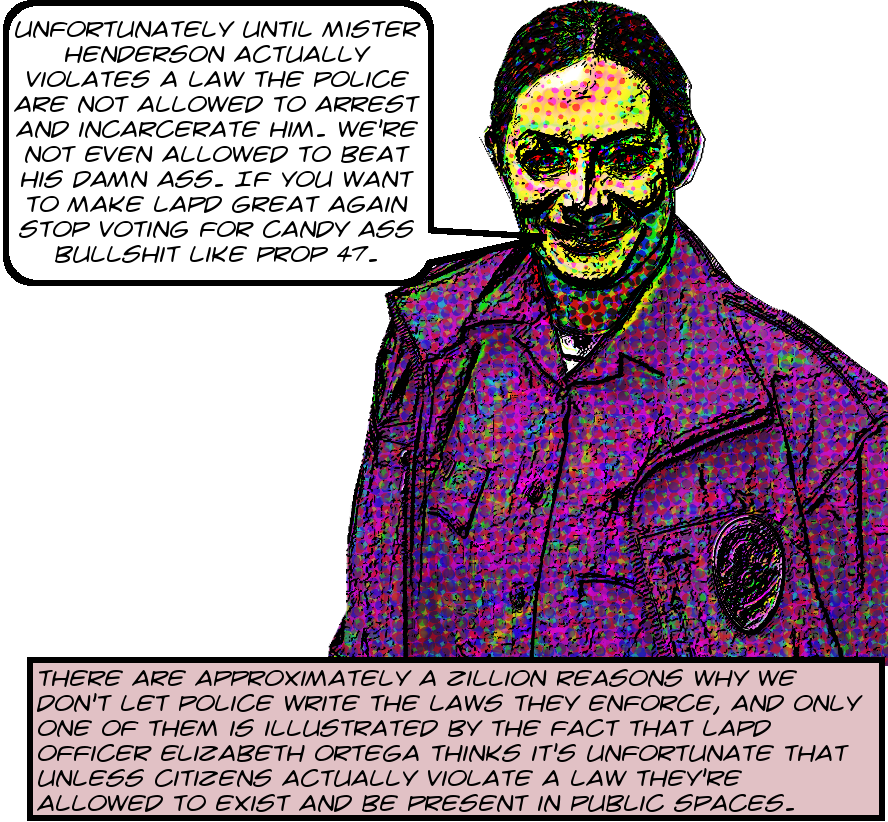 Here's the latest episode in the continuing story of the unholy obsession of psychopathic rageball George Yu, commander in chief of the Krazy Kriminal Konspiracy known as the Chinatown Business Improvement District, Los Angeles neighborhood prosecutor Tia Strozier, and LAPD senior lead officer Elizabeth Ortega, with the very existence of Chinatown resident Theo Henderson. You can read a report on this through May 2019 here.
The short version is that at Yu's behest, Strozier and Ortega, with the cooperation of other City officials from CD1 and Rec and Parks have been trying unsuccessfully for months to arrest Henderson or at least find a way to ban him from Alpine Recreation Center. They have subjected him to police hyperscrutiny in the hope of finding actionable violations and aggressively try to impose "services" on him as a way to forcibly relocate him. Today's post will bring the story up through July.1
One of the favored tactics George Yu and his minions at the City of Los Angeles2 use against the homeless people they're targeting is involuntary mental health commitments. So it's no surprise to see Ortega reassuring Yu via email on June 3, 2019 that she's arranged for the County Department of Mental Health to "speak to Theo" What's slightly surprising, though, is to see the putatively professional Ortega telling ostensibly private citizen Yu what seems like private medical information about Henderson. This ethical lapse certainly highlights the fact that the point of the intervention Ortega has arranged has little to do with Henderson's well-being and lots to do with Yu's vendetta.
Not that it needs to be highlighted. The fact that anyone with any training whatsoever, or even with any common sense, could sincerely think that Theo Henderson has any mental health problems at all, is completely implausible. It's ridiculous. There is no legitimate reason for any competent person to call DMH about Henderson, who is among the sanest people I know. If you haven't had the pleasure of meeting him, and want to judge for yourself3 you can watch him speaking some truth to Yu at a recent BID meeting.
On June 27, 2019 Henderson and other homeless rights activists held a press conference at City Hall to promote the Services Not Sweeps Coalition, which stoked Yu's always-smoldering rage at Henderson into an unhinged thermonuclear frenzy. On June 28 Yu sent an email to Ortega and Strozier, the subject line of which read "Theo's Press Conference", accusing Henderson of being a pedophile based on the exceedingly thin evidence of some pictures Henderson had taken of children at Alpine Rec Center and posted on Instagram.
Continue reading Tia Strozier Continues To Act As George Yu's Catspaw To Further His Vendetta Against Theo Henderson — Amplifying George Yu's Weirdo Unsupported Defamatory Insinuations — Apparently Setting Henderson Up To Be Killed By Police — Just Because Yu Hates The Guy — Oh And Also Because Gil Cedillo Wanted To Have An Event In Alpine Rec Center — And Someone At CD1 — Probably Ricardo Flores — Perceived Henderson's Presence As An Impediment — Also LAPD Senior Lead Officer Elizabeth Ortega Expresses Her Dismay At Being Unable To Arrest Henderson Just For Existing — "Unfortunately" — Says Ortega — "unless he commits a crime he is allowed to be at the park during park hours" →