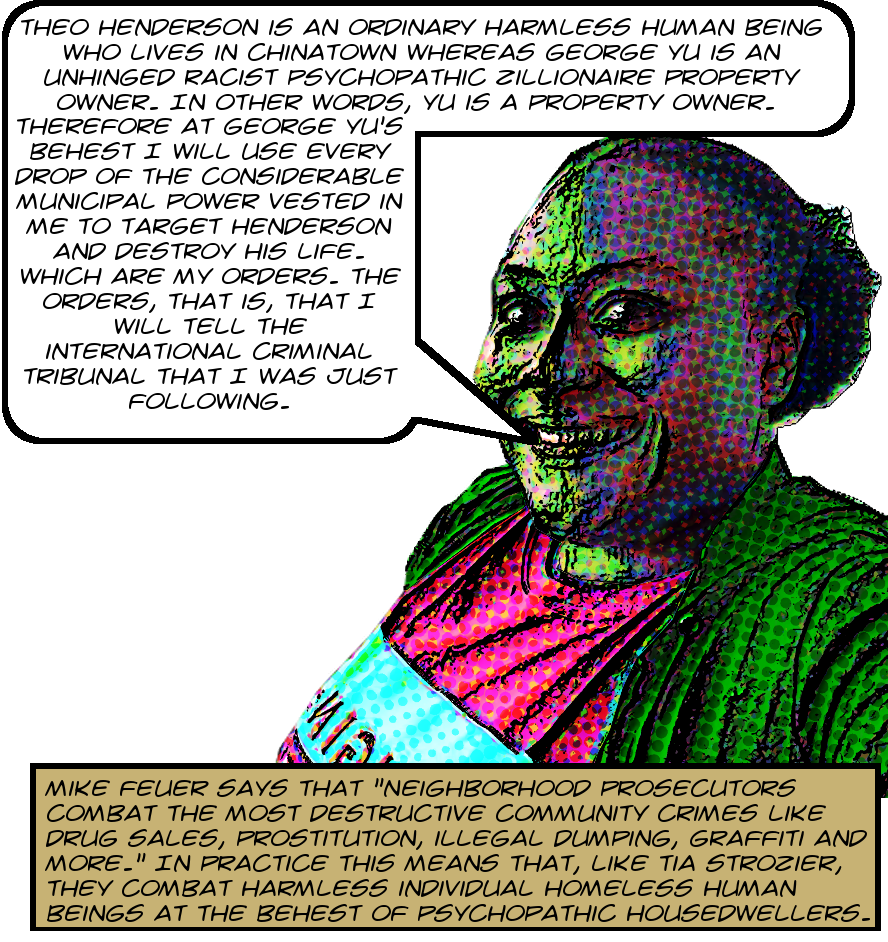 So yesterday I went all over the damn City fetching public records from various agencies and told the story in this Twitter thread. And one of my stops was at the City Attorney's office in City Hall East where I was menaced by a cop and subjected to extensive elevator therapy and then no one knew where the records were so I had to leave and then come back and finally I got them! And now you can get them too, right here on Archive.Org!
What I asked for here were emails to and from Tia Strozier, who is a newly appointed neighborhood prosecutor in Downtown Los Angeles. In that role, despite the mendacious utopian rhetoric of her lying boss Mike Feuer, she mostly works as an abject minion to business improvement districts and other zillionaire-facing organizations, her main job being to direct the full majesty of the law against whoever the zillionares desire, mostly homeless human beings who happen to live within the effective range of the considerable legal weaponry at her disposal.
One such person is Theo Henderson, a resident of Chinatown who, for reasons best known to the imaginary psychiatrist of unhinged racist1 psychopathic rageball and Chinatown BID kingpin George Yu, found himself squarely in the crosshairs of Yu's rage. So much so, in fact, that activist residents of Chinatown rallied around Henderson, among other things, starting a Facebook group to discuss his plight.
And the story that these newly-obtained emails tell about George Yu, Tia Strozier, and the toxic misuse of municipal power, is not a pretty story. It shows Strozier marshalling her resources, convening meetings with Yu, other BIDdies, LAPD officer Elizabeth Ortega and other cops, City officials from Recreation and Parks, Ricardo Flores from CD1 representative Gil Cedillo's office, and so on, to discuss how to persecute Henderson.
And perhaps the most offensive part of this offensive, possibly unlawful, series of events is Strozier's weaponization of the language of compassion, so common and yet still so appalling, among anti-homeless forces in Los Angeles, evinced here in her repeated insistence that she's arranging for "outreach" for Henderson when it's clear from the context that what she means by "outreach" is ultimately forcible removal from Chinatown, his neighborhood, where he lives. Anyway, read on for links, transcriptions, and so on!
Continue reading How Downtown Neighborhood Prosecutor Tia Strozier — And LAPD Officer Elizabeth Ortega — And CD1 Council Staffer Ricardo Flores — And Albert Torres of Rec And Parks Police — And A Bunch Of Other Housedwelling City Officials — Used The Full Force Of The Municipal Power Entrusted To Them For Legitimate Purposes To Target Unhoused Chinatown Resident Theo Henderson — Just Because Unhinged Racist Psychopathic Rageball — And Director Of The Chinatown Business Improvement District — George Yu — Asked Them To →