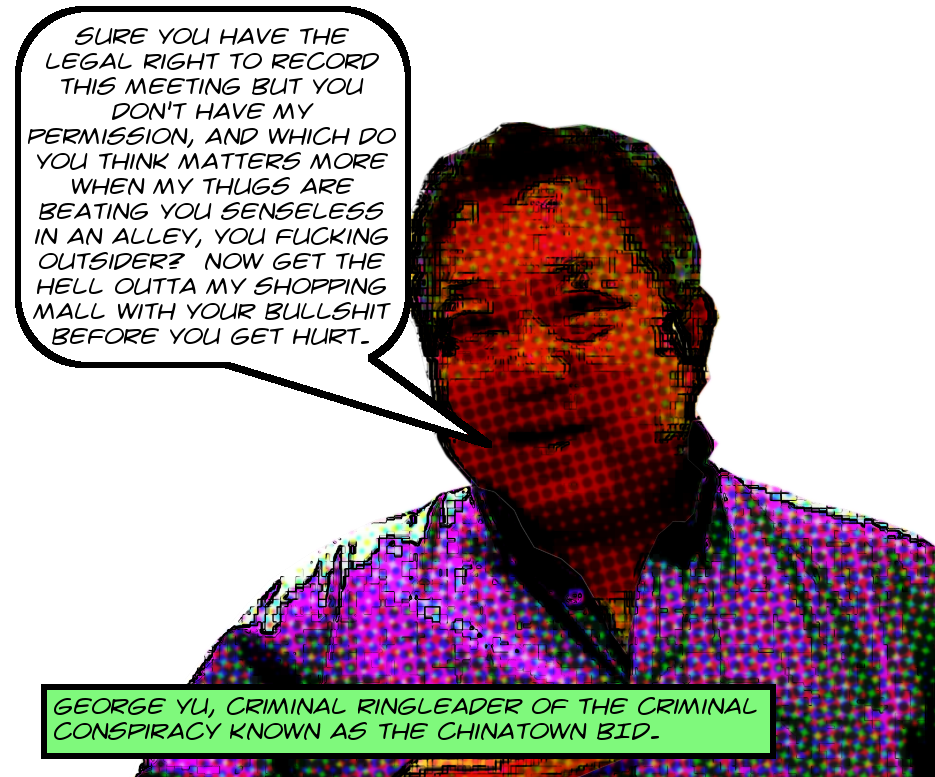 Well, it's always interesting to visit a new BID for the first time, and today's journey out to Chinatown was certainly no exception. The BID meets in the Far East Plaza upstairs1 so up I went. They tried to get me to sign in, but I just ignored them because that's illegal, innit?2 I did record the meeting, and you can watch the whole thing if you want here on YouTube and also here on Archive.Org if Google gives you the willies.3
There was a lot to write about at that meeting, but the most interesting thing4 was the fact that George Yu, just like that lady from the Arts District last month, decided he was going to confront me about recording his meeting, so he came over, just like she did, and stuck his face right in the camera, just like she did, and proceeded to embarrass himself in his anger and his shame, just like she did. Watch the whole frickin' episode right here.
Now, a lot of other interesting stuff happened at this meeting, but I'm going to have to put off writing about it, because the very most interesting thing that happened today happened right after the meeting. As you're probably aware, Howlin' Rays does not actually define the the Far East Plaza, which also has some nice restaurants that are NOT overrun by zombie hipster hordes. And since the BID meeting was right at lunch time I thought I'd eat a banh mi and some pho before hopping the good old 45 southbound back to reality.
But after I ordered and before most of my food came,5 a security guard came busting into the restaurant and told me that the Far East Plaza was private property and that the owner didn't want me there any more and that I would have to leave. Did I mention I recorded him too? Watch it here on YouTube or here on Archive.Org.6
I've been through a lot of crazy stuff when exercising my constitutional right to film BIDs,7 but this is right up there with the very craziest, which was the time I got screamed at for being possessed because I filmed meetings. Also, while George Yu's argument makes some kind of sense theoretically, there are aspects to the situation that make it plausible that he can't actually ban me from the property without some kind of reason. Turn the page for my amateur speculations on the matter!
Continue reading How I Recorded Today's Chinatown BID Meeting — And Got Screamed At By Criminal Ringleader And Big Poopy-Pants Whiny-Baby George Freaking Yu Cause I Wouldn't Submit To His Weirdo Thuggish Demands — Then He Had His Weirdo Thuggish Security Guard Ban Me From The Far East Plaza Even Though I Didn't Do Anything — Except Refuse To Bow To His Weirdo Thuggish Demands, That Is →