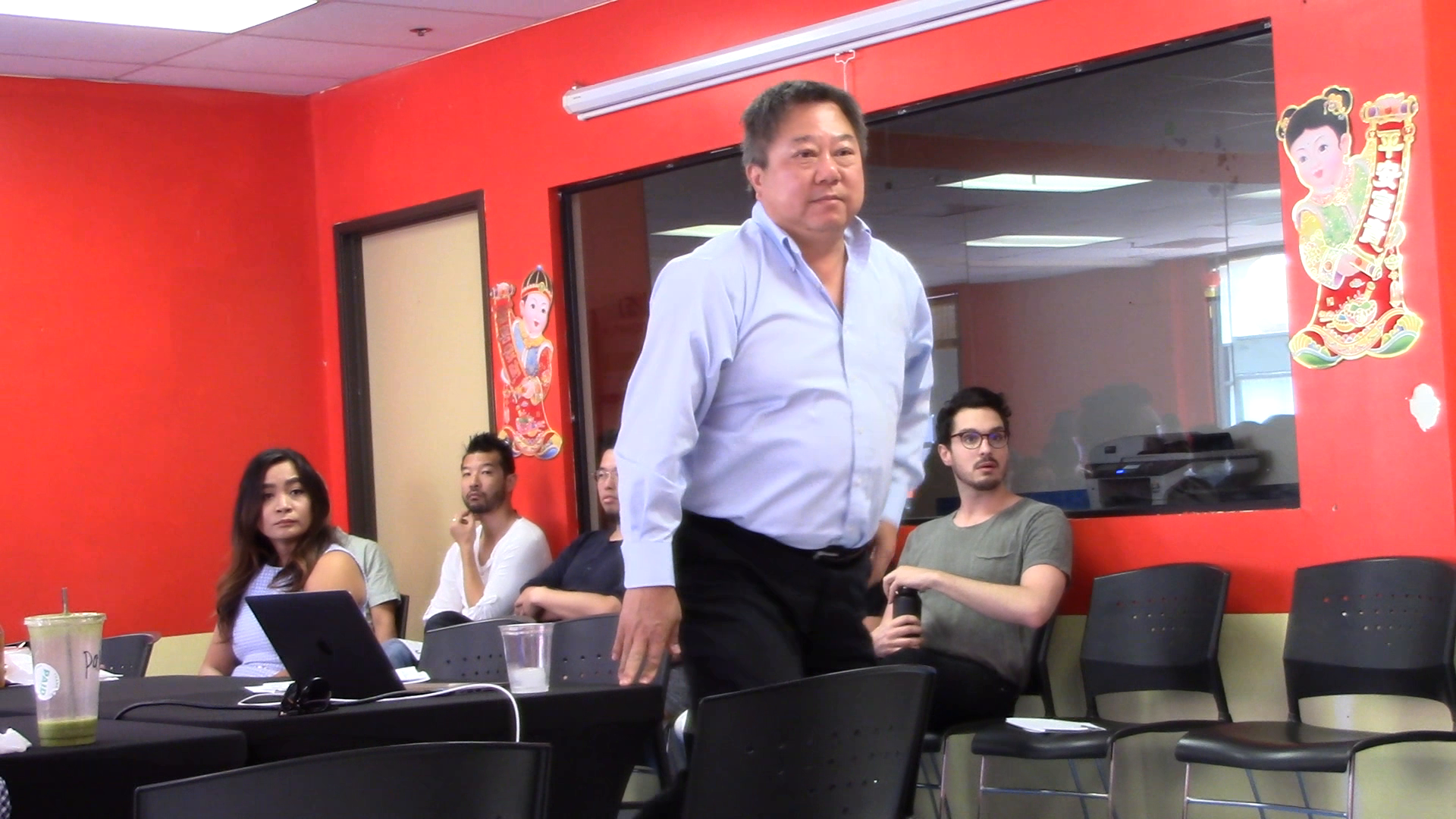 George Yu, executive director for life of the Chinatown Business Improvement District, is well-known for his defiance of the law in BID-related matters. For instance,
he has utterly refused to participate in a lawsuit
brought against the BID to enforce the California Public Records Act.
1
And he cannot keep his mouth shut about his outlaw proclivities, like for instance last year at a BID board meeting
he announced that he had broken the law
by spending BID money on harassing homeless human beings outside the boundaries of the BID.
2
So, you know, I went to today's meeting expecting more of the usual George Yu crapola. But what actually happened was far, far more important than the stuff on the agenda. During the section of the meeting on public safety, long-time Chinatown residents Zen Sekizawa and Mario Correa had a few things to say to Yu and to the public at large about multiple attacks on them by George Yu and, at his direction and with his support, the BID's off-the-chain security forces. I filmed the whole meeting, of course, and you can download a copy here from Archive.Org or watch it here on YouTube. The chaos starts at 23:19
And unhoused Chinatown resident Theo Henderson was there as well. And as George Yu's desperate and pathetic verbal attacks on Sekizawa and Correa escalated, Henderson gave a fiery speech putting Yu's lies in the context of his own experience. George Yu has beset Henderson for years, marshaling the LAPD, the City Attorney, and his own BID security forces against him, and Henderson called him out for the world to hear:

It's been a fluff piece about how great this gentleman is, however, what I have understood is that he has an antipathy against unhoused people. He calls them bums. He stalks. He surveils. He does everything in his power to make it uncomfortable. I am the gentleman that was on that quality of life issue the previous meeting. So I decided to come and have my side of the story because obviously this [unintelligible] has been posted everywhere. I have heard several different crazy stories. If I had not known it was about me I would be understandably afraid. So let us not excuse his behavior and try to de-escalate or invalidate these people's concerns. These are legitimate. These are homeowners. These are community members. I have been a community member. I have lived over here over ten years before I became unhoused. So I have as much of a right as anybody else in here. He doesn't even live here. He lives way out in some gated community. So this is the issue that community members that sit here and listen to him and hang on to his every word need to understand. We do not want him or his business improvement district employees here. He is a terrorist to people that are working class, an elitist, and an outright bully. And it is unacceptable. I am tired of it, and I want the community to understand and to do something about it.
George Yu did not like what he heard. Not. At. All. George Yu argued, accused, tried to derail, and when he could not shut down the flow of truth, adjourned the meeting unexpectedly and rose out of his chair in anger and walked aggressively toward Theo Henderson, another member of the public giving comment. This is a turning point in the history of this BID, maybe of all BIDs in Los Angeles. George Yu has long been unhinged, but now he's decompensating.
Evidently he can no longer disguise his mental illness, his intermittent explosive disorder. He is exposing himself to the world now, to his masters in the City government, and it's not pretty. It's quite possibly George Yu's have-you-no-sense-of-decency moment, the beginning of the end for him. Perhaps this is that will force the City, as complicit as it has been in the privatized violence perpetrated on its behalf by BIDs, to acknowledge that its BID program is essentially welfare for psychopaths, that it is no longer sustainable, if only as a matter of public relations. Read on for a transcription of the entire episode.
Continue reading "He Is A Terrorist To People That Are Working Class" — Chinatown Residents Spoke Truth At BID Meeting — Chinatown BID Director George Yu Flips Out — Tells Them It's Inappropriate — They Kept Talking — He Contradicted Them — They Kept Talking — He Said They Were Liars — They Kept Talking — He Insulted Them — They Kept Talking — He Had A Whiny-Baby Poobutt Hissy Fit Meltdown — Adjourned The Meeting — In A Futile Attempt To Shut Them Up — Told All Members Of The Public That We Were On His Private Property Now And Had To Leave — They Kept Talking — He Rose Up From His Chair — Walked Toward Them Aggressively — They Kept Talking — This Is The Kind Of Unhinged Psychopathy That The City Of Los Angeles Sees Fit To Support With Tax Money And Political Influence — This Is Partly Why George Yu — And His Chinatown BID — And All BIDs In Los Angeles — Must Go — Now! →