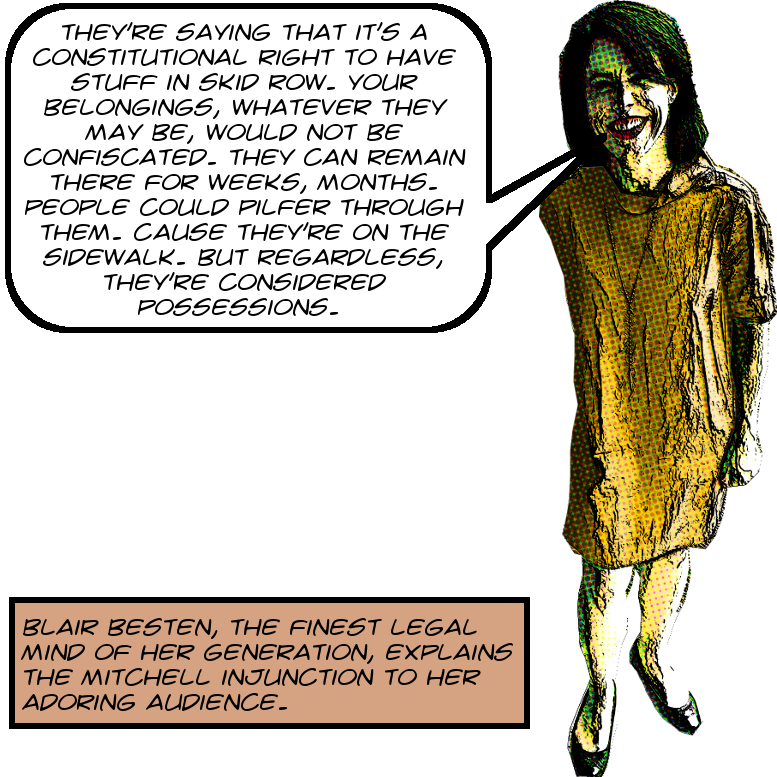 It's been a long while since we here at the blog have heard from Blair Besten, the half-pint Norma Desmond of the Historic Core.1 Well, it's because, like with El Duckworth, she is so convinced that she is above the law that I haven't gotten any substantial records out of her infernal BID in ever so long, and without records I will not, I can not, mock.
And of course, as you know, I'm in the process of suing her and her damnable BID to enforce compliance with the Public Records Act. And she's going to lose, because losing is what she does best. So at some point the records will be rolling in again and the full-time mockery will resume. Until then, though, well, I have always relied on the kindness of strangers, and they are strangely kind to me.
In particular, just recently, unsolicited, was handed to me2 an audio track of an unscheduled appearance made by Ms. Besten at some bullshit meeting conducted at some bullshit Downtown residential bullshit location, having something to do with some bullshit or other. So I made it into a video3 and you can listen here on YouTube and here on Archive.Org, where you can also download it more easily. And of course there's also a complete transcription after the break!
And best of all, this unexpected bit of Besteniana means that it's gonna be like the good old days around here what with all the mere mockery unloosed upon the world! Gonna mock around the clock tonight! Turn the page, I'm gonna lay it on you in increments, but before then let's just spoil the ending and take a look at the single most incomprehensibly lobotomized proclamation proclaimed by Ms. Blair Besten in a long unbroken chain of incomprehensibly lobotomized proclamity!
What, you may ask, does Ms. Blair Besten think that the plaintiffs in the lawsuit Mitchell v. Los Angeles are so freaking wrong about? Why "they're saying that it's a constitutional right to have stuff in Skid Row." If you stop and think about it, Ms. Besten, that's kind of like, almost, what the Fourteenth Amendment to the constitution is saying with all that jive about "nor shall any State deprive any person of life, liberty, or property, without due process of law."
See the part about property? That's what grownups call "stuff." And I don't see anything about it not being true in Skid Row. In fact, all kinds of people have "stuff" in Skid Row. Like e.g. all those property owners in the Downtown Industrial District BID. Gonna tell them they can't have stuff there?
And the amendment goes on to say that states may not "deny to any person within its jurisdiction the equal protection of the laws." They seem to have left out the not in Skid Row bit there too. So on Blair Besten's testimony it's hard to see why she's so upset at the prospect of the City settling Mitchell. But she is very upset. Can see how it might get confusing to folks like Besten. And listen, lest you think I'm being pointlessly mean to Blair Besten, please keep in mind that this is not just some kook spouting her theories to the waves on Venice Beach.
She is the head of a major Downtown Business Improvement District, hand-picked by Jose Huizar over the objections of its board of directors to administer its outrageously high $2.2 million budget. She is widely considered by City officials to be some kind of expert on homelessness, to the point where they appointed her to the damn HHH citizens' oversight committee over the objections of a lot of sane and accomplished people. She's not just a kook, although she is a kook. She's a dangerous kook with a lot of power. So yeah, I'm being mean to Blair Besten, but not pointlessly mean. Anyway, read on, friends!
Continue reading "They're Saying It's A Constitutional Right To Have Stuff" — More Performative Insanity From Batty Little Fusspot Blair Besten — The Finest Legal Mind Of Her Generation — As She Explains The Mitchell Injunction To You — From The Point Of View Of A Whiny Entitled Privileged Stupid Person — A Constituency That Doesn't Get Nearly Enough Attention In Los Angeles — That's Sarcasm — They're In Charge Of The Damn Asylum — And Listen To Her Run Her Poormouth About How Her Putatively Underfunded BID Makes Do With Low Budgets By Being More Efficient Than The Fashion District — Which Spends Proportionately Half Of What Besten Spends On Administration — Lie Or Incompetence? — The Perennial Besten Question →