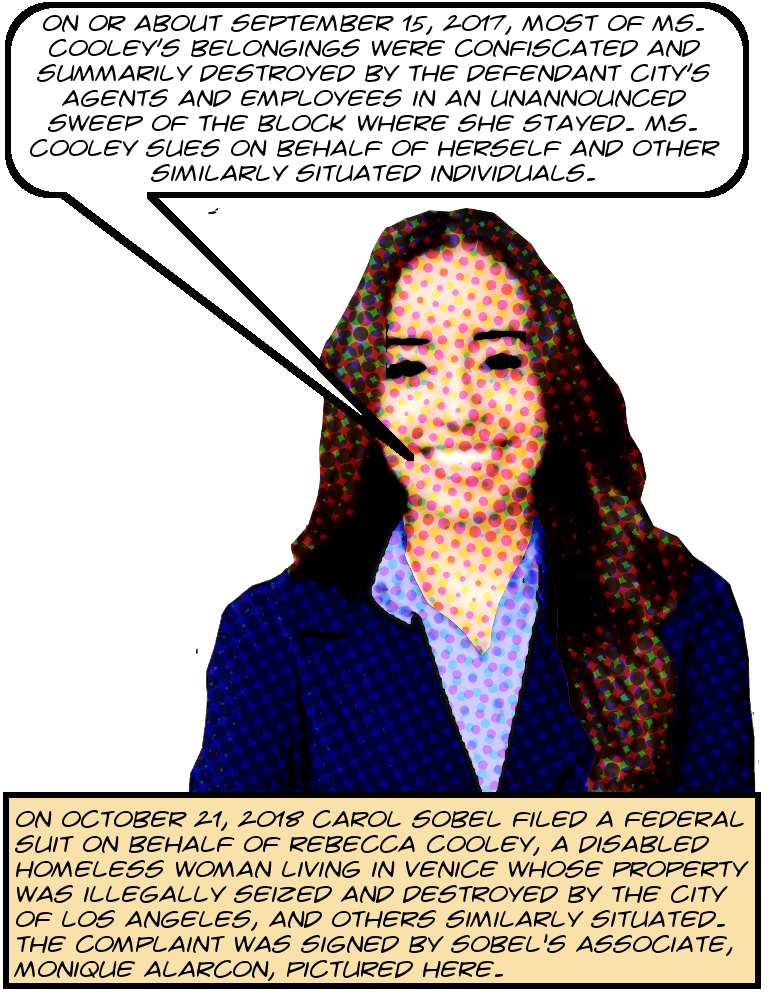 On October 21, 2018 Carol Sobel filed suit in federal court against the City of Los Angeles on behalf of three named homeless people along with about sixty others similarly situated. The three, Rebecca Cooley, her husband Benjamin Hubert, and Casimir Zaroda, are homeless people who were living on the streets in Venice in September 2017 when the City of Los Angeles, without notice and without any kind of process, confiscated and destroyed their property, including tents, blankets, essential paperwork, transit passes, and other items essential to the maintenance of human life. The suit comes just as the City is resuming its horrific, indiscriminate sweeps of homeless encampments outside of neighborhoods covered by the various injunctions.
The initial complaint claims that the City's actions violate constitutional bans on takings and on unlawful seizure as well as the constitutional guarantee of due process. These familiar theories have been consistently upheld by federal courts up to and including the Ninth Circuit,1 all of which have been willing to issue and/or uphold injunctions against the City's property confiscation and destruction policies. So it's hard to imagine that the City can prevail on these issues.
Also, because two of the three named plaintiffs are disabled along with many of the similarly situated unnamed plaintiffs, the complaint also alleges that the City violated the Americans With Disabilities Act by confiscating their essential papers and means of transportation, by storing confiscated property in locations and facilities not properly accessible to disabled people, and, in general, by following policies and practices with respect to homeless people's property that disproportionately burden disabled people.
Turn the page for transcriptions of selections from the initial complaint.
Continue reading Rebecca Cooley v. City Of Los Angeles — On October 21, 2018 Carol Sobel Filed Yet Another Federal Suit Against The City Of Los Angeles — Alleging The Illegal Confiscation And Destruction Of The Property Of Rebecca Cooley, Benjamin Hubert, And Casimir Zoroda — Three Disabled Homeless People Living In Venice At The Time — Seeks Class Action Status For Approximately 60 Others Similarly Situated →