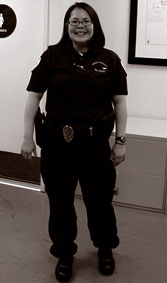 A search of the newly released
2013 daily activity logs
of the BID Patrol reveals 50 mentions of the Hollywood Farmers' Market. You can read all of these with links to the logs
at the bottom of this post
. Now, we have written before
about how the BID Patrol only arrests and warns homeless people
for violating
the abhorrent LAMC 41.18(d)
. Finally we have conclusive proof that this is true on a massive, previously unsuspected scale, and it comes from the BID Patrol's own logs.
Here is just one example out of many, many, many. On
March 11, 2013
at 11:50 AM, BID Patrol Officers Courtney Kanagi (badge #130) and G. Merkens (badge #112) recorded the following activity:

1150 BACK-UP FB3: FARMER'S MARKET (IVAR/SELMA); INFORMATION BOOTH CALLED RE: A MALE TRANSIENT AGGRESSIVELY PANHANDLING; OFFICERS MET UP WITH THE SECURITY AND FB3; OFFICERS ADVISED MALE OF HIS VIOLATION; COMPLIED BY LEAVING THE AREA WITH NO FURTHER INCIDENT.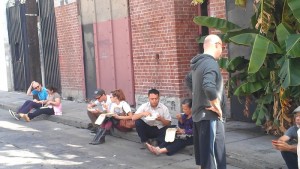 In other words, Kanagi and Merkens were in the Farmers' Market at 11:50 AM and did not arrest, warn, or even mention the gangs of people who appear every single Sunday and sit on the sidewalk on Cosmo Street north of Selma to eat. But during this same watch they warned 37 (thirty-fricking-seven!) "TRANSIENTS" (their word) outside of the Market for violating LAMC 41.18(d). Three of these warnings took place a mere 15 minutes after Kanagi and Merkens logged their presence in the Market:

1205 CONTACT (3): HOLLYWOOD/CAHUENGA; OFFICERS OBSERVED 3 TRANSIENTS SITTING; ADVISED OF THEIR LAMC VIOLATION; COMPLIED BY STANDING UP AND LEAVING THE AREA WITH NO FURTHER INCIDENT.

Continue reading

The BID Patrol Walked Through Hollywood Farmers Market 50 Times in 2013 and Neither Warned Nor Arrested Non-Homeless Cosmo Street Sidewalk Sitters