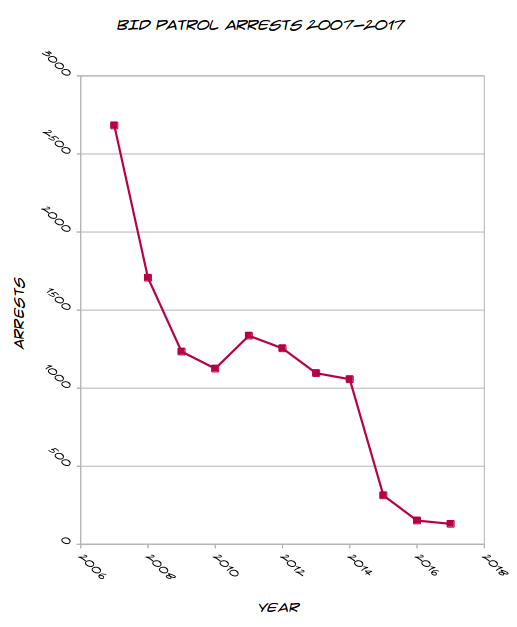 I started scrutinizing the three major Hollywood business improvement districts in late 2014, and soon discovered that the so-called BID Patrol, armed security guards employed by Andrews International under contract to the two BIDs managed by the Hollywood Property Owners Alliance, that is to say the Hollywood Entertainment District BID and the Sunset & Vine BID, was responsible for more than one thousand custodial arrests of homeless residents of Hollywood every year.
And these arrests were1 ugly affairs. They involve harmless people, like ice-cream vendors, being handcuffed, forced into SUVs, and chained to a bench, sometimes for hours. There were 2,682 such arrests in 2007, a number of such shocking incomprehensibility that I published a four volume set of photographs of these victims in order to provide some means of visceralizing the sheer incredible magnitude.
So it was a welcome discovery indeed to find out that in 2015, almost certainly as a result of my scrutiny, BID patrol arrests dropped 70%, from 1,057 to 313. Circumstances beyond my control have, maybe you've noticed, limited my ability to write about the HPOA, but I recently obtained arrest rate statistics for 2016 and 2017, and they show an even more precipitous drop in arrests in the two HPOA BIDs, with only 152 custodial arrests in 2016 and only 131 in 2017.
Thus from 2015 to 2016 there was a more than 50% reduction, which was an 85.6% reduction from 2014, their last unscrutinized year. This trend continued in 2017. Of course, this huge reduction in arrests did not lead to any corresponding reduction in costs. The HPOA paid roughly the same in 20172 to have 131 homeless people arrested as it did in 2014 to have 1,057 homeless people arrested. I have no doubt whatsoever that this is due to my scrutiny, and I am about as proud of saving these multiple thousands of people the pain, humiliation, and legal troubles consequent on these chickenshit arrests as I am of anything I've ever done.
Continue reading Final BID Patrol Arrest Rates For 2016 And 2017 Show Close To 90% Drop From 2014, Which Was Their Last Unscrutinized Year — This Precipitous, Unexplained Decrease Leads Hollywood BIDs To Consider Using Unarmed Security In 2018 Or 2019 →