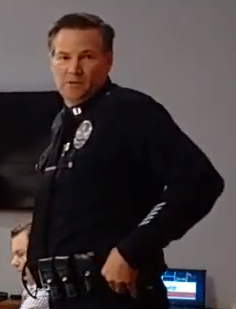 Watch and listen to LAPD Captain Cory Palka
speaking at the most recent meeting of the Board of Directors of the Hollywood Property Owners Alliance. Captain Cory recently replaced the
now transferred Peter Zarcone
as Hollywood honcho, and evidently a good-will-drop-in mission to the local zillionaire's club is
de rigueur
in that situation.
You can read a transcript of the ongoings after the break, as always, but today we're focusing just on a little bit of unplanned, unscripted joking around, for in such situations, according to Sigmund Freud (as our friends at Wikipedia put it), we can discern "…forbidden thoughts and feelings that the conscious mind usually suppresse[s] in deference to society."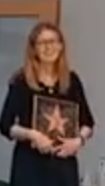 The fun began when Kerry Morrison, her inimitably sycophantic affect in full flower, told Cpt. Cory that she had a surprise for him! (This bit starts here).
KM: I have one fun thing to show you. When you were here, I remember you said "Ooooh! I really want one of those star placques!" So I made this up for you for 2013–2014 and then I kept texting, like I want to go down and tour 77th Division.
And Cowboy Cory Palka has a little joke about this:
CP: You don't want to go to 77th…
Now, it's hard to see what's funny about that, right? We mean, really, what's funny? But the HPOA thinks it's fookin' hilarious. Just watch.

So really, what's so funny? There's no clue in Cpt. Cory's follow-up remarks, either, although we do get the sense that he almost talked about, just barely refrained from mentioning, the dreaded "those people":
Totally different environment. My first year in 77th Street I had fifty murders and then last year I had thirty three. And I remember, I was telling my daughter we were doing some great things down there, and she was like "Great things? Man, pretty dangerous down there." And I had ten when I left this year, so, Pete still has ten, I haven't had any, I've been here, this is my second week, so, it's just a different community and with a whole different set of challenges. Um, that's a whole different discussion, so…
Very smart, very wise folks have been trying to decipher this kind of coded lingo forever now (as well as some very smart, not-so-very wise ones). There are whole academic departments in our finest universities filled with scholars who spend entire careers trying to explain what these people mean when they say stuff like this, not to mention why they laugh at it, so we're probably not going to settle it here today. On the other hand, we do have a few comments, which you can find after the break.
Continue reading LAPD Captain Cory Palka and Hollywood White Supremacists Have A Good Laugh Over Fucked-Up State of 77th Street Division Even as they Continue Decades-Long Tradition of Thriving on its Misery →