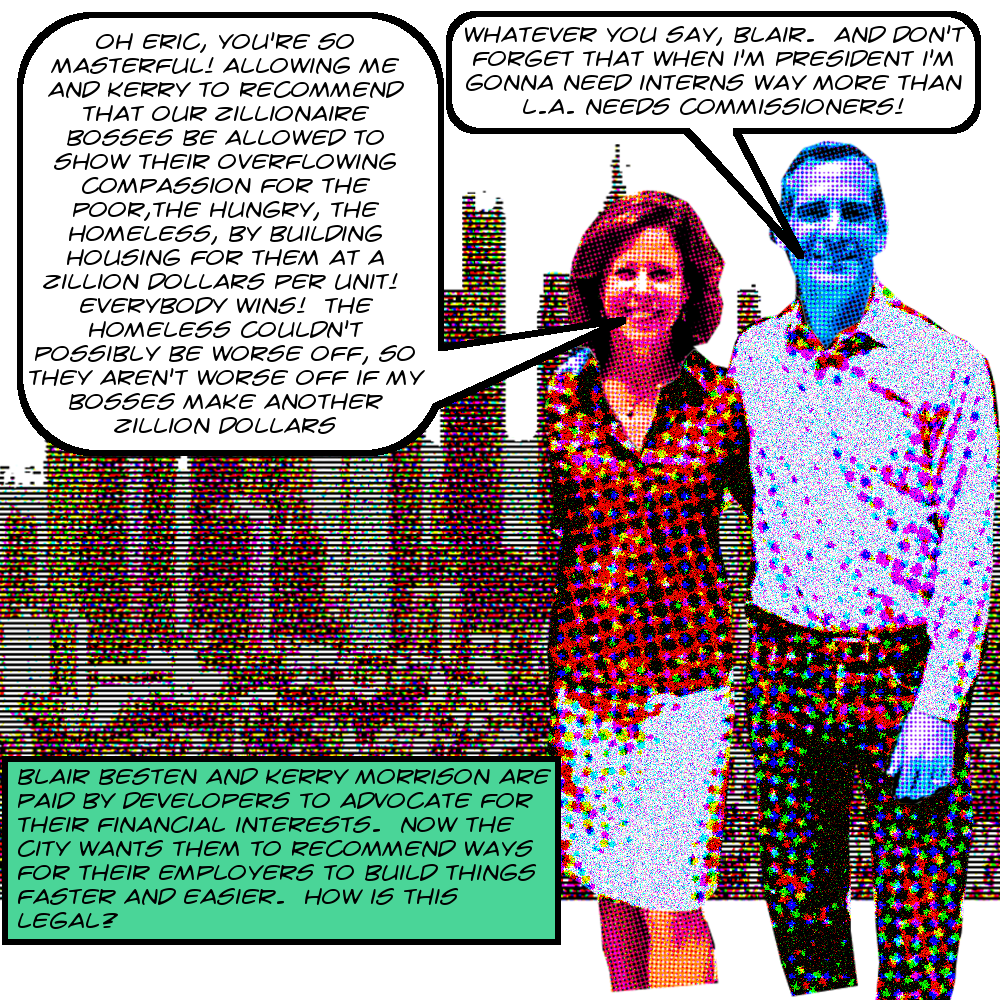 In November 2016 the voters of Los Angeles approved Measure HHH, which provided a huge amount of funding for housing homeless people. The measure also created a Citizens' Oversight Committee, putatively for the purpose of making sure the money was well-spent. Subsequently, Eric Garcetti appointed Hollywood BIDdie and famous mayoral pookie-pie Kerry Morrison and some other people to the Committee and the City Council appointed Downtown BIDdie and famous José Huizar pookie-pie Blair Besten to the Committee.
These appointments meant that 2 of 7 committee members work for business improvement districts,1 which was bad enough in itself given that one of the main purposes of BIDs is to banish the homeless from their districts and to basically waste public money in the form of their assessments while doing that. But on Wednesday matters got immeasurably worse.
What happened is that Marqueece Harris-Dawson and Mitchell Englander introduced a motion proposing to expand the remit of the CoC to include making

comprehensive recommendations to the Homelessness and Poverty Committee regarding changes to the permanent supportive housing process and funding structure to enable a more expedited delivery of homeless housing.

That is, the Committee is now charged with weakening the funding process and the permitting and building approval process for projects that will help house the homeless. This sounds superficially like a good thing, but there's at least one huge problem with it. Blair Besten's employers, Kerry Morrison's employers, are huge commercial property owners and developers and weakened processes are their bread and butter. They know exactly how to turn weakened processes into strengthened profit margins.
At least some of them, e.g. Ruben Islas, make immense amounts of money from building and owning housing for the homeless. Blair Besten has lobbied the City intensively on relaxing zoning codes and on granting psychotically expansive tax breaks to such developers. This new proposal, therefore, would grant Blair Besten and Kerry Morrison the power to make recommendations directly to City Council on issues that they are already paid by developers and property owners to lobby the City over.

It's a whole new level of conflict of interest on an already-conflicted committee. The people in charge of spending Prop HHH funds ought at least to see the best interests of the homeless, of the City of Los Angeles, as preeminent rather than the twisted fever dreams of their sinister employers. But there's really nothing surprising in this proposed modification of the Committee's mandate.
It's business as usual in Los Angeles to pass the most progressive sounding laws imaginable and then, over time, as attention wanes, to adjust them one tiny bit at a time until the only the interests of the zillionaire elite are being served. When HHH passed, Marqueece Harris-Dawson, in his naive enthusiasm, said "We earned our wings tonight. We completely lived up to the title City of Angels." And he was right. After all, Satan is an angel too.
Transcription of Wednesday's motion:

HOMELESSNESS AND POVERTY
MOTION
The City is facing a homelessness crisis. In November 2016, the voters overwhelmingly supported Proposition HHH to develop supportive housing and facilities to address homelessness. Since that time, the City Council has continued to allocate considerable resources to tackle this crisis. Proposition HHH provides the City a unique opportunity to improve the model that supports the development of permanent supportive housing and to maximize local resources to expand the production of housing, using innovative approaches and leveraging the bonds with Low Income Housing Tax Credits, philanthropic dollars, state, county resources and private investment.
The City has long-established administrative procedures for the development of permanent supportive housing and affordable housing. HC1D proposes periodic revisions to the annual program regulations for Proposition HHH funding and in December 2017, Council instructed HCID, with assistance from other departments, to improve the program regulations to promote expediency and innovation (C.F. 17-0090-S2). These processes should be improved to respond to the housing crisis die City is confronting today. At minimum, these processes should emphasize innovation, expediency, and maximum production.
Pursuant to Ordinance No. 184671 that governs how Proposition HHH funds will be managed, the Proposition HHH Citizens Oversight Committee (CoC) was formed to "advise and make recommendations to the Proposition HHH Administrative Oversight Committee (AoC) on items relative to the Proposition HHH program, including its policies and programs." These committees have overseen the development of the Proposition HHH Permanent Supportive Housing Loan Program (PSHLP). As the Housing and Community Investment Department (HCID) formulates its recommendations, the CoC should also be solicited for recommendations relative to improving the Proposition HHH PSHLP and the City's affordable housing development processes.
I THEREFORE MOVE that Council request the Proposition HHH Citizens Oversight Committee (CoC), with the assistance of the Chief Legislative Analyst, City Administrative Officer and the Housing and Community Investment Department to make comprehensive recommendations to the Homelessness and Poverty Committee regarding changes to the permanent supportive housing process and funding structure to enable a more expedited delivery of homeless housing.
PRESENTED BY:
MARQUEECE HARRIS-DAWSON
Councilmember, 8th District
SECONDED BY:
MITCHELL ENGLANDER
Councilmember, 12th District


Image of Blair Besten and whats-his-freaking-name is ©2018 MichaelKohlhaas.Org and here's one piece and here's another.

This means that they do think a lot about homelessness, but always with the ultimate goal of getting homeless people out of their districts rather than solving or even ameliorating the problem. However, they don't want to look like monsters in public, but rather than choosing the obvious but career-destroying path of not actually being monsters, they've decided to repeat the word "compassion" loudly and rapidly whenever they're doing monstrous things. Somehow the L.A. Times picked up on this and has spent decades quoting them as some kind of experts on homelessness. OK, not quite decades in the case of Blair Besten, but the rate at which her idiotic self-serving bullshittery is quoted in the press is so freaking high that it would take decades for a normal person to catch up.