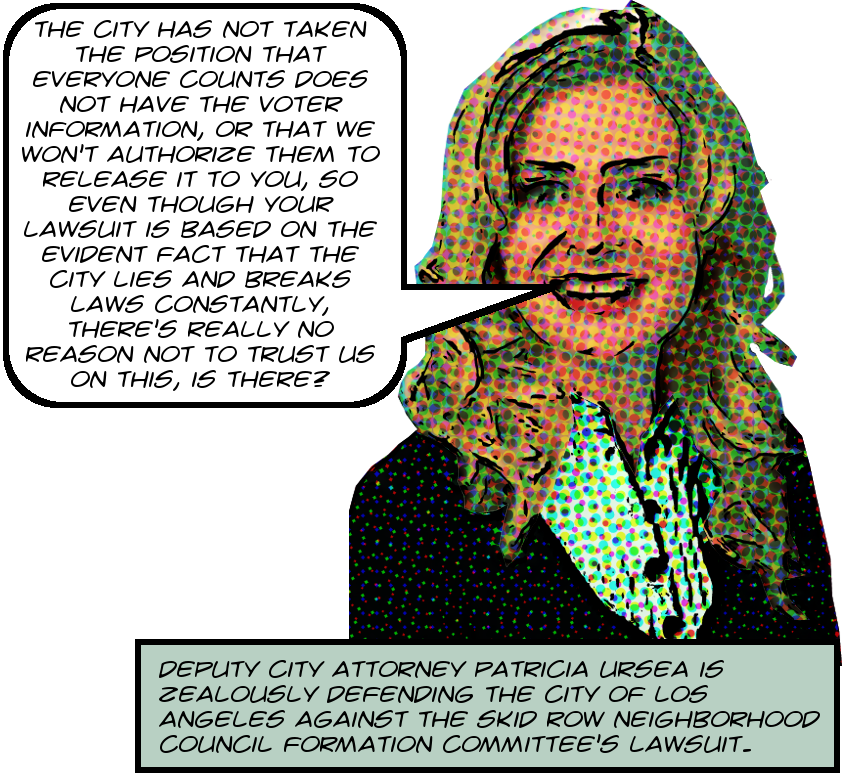 You may recall that in 2017 Skid Row held an election seeking to form a new neighborhood council as a subdivision of DLANC but Jose Huizar and a bunch of corrupt downtown zillionaires and business improvement districts conspired to illegally thwart their effort by allowing illegal online voting and illegal out-of-district polling locations. The whole mishegoss is the subject of an ongoing and monumental lawsuit.
The evil plan worked as intended with the subdivision proposal putatively defeated by a mere 60 votes out of more than 1,500 with the online voters markedly skewed against formation. Thus information about these online votes is essential evidence for the plaintiffs. The paper ballots ran 183 to 19 in favor of formation whereas the online ballots, at least according to the City of Los Angeles, ran 583 in favor and 807 against.
But Everyone Counts, the contractor hired by the City of Los Angeles to run the online part of the election, was recently bought by a company called Votem, which turned around and went out of business. And the City of Los Angeles has therefore been unable to track down the required evidence. This failure led the SRNC proponents to file an audacious motion with the court yesterday seeking to compel the City to hand over the evidence.
Or, if they remain unable to do so, to void the online ballots as a remedy for the fact that there's no way for them to analyze the evidence and to compensate them for the fact that the City failed in its duty to preserve evidence. Of course, voiding these ballots would give the election to the Skid Row Neighborhood Council proponents. And of course, that would be a good thing, and in the interests of truth and justice.
To quote the SRNC-FC's lawyer, Grant Beuchel, "Los Angeles is a pay to play city, and my clients do not have enough money to play." The hearing for this motion is on the calendar in Department 86 on July 12, 2019 at 9:30 a.m. in the Stanley Mosk Courthouse. Maybe we'll see you there! And turn the page for transcribed selections.
Continue reading Skid Row Neighborhood Council Online Voting Contractor Everyone Counts Seems To Have Gone Out Of Business — Which Seems To Be Making It Impossible For The Formation Committee To Get Evidence For Their Ongoing Lawsuit Against The City Of Los Angeles — So Yesterday They Filed A Motion Asking The Judge To Compel The City To Produce — Or Else To Reject All Online Votes Because They Can't Be Verified — Which Would Cause SRNC-FC To Win! — Perhaps A Long Shot — But An Audacious One →