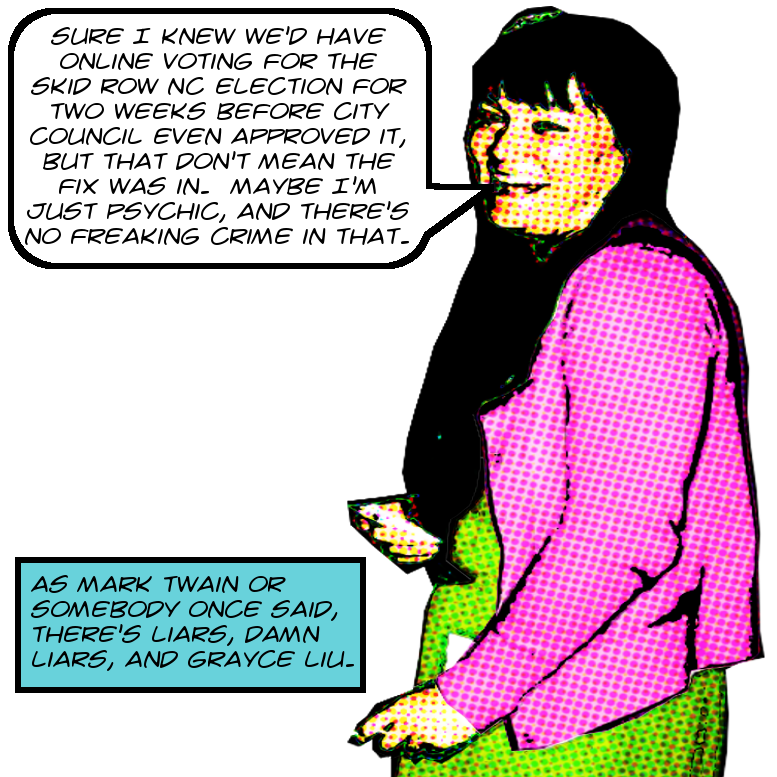 I recently received almost three hundred pages of emails from 2017 between Los Angeles City Clerk Holly Wolcott and Department of Neighborhood Empowerment boss lady Grayce Liu. These are available here on Archive.Org. There's a lot of quite interesting material there, most of it far off my beat, but there's this one item in particular which is quite relevant.
It's a March 14, 2017 email from Grayce Liu to Bill Kuncz of Everyone Counts informing him, among other things, of the fact that the City of Los Angeles would be using online voting for the April 6, 2017 Skid Row Neighborhood Council subdivision election. She told him "… that we would be able to move forward with using the online voting and voter registration platform for our subdivision election in a few weeks."
The main problem with this, of course, is that the question of allowing online voting didn't even come before the Board of Neighborhood Commissioners until March 20, 2017. It didn't come before City Council's Rules and Elections Committee until March 22, 2017, and it wasn't finally approved by City Council until March 28, 2017.
You may well remember that at that March 22, 2017 meeting José Huizar announced his decision to allow online voting by reading a pre-written statement, showing conclusively that he'd made up his mind even before hearing public comment. This email shows that he'd made up his mind at least eight days before the meeting even took place.
To be sure, there's nothing illegal about this behavior. There's possibly nothing even immoral about it. But in the culture of the Los Angeles City Council, where no one votes against their colleagues' desires for intra-district issues, it makes it even more glaringly clear that our local representative democracy is not functioning at all. A couple of zillionaires went to see Huizar in January 2017 and convinced him to destroy the SNRC and that's all it took.
The decision was essentially finalized at that point with no public input, no deliberation, and no chance that wiser heads on the City Council would prevail. There are no wiser heads.1 No one even had the decency to tell Grayce Liu to wait for the formalism of City Council approval before acting on Huizar's unilateral decision. Sadly, it's business as usual. Turn the page for a transcription.
Continue reading On March 14, 2017 Grayce Liu Was Already Working Out Details Of Online Voting For The SRNC Subdivision Election With Everyone Counts Two Weeks Before City Council Even Approved The Plan — Obviously We Already Knew Representative Democracy In Los Angeles Is Highly Stylized Semantically Empty Performance Art Rather Than A Deliberative Or Even A Political Process — But Usually It's Not Thrown So Boldly In Our Faces →