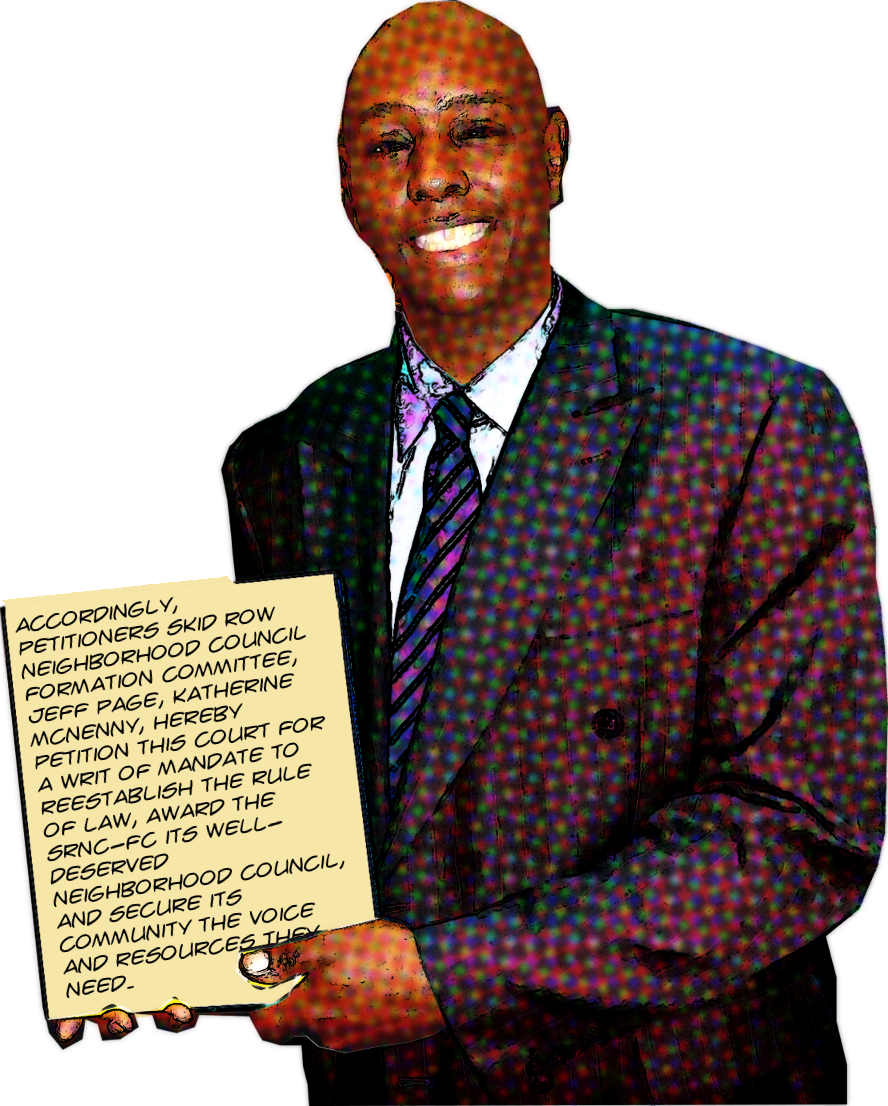 Background: You can read my previous stories on the Skid Row Neighborhood Council formation effort and also see Jason McGahan's article in the Weekly and Gale Holland's article in the Times for more mainstream perspectives.
I haven't reported on it before, but maybe you're aware nevertheless that the Skid Row Neighborhood Council Formation Committee along with founding members General Jeff and Katherine McNenny are suing the City of Los Angeles over their egregious, illegal, and immoral vote suppression and other horrors during the subdivision election last year.
And just yesterday they filed a second amended petition, which lays out the evil shenanigans committed by the City of Los Angeles in collusion with Estela Lopez, Rena Leddy, and other Downtown zillionaires and zillionaire lackeys, This is a blistering and righteous piece of legal writing. I highly recommend that you read all of it, although here are the main issues, and as always there are transcribed selections after the break.
◈ The City prohibited homeless voters from voting online or at any of the twelve pop-up polls, which seriously advantaged the anti-subdivision side.
◈ The City's voter registration requirements disenfranchised the largely black homeless population of Skid Row, which violates the Voting Rights Act.
◈ The City's last minute implementation of online voting and secret alterations of pop-up poll timing unfairly advantaged the anti-subdivision side.
◈ Online voting violated California Elections Code §19205, which states unambiguously that "No part of [a] voting system shall be connected to the Internet at any time."
◈ DONE's pop-up polls violated §22.820 of the Los Angeles Administrative Code, which requires that neighborhood council subdivision elections be held solely within the proposed boundaries.
And the main thing they're asking the judge to do to remedy these and the other violations is to discount online votes and votes submitted at pop-up polls and award the SRNC formation committee their neighborhood council. There is much, much more, all of it, as I said, worth your time to read and understand. Turn the page for transcribed selections from the petition.


INTRODUCTION
1. The right to vote provides citizens a voice within governments that have neglected their needs. Without a voice, distrust between citizens and their government breeds stagnation. Given a vote and a voice, communities can together demand from their government the representation and resources they need to rise above their shared predicaments.
2. The Skid Row community is vibrant, and racially diverse community comprised of small business owners, wholesalers, non-profits, activists, and artists. It is also, generally, a low-income community, that includes the largest homeless population in the United States. At last count, that population of approximately 4,633 homeless persons was 62% Black. (See Exhibit 1.)
3. Local government has long-neglected the Skid Row community's needs, which include permanent supportive housing for its homeless population, clean streets, public restrooms, and readily-available spaces for community gatherings. (See, generally, Exhibit 2.) Nowhere is it more apparent that our criminal justice, health and welfare systems have failed a large portion of our population or that institutionalized racism continues to be a very serious problem in this country, over 50 years after the passage of the Civil Rights Act. (See id. at pp. 14-15.)
4. In December 2016, residents of Skid Row applied to separate from their existing Neighborhood Council, the Downtown Los Angeles Neighborhood Council ("DLANC"), to better address long-standing suffering within their community. Neighborhood Councils are City-certified entities that are empowered to take formal, albeit advisory, positions on local legislation, as well as receive funding for community programming. As such, Neighborhood Councils can be powerful tool for communities seeking to pool their resources and participate in civic life. One component of their advisory authority, is the ability to provide development initiatives within their boundaries the community support required for approval by the City Council. It is this latter ability, and the community's alignment with its low-income residents, that brought the will of downtown development interests to bear on the Skid Row separation effort.
5. Working together, in the months leading up to the Skid Row Subdivision Election, DLANC, its lobbyists, and the City of Los Angeles itself, created new laws and broke existing laws, all to unconstitutionally suppress the vote of the already-marginalized Skid Row community. Nevertheless, in the final vote count, the Skid Row community lost the Subdivision Election by only 60 votes.
6. Since the election, the City and County of Los Angeles have rapidly mobilized to unconstitutionally criminalize and force institutionalize the Los Angeles homeless population, clearing the streets for more profitable development and the 2028 Olympic games. (See, generally, Exhibits 3, 4, 5 and 6.) Meanwhile, there has been no accountability for Proposition HHH funding, which voters specifically approved to provide permanent supportive housing for homeless in Los Angeles. (See Exhibit 7.) What has been missing is a City-certified voice that is capable of speaking on behalf of and rebuilding trust with Los Angeles' most vulnerable population, while simultaneously addressing the issues that population faces with wisdom, creativity and compassion.
7. Accordingly, Petitioners Skid Row Neighborhood Council Formation Committee, an unincorporated association, Jeff Page, an individual, Katherine McNenny, an individual, and DOES 1 through 3 (hereinafter, collectively, "Petitioners"), hereby petition this Court for a writ of mandate pursuant to Code of Civil Procedure section 1085, for administrative mandamus pursuant to Code of Civil Procedure section 1094.6 and for declaratory relief, to reestablish the rule of law, award the SRNC-FC its well-deserved Neighborhood Council, and secure its community the voice and resources they need…
…
STATEMENT OF FACTS
The Skid Row Community's Decades-Long Quest for a Neighborhood Council
32. As early as 2001, Skid Row community activists organized efforts to obtain their own NC. In April 2002, they submitted a letter of intent to BONC which at the time, was the entity in charge of certifying communities as NCs. Although BONC determined Skid Row's letter of intent "did not meet the Board's requirements," it nevertheless considered adjusting then-applicant DLANC's proposed boundaries to create a Skid Row Neighborhood Council at the time. After hearing from Skid Row community members about the unique issues faced by their community, BONC ultimately decided it would not give the Skid Row community its own Neighborhood Council, citing the size of the Skid Row population as being too small. If the Skid Row community's issues continued, BONC advised community members to "come to a meeting and sign a paper to us, address us, if there is a concern." (See Exhibit 19.)
33. In the following years, the complex needs of the Skid Row community were, if not entirely ignored, grossly neglected by DLANC and the City and County of Los Angeles. SRNC-FC members identify as central to their need for their own NC, a lack of concern towards their community's issues experienced at DLANC meetings and a lack of representation on the DLANC board of directors.
Creation of the Subdivision Elections
34. On November 25, 2015, the City Council instructed the City Attorney and BONC to develop a policy permitting "new council certification for [an] area being removed if desired at the grass roots level." On August 12, 2016, the City Attorney submitted a draft ordinance to the City Council providing for "subdivision election procedures." (See Exhibit 22.) On September 16, 2016, the Rules, Elections, Intergovernmental Relations and Neighborhoods Committee recommended that the City Council adopt the City Attorney's draft ordinance without amendment and the City Council did so on September 30, 2016. (See Exhibit 23.)
35. The ordinance provides that "[t]he Department shall conduct an election within the boundaries stated in the subdivision petition within 90 days of the Department's approval of the subdivision petition." (Emphasis added.)(Id.) In a letter documenting his experience serving on the Neighborhood Council Plan Review & Reform committee tasked with drafting the original subdivision ordinance, Joseph Riser further confirms that the phrase "within the boundaries" was "actually and very specifically added" by the City Attorney's office. (Exhibit 24.) It indisputable that City Attorney and the City Council clearly intended for Subdivision Elections to be conducted within the boundaries of the proposed subdivision.
36. The "Regulations" section of the Subdivision Ordinance authorizes DONE to "promulgate any further procedure, rule, or regulation necessary for the administration of the subdivision process contained in this section…" Although, DONE was at all times under a duty to "assist all groups and stakeholders seeking certification so that they will have an equal opportunity to form and develop Neighborhood Councils…." (See Exhibit 1, emphasis added.) DONE would go on to implement regulations governing the SRNC-FC Subdivision Election that were biased against the SRNC-FC and that ultimately and unlawfully caused the SRNC-FC to lose its Subdivision Election.
The SRNC-FC Timely Submits its Subdivision Application
37. From approximately November 29, 2016 through December 19, 2016, the SRNC-FC timely submitted its Subdivision Application to DONE. The 181-page document detailed the SRNC-FC's extensive outreach efforts to the community, and included a map of its proposed boundaries, as well as over 200 petition signatures, and letters of support from community organizations, non-profits, and the press. (See Exhibit 15.)
38. On January 11, 2017 DONE accepted the SRNC-FC's Subdivision Application, finding it to be complete. (See Exhibit 29.) In its acceptance letter, DONE indicated it would hold a Subdivision Election "within 90 days" that would "include a polling location in the proposed Neighborhood Council boundaries and may also include online voting." (See Exhibit 30.) On January 12, 2017, this letter was forwarded to DLANC and HCNC with information about how the proposed SRNC Subdivision would affect each of their boundaries
39. On January 11, 2017 DONE unilaterally chose Thursday, April 6, as the date of the SRNC-FC Subdivision Election.
40. Neighborhood Council elections have always occurred at a single-polling location. (Exhibit 13 at pg. 7, ln. 7-18.) However, at a February 15, 2017 Town Hall Meeting at the James Woods Community Center in Skid Row convened by DONE to address questions about the SRNC-FC Subdivision Election, DLANC Stakeholders expressed concern that more than one polling location would be needed for the SRNC-FC Subdivision Election.
41. Stephen Box, DONE's Director of Outreach and Communication, addressed the single-polling location issue:
"[I]t's a capacity issue and I apologize. I think online voting would be a tremendous opportunity to overcome that barrier but we don't have the permission, we don't have the mechanism in place."
"The locations is a resource issue…"
42. Mike Fong, DONE's Director of Policy and Government Relations, addressed the poll location issue:
"[I]t will be somewhere within the proposed boundaries of the Skid Row neighborhood council- that's the way that Ordinance was written, and so that's the way the election will be held."
Mr. Box reaffirmed Mr. Fong's statement:
"It needs to be within the boundaries of the Skid Row Formation Committee's proposed map…"
"Yes, it has to be within the Skid Row. I appreciate the fact that you're thinking good and hard."
43. At DONE's instruction, the SRNC-FC convened after the Town Hall Meeting and chose the James Woods Community Center, a facility well-within the boundaries of the proposed SRNC-FC Subdivision, as its polling location.
Online Voting at Neighborhood Council Elections, in Violation of State Law
44. Under California law, voting systems are not permitted to be connected to the internet at any time unless the system has been specially approved by the Secretary of State or specifically authorized by California Elections Code section 19209. (Cal. Elec. Code §§19205, 19209(g).)
45. In the 2016 NC board member elections, NCs were permitted opt into an online voting test-pilot program, administered by E1C. The E1C voting platform was at all times connected to the internet, but was not specially approved by the Secretary of State or otherwise authorized by law.
46. NCs using the E1C test-pilot program experienced serious difficulties that called the integrity of the E1C voter platform into question. These issues were well-documented. (Exhibit 25.) In the Studio City NC election, for example, voter's usernames and passwords were disclosed to incumbent NC councilmembers. Another issue involved voter suppression resulting from DONE's extensive Stakeholder documentation requirements. DONE itself stated, that voter suppression resulting from extensive documentation requirements, is "in the nationwide conversation of voter suppression, [is] one of the most significant…tools for excluding voters." (Id.)
47. As a result of these and other issues, on June 29, 2016, the City Council suspended online voting and requested that DONE report as to about what actions it would take to improve the online voting process for future NC elections. (See Exhibit 26.) The City Council retained discretion to determine the conditions under which online voting could be reimplemented, "after considering DONE's report." (Id.) On December 2, 2016, in anticipation of the upcoming subdivision elections, the City Council amended its motion to require any report be completed within 30 days, or in sufficient time for the Council to take any necessary action prior to any future neighborhood council election." (See Exhibit 27.)
48. DONE's report, which was submitted to the City Council on January 17, 2017, recommended, amongst other things, that the City Council "[i]nstruct the Department of Neighborhood Empowerment to require picture identification along with self-affirmation of the stakeholder type…to register to vote in order to make the voting process easier." (Exhibit 25)
49. With the passing of the amended motion, and DONE filing its report, the prospect of online voting quickly established itself as an issue of concern for the SRNC-FC, whose low income and homeless constituents, would have difficulty voting if extensive documentation and/or internet were required to do so.
50. The SRNC-FC was not alone in its concerns about online voting. From September 2016 through March 2017, at least twelve Neighborhood Councils submitted Community Impact Statements were added to the above City Council file. These Statements generally advocated for drastic reform of the online voting system before it could be reimplemented. (See Exhibit 28.) One Community Impact Statement informed the City Council that online voting is illegal in California. Two addressed problems that had resulted because of inequitable of PUPs in locations that favored one candidate over another. Several discussed the disenfranchisement of voters that had resulted from DONE's extensive ID and Stakeholder documentation requirements.
51. At the February 15, 2017 Town Hall Meeting, Mr. Fong and Mr. Box conceded that online voting was still an option for the SRNC-FC Subdivision Election. Specifically, paper ballot voting at a single location was termed "Plan A," online voting was "Plan B." Mr. Box cautioned that the implementation of online voting was subject to approval by the City Council and advised anyone wishing for it to be implemented for the SRNC-FC Subdivision Election, to lobby their Councilmember.
52. At the February 15 Town Hall Meeting, DONE also described the voter-registration process, as it would proceed under both Plan A and Plan B. Mr. Box stated as to Plan A:
"They would come in and they would fill out a single piece of paper, a registration form, and they would exchange it for a ballot…
"There is an accommodation made for the fact that some folks don't have documents and so that accommodation will be made and so that will be addressed on, at the polling place…
Yes, [there is a way to register people before the election], but you won't register them with us because when they show up they are going to exchange that paper, ok? So, the only pre-registration, if there were online voting, they could register online, ahead of time. But what you can do is get those rosters from those organizations that are active in the community, they still will have to walk-in that day with their personal ID to show who they are and to exchange it…"
53. Accordingly, with the polling time and location established, and less than two months to go before the election, the SRNC-FC invested substantial resources into outreach to its low-income constituents, including in-person advocacy, attendance at community meetings, as well as printing and posting flyers in the neighborhood.
54. As for further details about how the Subdivision Election would proceed, the SRNC-FC was left in the dark. Up until two weeks before the election, there was no manual providing Subdivision Election rules, and the SRNC-FC's requests for information from DONE received scant a response. (See Exhibit 20.)
Suppression of the SRNC-FC Vote, in Violation of State, Municipal and Constitutional Law
Unreported Lobbying Activities by United Downtown Los Angeles LLC Against the SRNC-FC
55. In January 2017, a group of downtown Los Angeles development interests began coordinating what would become a well-funded, covert, and effective, SRNC-FC voter suppression effort. On March 3, 2017, this effort formally organized as Delaware corporation United Downtown Los Angeles LLC ("United DTLA'). (Exhibit 32.) At least two DLANC Directors, Estela Lopez and Rena Leddy, were central organizers of United DTLA's SRNC-FC voter suppression effort.
56. It was widely understood by those working against the SRNC-FC effort that the reimplementation of online voting for the SRNC-FC Subdivision Election would "flip the switch" and automatically register 1065 DLANC and HCNC constituents to vote. (See Exhibit 13.) As such, a central component United DTLA's effort was obtaining Councilmember Huizar's agreement to reimplement online voting shortly before the SRNC-FC election, without any measures to protect the fundamental Constitutional rights of SRNC-FC constituents.
57. On January 12, 2017, upon receiving notification that the SRNC-FC's Subdivision Application had been accepted, Executive Director of the HCBID Blair Besten, called a meeting with Councilmember Jose Huizar, then-DLANC Director and DIBID Executive Director Estela Lopez, and Broadway theater owner Michael Delijani, to discuss the "Skid Row Neighborhood Council." (See Exhibit 27.)
58. At some point after organizing, United DTLA formally engaged Mr. Rockard Delgadillo's lobbying firm, Liner LLP, to further its efforts. These efforts have largely been concealed, in violation of the Municipal Lobbying Ordinance. Liner LLP did not initially disclose any lobbying on behalf of United DTLA in Q1 or Q2 of 2017 to the City Ethics Commission. Given the extensive lobbying done by Liner on behalf of United DTLA in Q1 of 2017, both before and after United DTLA's organization as a Delaware corporation, Liner very likely has extensive outstanding disclosures of lobbying activity against the SRNC-FC on behalf of individuals and United DTLA in Q1.
59. In July 2017, three months after the election, Liner LLP late-amended its Q2 disclosure to add $45,000 in contributions from United DTLA. The disclosure indicates that United DTLA was very likely organized by then-DLANC Director and DBDID Executive Director Estela Lopez, as it lists the DBDID's address and telephone number as United DTLA's contact information.
60. Although a complaint filed with the City Ethics Commission calls for an investigation into the issues, Liner LLP has since been acquired by law firm DLA Piper and has vacated its downtown Los Angeles offices.
61. On March 17, 2017, Rocky Delgadillo, submitted a ten-page letter to BONC on behalf of Liner LLP and United DTLA, and copied Councilmember Huizar and DONE General Manager Grayce Liu. The letter, amongst other things, requests that online voting be implemented for the SRNC-FC Subdivision Election.
62. On March 20, 2017 at 11:00 a.m. then DLANC-Director Ms. Lopez organized a "Skid Row Neighborhood Council update call" with Mr. Delgadillo and DLANC Director Ms. Leddy. Shortly the meeting, Ms. Leddy sent out emails to property owners in her BID, rallying them against the SRNC-FC. In one of these emails, Ms. Leddy describes United DTLA as an entity formed by property owners in the proposed new NC who had engaged Mr. Delgadillo to postpone the election.
63. On March 20, 2017 at 1:00 p.m. DLANC Director Rena Leddy joined Mr. Delgadillo at a BONC meeting, to lobby for postponement of the election.
64. On March 20, 2017 at 5:29 p.m. Ms. Lopez updated her email list about the results of the BONC meeting, which she had not attended, and solicited donations to United DTLA.
The City Council and DONE's Unlawful Reimplementation of Online Voting
65. Action by the City Council to reimplement online voting for the SRNC-FC Subdivision Election was planned to occur at two Special Meetings of the Rules, Elections, Intergovernmental Relations and Neighborhoods Committee, chaired by Councilmembers Jose Huizar, Herb Wesson and Marqueece Harris-Dawson.
66. Each of these meetings was called as a Special Meeting related to the Council File on the online voting suspension, requiring only 24 hours-notice. The actual notice of each of the Special Meetings violated the Brown Act in that neither notice indicated that action would be taken on the issue of online voting for SRNC-FC Subdivision Election. (See Exhibit 29.) The applicable agenda item for each meeting merely indicated that the meeting related to the "[DONE] Report relative to an online voting pilot for Neighborhood Council elections."
67. The March 8 meeting was an opportunity for the NCs present to vocalize their strong opposition to the reimplementation of online voting in its present state. Petitioner Katherine McNenny took the opportunity to outline the problem with online voting for the SRNC-FC Subdivision Election, advocating for paper ballots:
"…[T]he vast majority of Skid Row residents, approximately 12,000, are very low income. This means that they do not have easy access to a computer. Even the majority that are housed in the community utilize free Obama phones. I mention these Obama phones because it is important to understand that these are not smart phones, but flip phones. Uploading pictures of documents on an Obama phone is all but impossible.
Most of the low-income residents in Skid Row must travel outside of the neighborhood to gain access to a computer. Many use the library. Within Skid Row there are very limited access points to a computer. Of the few that are available to the public, there are several barriers to use such as limited times, requirements for being enrolled in a specific program, even gender.
For these reasons and more, online voting is not the appropriate way for the Skid Row community to vote in this critical, upcoming, Subdivision Election. I would respectfully remind everyone that this is our application and our community has unique challenges."
(Id.)
68. DLANC President Patti Berman and DLANC VP of Administration Rob Newman both indicated they had been informed meeting was called to discuss online voting for the SRNC-FC Subdivision Election.
69. When questioned at the March 8 meeting whether there would be another meeting to discuss online voting, Councilmember Wesson responded, "Well I don't want to say in advance what we're gonna do until I hear what happens."
70. Although DONE's January 17, 2017 Report Back to the City Council was reason for the meeting and appended each of the meeting agendas, DONE was not present to discuss its report. This fact did not, by the audio recording of the meeting, seem to cause Councilmember Huizar any surprise.
71. It appears those involved with United DTLA were apprised of the date of the continued Rules, Elections, Intergovernmental Relations and Neighborhoods Committee meeting before it was known to the public, or any member of the SRNC-FC. In Ms. Leddy was able to advise and solicit the attendance of her email list of the upcoming meeting on "Wednesday," March 22. (See Exhibit 38.)
72. At the March 22 meeting, Councilmember Huizar reopened public comment "as a courtesy" to those present at the meeting, which this time included a chorus of Downtown Los Angeles development interests, rallied by, amongst others Estela Lopez and Rena Leddy. These individuals complained that they lacked knowledge about the election and would be disadvantaged by a single polling location.
73. Ms. Liu made it clear that it was DLANC's responsibility to conduct outreach to its constituents. As Ms. Liu stated about the risk of not doing so: "if only the forming committee is doing the outreach and the neighborhood council does no outreach, it is very likely the forming committee is going to have a majority of the voters there." (Ex. 12, pg. 5, ln. 4-6.) Despite this, Councilmember Huizar went on in his effort to ensure, DLANC's failure to conduct voter outreach did not disadvantage its constituents.
74. After hearing public comment, Councilmember Huizar admits the meeting was called to move forward with online voting for the SRNC-FC Subdivsion Election. (Ex. 12, p. 2, ln. 8-14.) From the audio recording, Councilmember Huizar is very apparently reading from a script while he questions DONE General Manager Grayce Liu about how reimplementation of online voting could be done in a "transparent, practical, and reasonable" manner for "everyone involved." (Ex. 12, p. ln. 13-14.)
75. Ms. Liu was unable to answer Mr. Huizar's question. She did, however, speak at length about concerns regarding voter registration:
"As I mentioned, it's likely, uh the hiccups that we did have, were in regards to getting the documentation, all of the documentation that is needed to actually allow folks to vote. So neighborhood councils can either self-affirm or they can use documentation to register to vote. DLANC has documentation. And when you have documentation, when they were submitting information online for voter registration, sometimes they didn't give us everything that was needed. In fact, one of our recommendations, for the online voting, and just in general even if we didn't have online voting, we would recommend that all NCs go to self-affirmation. The process of documentation is very burdensome to stakeholders. It is literally the hardest registration of any voting, of any federal, state, county level, because you have to show deeds to your house, you have to bring your 1099s and your W-2s. And people who want to vote and participate are not used to providing that type of information."
76. Ms. Liu further made clear that DONE would permit Stakeholders from previous elections to be automatically registered to vote in the SRNC-FC Election:
"…because we are able to basically flip a switch and turn on the existing databases that were created for Historic Cultural Neighborhood Council and for Downtown Los Angeles Neighborhood Council. I know that some folks expressed concern regarding the process of voter registration. For us, the folks that already voted, the 847 people for Downtown Los Angeles Neighborhood Council in the 2016 elections as well as the 194 people in Historic Cultural. They're already preregistered and ready to vote. They will simply be emailed information on how to register online to get their user ID and password. They will not have to give us their documentation again to show that they are stakeholders."
77. In sum, Ms. Liu acknowledged the difficulties that new voters would have with registration, that it would be easier to notify DLANC stakeholders about online voting if implemented, that 1065 DLANC constituents would be automatically registered, and dodged the question of whether two weeks was "sufficient time" to fairly implement online voting. Ms. Liu did nothing to remedy the inevitable issues SRNC-FC constituents would have with DONE's ID and Stakeholder documentation requirements, after noting in her own report that such documentation, "in the nationwide conversation of voter suppression, is one of the most significant…tools for excluding voters."
78. After hearing from Ms. Liu, Councilmember Huizar ended the meeting by reading a prepared statement that implemented online voting for the SNRC-FC Subdivision Election only and very specifically tabled implementation of the recommendations in DONE's report, including the recommendation addressing voter suppression until a later time. (Ex. 12 at p. 7 ln. 20 – p. 8 ln. 5.)
79. On March 24, 2017, the City Council adopted the recommendation of the Rules, Elections and Neighborhood Council Committee, officially lifting the ban on online voting for the Skid Row Subdivision Election while continuing the ban on online voting throughout the rest of the City.
DONE's Election Rule Bias Against the SRNC-FC
80. On March 23, 2017, one day before the City Council voted to approve online voting, and only fourteen days before the SRNC-FC Subdivision Election, DONE informally circulated its 2017 Election Manual. (See Exhibit 15.) The manual further indicates DONE's bias against the SRNC-FC, and actual misconduct in administering the SRNC-FC Subdivision Election, particularly given DONE's duty to provide all Stakeholders an equal opportunity to form and develop Neighborhood Councils.
81. While this manual was delivered in draft form to SRNC-FC member Antonio Rodriguez on March 23, 2017, no final copy was ever delivered to SRNC-FC Chair, Petitioner Jeff Page, who remained unaware of the contents of the manual until the Regional Grievance Panel.
Establishing Multiple Polling Locations Outside of the Proposed Boundaries, with Inadequate Notice to the SRNC-FC
82. Much of the decision of the City Council to reimplement online voting rested on DONE's assertion that it could not postpone the election due to the requirement that the election be held within 90 days of acceptance of the SRNC-FC's application, indicating DONE was unwilling to bend its own rules. However, the 2017 Election Manual completely disregards the rule requiring subdivision elections to be conducted within the boundaries of the proposed subdivision by permitting DONE to establish Pop-Up Polls ("PUPs") outside of the boundaries proposed in the SRNC-FC Subdivision Application.
83. In the following two weeks, DONE established 9 of 12 PUP locations outside of the proposed subdivision, with six polling locations inside City Hall and three within DLANC's boundaries only. (See Exhibit 32.) Moreover, DONE did not provide the SRNC-FC aa final list of PUP locations until March 30, 2017 (see Exhibit 33) or inform the SRNC-FC about the first PUP within the SRNC-FC subdivision boundaries until the day of that PUP (see Exhibit 34). This PUP took place on March 29, 2017, with less than 7 hours-notice to the SRNC-FC at LACAN, a community outreach organization in Skid Row. Many Skid Row community members, including homeless community members arrived to find that they were unable to vote, either because they were homeless, or because they lacked photo ID and/or documentation of their stakeholder status.
84. On April 4, 2017, DONE changed the time for the April 5 PUP at 4th and Main, per requests by residents in the building invalidating extensive outreach materials printed and efforts made by the SRNC-FC whose constituents were less likely to have regular access to electronic communications capable of conveying such last-minute changes. (See Exhibit 35.)
Prohibiting Homeless Voters from Voting Online and at Certain Polls
85. While the 2016 Elections Manual provided several ways for homeless persons to vote online and in person, these rules were removed from the 2017 Election Manual. Instead, the 2017 Election Manual prohibits homeless persons from voting online or at PUPs. (See Exhibit 36.)
86. While homeless persons were still permitted to self-affirm their stakeholder status, they were limited to doing so at the April 6, 2017 poll, which was open at the James Woods Community Center for four hours only.
87. In DONE's January 19, 2018 Report Back about the SRNC-FC Subdivision Election, DONE admits that homeless voters were turned away from its PUPs. (See Exhibit 52.)
Requiring New Voters to Adhere to DLANC's Documentation Requirements
88. DONE unilaterally determined that the voter registration procedures in place during DLANC's 2016 NC Election would be utilized in the SRNC-FC Subdivision Election. The City Council, far from issuing any policy guidelines or safeguards to ensure the procedures for new voter registration in the SRNC-FC Subdivision Election were constitutionally sound, prohibited DONE from implementing any changes from the previous election.
89. The 2017 Elections Manual did not provide any means by which persons who were not homeless but who lacked photo ID and/or Stakeholder Documentation could register to vote, whether in person or online. As such, new voters who did not have photo ID and/or the required Stakeholder Documentation were unable to vote.
90. Moreover, due to the late circulation of the 2017 Election Manual, and the delayed and/or limited assistance received from DONE about the matter, the SRNC-FC had difficulty guiding its constituents who were new voters with the voter registration process.
91. Moreover, new voters who did have such documentation had high registration failure rates. Assuming a new voter was able to scan in and upload their photo ID and Stakeholder documentation onto the E1C platform, the registration process then required someone on the "backend" of the platform to review their paperwork. Once approved, the individual would be issued a username and pin by email or U.S. Mail, which they could use to vote online remotely or at a "PUP," but given that online voting was implemented only two weeks before the SRNC-FC Subdivision Election, new users were often unable to complete the voter registration process in time.
92. In its Report Back about the Subdivision Election, DONE revealed that only 45% of new voters attempting to register to vote were able to complete their registration process and vote. (See Exhibit .)
Bias in Registering DLANC Constituents Listed in Rosters to Vote Online
93. Rules promulgated in the 2017 Subdivision Manual permitted Community Interest Stakeholders to register to vote by roster if their community interest group submitted their name as part of its membership roster, along with documentation of group's work within the community.
94. A significant number of Skid Row community members whose names were submitted to DONE on rosters, were unable to vote unless they went to the polls. Although DLANC constituents had similar issues, it appears those registering with SRNC-FC organizations had more difficulty obtaining DONE's assistance. (See Exhibit 42.)
DONE's Distribution and Use of DLANC's Registered Voter Email List
95. Last-minute get-out-the-vote efforts to preregistered DLANC constituents were easy to accomplish utilizing email lists of registered voters generated by DONE. DONE maintained these email lists, which they had provided to DLANC subsequent to the 2016 NC Election. (See Exhibit 24.) As such, DLANC had every opportunity to utilize its email lists in the 90 days leading the election to conduct voter outreach, but chose not to do so.
96. DLANC's registered voter email list was never provided to the SRNC-FC.
97. On April 3, Mr. Jacob Van Horn forwarded an excel file which he appeared to have received from DLANC President Patti Berman that contained 639 email addresses of preregistered voters to several DLANC advocates. (See Exhibit 24.)
98. DONE also used the DLANC and HCNC registered voter email lists to get out the vote on at least one occasion. On March March 24, 2017 at 5:41 p.m., DONE sent an email to these voters advising them about the SRNC-FC Subdivision Election as well as where, when and how to vote. (See Exhibit 38.)
DONE's Implicit Consent to Electioneering by DLANC
99. While the 2016 Election Manual and the Election Challenge Portal prohibit electioneering by any "Candidate," the 2017 Election Manual was edited DONE so that only "Electioneering by Applicant," i.e., the SRNC-FC, would be the only conduct subject to review by DONE's Election Challenge procedures. (See Exhibit 37.)
100. Because the SRNC-FC never received an official 2017 Election Manual, it was unaware of this limitation. Moreover, the Election Challenge Portal still listed "Electioneering by Candidate" under its instructions and in the drop-down menu that Petitioner Jeff Page used to register his election challenge.
DLANC Endorsed Electioneering by United DTLA Using DLANC's Logo
101. At 11:24 a.m. on May 31, 2017, an email containing DLANC's official logo and address was sent by UniteDTLA@gmail.com, upon information and belief, to those DLANC and HCNC constituents who were pre-registered to vote in the SRNC-FC Subdivision Election. The email, titled "Vote No on Skid Row Separation," instructed recipients to "Unite Downtown – Vote NO on Skid Row Separation" and contained a URL link containing the name "dlanc" as well as DLANC's P.O. Box address in the email's post-script. Moreover, upon clicking the "why did I get this?" link at the bottom of the email, recipients were directed to a page which provided, "You are receiving this email because you reside within the designated area to vote in the DTLA Neighborhood Council Election." The latter page also listed DLANC's P.O. Box address as belonging to "Unite DTLA." As such, it appeared that an entity — Unite DLTA — was utilizing DLANC resources, including DLANC's mailing list and logo, to unlawfully solicit votes. (See Exhibit 39.)
102. At 12:31 p.m., after receiving the above-email, DLANC President Patti Berman sent an email titled "email issues" to an unknown number of individuals with DLANC email accounts, advising them to update certain processes to ensure functioning email access going forward. (See Exhibit 40.)
103. At 4:11 p.m., after receiving an email from DLANC Director Andrew Douglas who expressed concern about the UniteDTLA@gmail.com email, DLANC President Patti Berman emailed UniteDTLA@gmail.com and asked whoever owned the account to refrain from using "this logo as it is a violation of City policy." Contrary to statements later made by Ms. Berman to the Regional Grievance Panel, Ms. Berman did not immediately address the issue and when she did, did not do so of her own accord. No further effort was made by Ms. Berman or DLANC to remedy the confusion caused by this solicitation of votes, such as by sending an email to DLANC registered voters, to clarify the use of DLANC's logo was unauthorized.
104. At 10:35 a.m. on April 1, 2017, DTLAUnited@gmail.com sent an email to the same mailing list. The email, titled "Vote No on Skid Row Separation," contained a logo that looked confusingly similar to DLANC's logo, and instructed its recipients to "Vote NO on Skid Row Separation." No effort was made by Ms. Berman or DLANC to remedy the further confusion caused by this solicitation of votes. (See Exhibit 41.)
Mismanagement of the Final Vote Count
105. In the final vote canvass, the SRNC-FC or the "Yes" position, received 766 votes, while DLANC or the "No" position, received 826 votes.
106. On April 10, 2017, Petitioner Jeff Page requested a recount, which he was entitled to under California law, but DONE denied his request.
107. Through Public Records Act requests, Petitioners have received several documents containing voter tallies, none of which seem to "add up."
108. Moreover, DONE was contacted by E1C in the days after the election about duplicate voters, or persons that had voted online and in person, of which it identified two. DONE did nothing to correct or verify the vote count after receiving notice of this issue.


Image of General Jeff is ©2018 MichaelKohlhaas.Org and is modified from this General Jeff right here.