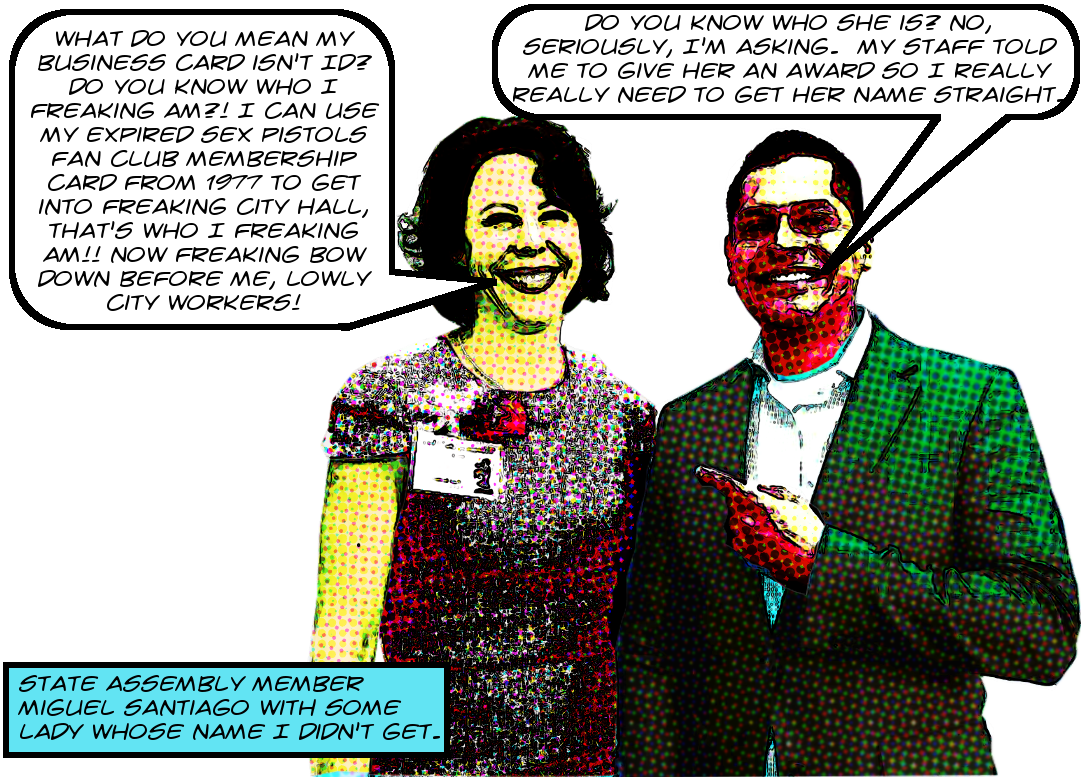 Background: You can read my previous stories on the Skid Row Neighborhood Council formation effort and also see Jason McGahan's article in the Weekly and Gale Holland's article in the Times for more mainstream perspectives.
Here's the whole story in a nutshell, taken from this fabulous little gem of an email exchange (of course there's a transcription after the break!) On April 3, 2017 Blair Besten, batty little fusspot director of the Historic Core Business Improvement District, third weirdest of the minor Downtown BIDs, tried to register online to vote against the Skid Row Neighborhood Council in solidarity with her fellow zillionaires and their minions. As I'm sure you're aware, registering to vote online at that time required one to upload a photo of an ID. Blair Besten uploaded a picture of her business card instead.
Not acceptable, said the Department of Neighborhood Empowerment! So then DLANC president-for-life Patti Berman1 and weirdo-about-town, male-for-rent, and some kinda damn social worker Bob Freaking Newman2 emailed everybody saying please guys! Let Blair Besten register please!! And not only that, but Patti Berman used her dlanc.com email address during the conversation even though DLANC was required by City law to be neutral. Helping Blair Besten register is not neutral.
And then Grayce Liu, the famous führerin of DONE, said OK! Even though people who think their business card counts as ID usually have to show up in person to vote we will make an exception for Blair Besten! If she uploads her real ID in the next 51 minutes we will allow her to vote online!! And she did!! So she got to vote!! Mission accomplished and those are some helpful-ass City Officials, amirite?!
Continue reading On April 3, 2017, Batty Little Fusspot Blair Besten Tried To Use Her Business Card As ID To Register To Vote Online Against The Skid Row Neighborhood Council — When This Was Unsurprisingly Rejected By DONE Patti Berman And Bob Newman Pleaded For An Exception — And Grayce Liu Granted One In The Form Of Extra Time To Upload Acceptable Documents — Which She Did With 16 Minutes To Spare — Were Pro Skid Row Voters Given The Same Opportunity? →