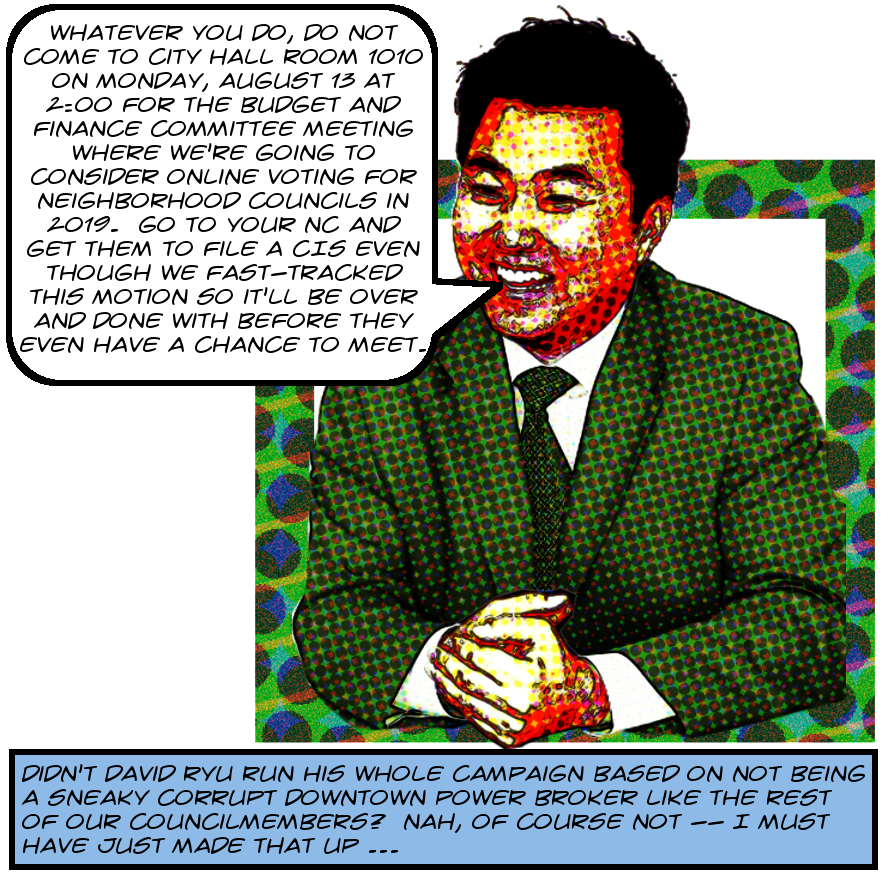 Recall that because Jose Huizar just cannot give up on online voting in neighborhood council elections after he used it to such zillionaire-jeans-creamsing effect in 2017, he, David Ryu, and Paul Koretz introduced a motion on August 2, 2018 ordering the City Clerk to report back on the feasibility of running a 2019 pilot program involving 10 councils.
And now, in a move that adds further layers of weirdo insanity to the whole situation, the motion has been scheduled for consideration this very Monday, August 13, 2018, at 2:00 p.m. at the meeting of the Budget and Finance Committee in City Hall Room 1010. Here's the agenda. This kind of fast-tracking is virtually unheard of with the City Council. On this schedule it's extremely unlikely that neighborhood councils, who are of course the most concerned with and knowledgeable about the issue, will have time to meet and file community impact statements. What are Huizar and his creepy co-conspirators trying to hide?
Finally, though, they didn't manage to sneak it past everyone. Stalwart Los Angeles activist and heroine Laura Velkei, neighborhood councilor and guiding genius behind the essential Department of Neighborhood Empowerment watchdog group DONEwatch, wrote the Council a blistering letter opposing this abortion of a motion.
Turn the page for a transcription of the whole thing, and consider sending your own letter as well. See you Monday, activist friends!
Continue reading Conscience-Shocking Huizar/Ryu/Koretz Online Voting Pilot Program At Budget And Finance Committee On Monday August 13 — It Was Only Moved Less Than Two Weeks Ago — Unseemly And Uncharacteristic Haste Prevents Neighborhood Councils From Filing Community Impact Statements — Which Is Certainly Intentional →