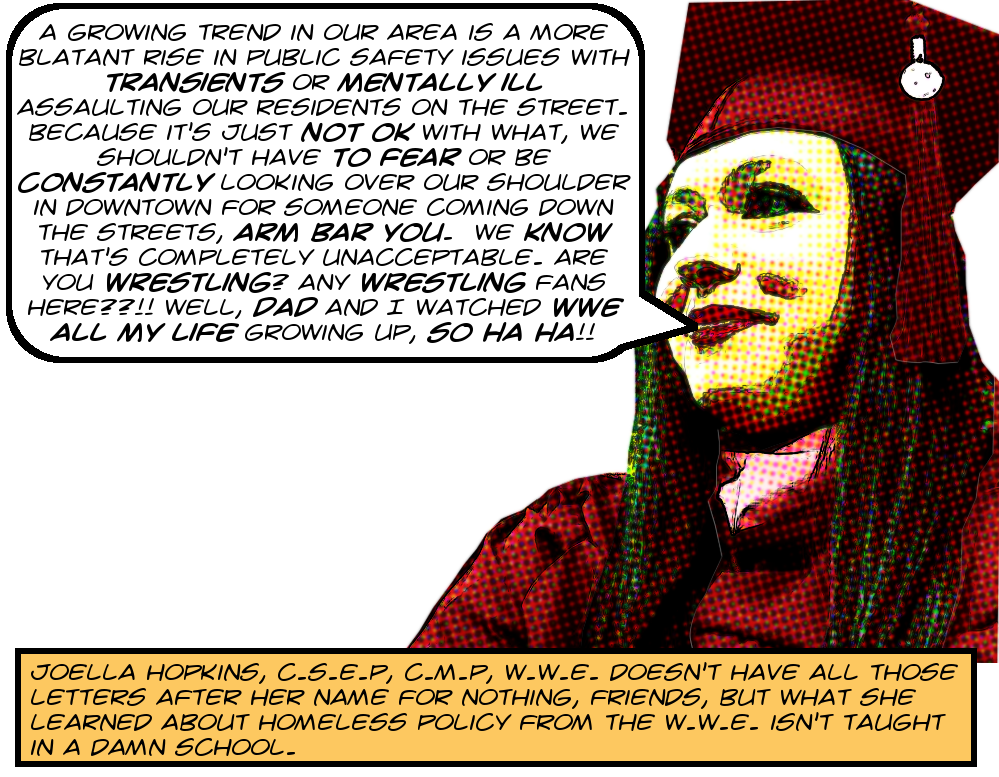 José Huizar was scheduled to speak at yesterday's South Park BID board of directors meeting, so off I went to record the goings-on for history's sake. The entire video is here on YouTube and Huizar starts here. His remarks were even more devoid of content than usual, although I'll have something to say about them soon.1
The CM was, however, late to the meeting, leaving his brand-new Downtown District Director, Carol Schatz's former event planner, the one and only Joella Hopkins, CSEP, CMP, MBA, to extemporize for a surprisingly long time, starting here. As always there's a transcription after the break.
The focus at first was on homelessness. In particular on the usual story about how essential it is for the City to build enough housing so that the LAPD can start arresting every homeless person in sight. She then moved on to what she characterized as "a rise, a more blatant rise in public safety issues with transients or mentally ill assaulting our residents on the street." And while Joella Hopkins's remarks are usually weird, her remarks here were even weirder than usual.
Of course, this "rise in public safety issues" is a favorite narrative of our City's zillionaire elite when it comes to repressing the homeless of Los Angeles. Usually they don't bother with evidence, but Joella Hopkins, to her credit, her shame, something, did at least try to support the claim, seemingly justifying it with this cryptic remark: "… if you guys are on social media …"
Continue reading How Carol Schatz's Former Event Planner Joella Hopkins Relies On Her Life-Long Experience Of Watching WWE Wrestling With Her Dad To Inform José Huizar's Homelessness Policies — Which Essentially Amount To Using HHH Money To Build Housing So The LAPD Can Start Arresting Every Homeless Person In Sight Again — Cause Cops Aren't Mental Health Workers, After All, They Are Arresters! →