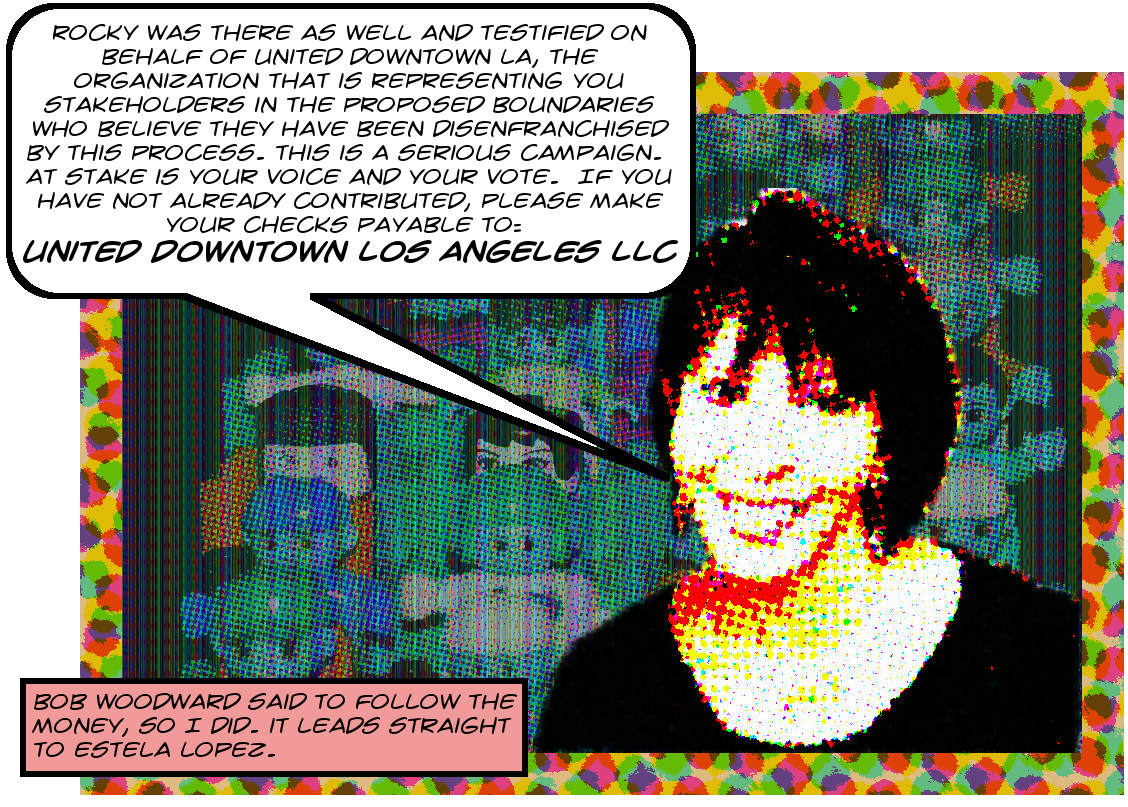 Background: You can read my previous stories on the Skid Row Neighborhood Council formation effort and also see Jason McGahan's article in the Weekly and Gale Holland's article in the Times for more mainstream perspectives.
The biggest as-yet-unsolved mystery associated with the coordinated zombie zillionaire campaign against the Skid Row Neighborhood Council formation process earlier this year is the identity of the shadowy Delaware-incorporated anonymous front group United Downtown Los Angeles LLC and the sneaky furtive creepy crawly zillionaire and zillionaire-ophile natural person or persons lurking behind the corporate facade.
You may recall that the first anyone heard publicly from this bunch of dimwits was on March 17, 2017, when Rockard Delgadillo, former City Attorney of Los Angeles and employee of lobbying firm Liner LLP, wrote his infamous letter to the Department of Neighborhood Empowerment demanding for various nonsensical reasons that they put a halt to the Skid Row Neighborhood Council formation process.
The next milestone was a meeting between Estela Lopez of the Central City East Association, Rena Leddy of the Fashion District BID, and Rockard Delgadillo. This took place at 11 a.m. on March 20 and was actually organized by Estela Lopez, who scheduled the meeting on March 18. Less than an hour after this meeting ended, Rena Leddy was emailing her property owners with the gospel of the birth of United Downtown Los Angeles.
Finally, in July I learned that United Downtown LA has the same phone number as the Central City East Association. This is all reasonably strong but not conclusive evidence in favor of the proposition that Estela Lopez was in control of United Downtown, if not its actual founder. And that brings our story to the present day.
Continue reading United Downtown Los Angeles LLC Seems To Have Been Controlled If Not Created By Estela Lopez →