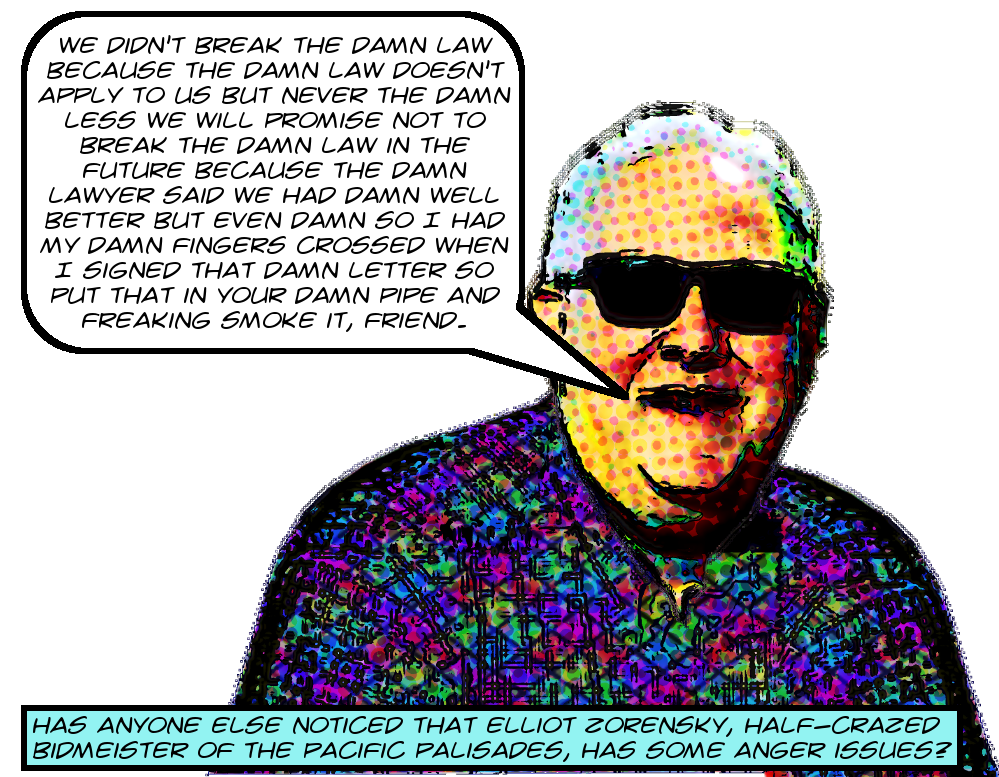 Of course you remember my ongoing Brown Act enforcement project, whereby I use threats of imminent lawsuits to try to get our City's various business improvement districts to just follow the damn law for once. And a few weeks ago I sent the Pacific Palisades BID a sternly-worded demand letter outlining an egregious violation of the Brown Act involving illegal meetings via email and insisting, per statute, that they unconditionally commit to never breaking that particular requirement of the law again.
Well, they got the letter, and then they had two closed sessions and an open session to figure out what to do about it. You can read the agendas here. No doubt they had to have so many discussions because Elliot Zorensky is the second ragiest rageball in all of BIDlandia1 and probably had to have his oversized head wrapped in pressure bandages to keep it from exploding during the discussions and a mummy-style noggin and an impending privilege-violation-induced aneurysm are not elements highly congenial to rational, reasoned, efficient discussion.
But whatever the circumstances, it seems that reason did in fact ultimately prevail, and, them not having any other reasonable option, they decided to send me the required letter. And thus it was that, after many a twixt-lip-slip involving USPS protocols for receiving certified mail, I did finally lay my hands on a copy of said letter. And it says all the stuff it's supposed to say. In other words, it's another great victory for the rule of law and a great defeat for those parochial weirdo zillionaires out in the Palisades.
There is nothing like a little cheerful gravedancing on a Friday afternoon, friends! I can recommend it highly! And not only that, but there's a transcription of their letter of capitulation after the break so you can read it too. And if you want to do a little gravedancing of your own I can highly recommend this little number right here as the soundtrack!


Business Improvement District
P.O. Box 1792, Pacific Palisades, California 90272
November 16, 2018
By Mail and email
The Pacific Palisades Business Improvement District, a California Public Benefit Corporation, (Palisades BID) has received your cease and desist letter dated October 20, 2018 alleging that the following described past action of the Palisades BID violates the Ralph M. Brown Act:
Email exchanges between certain members of the Palisades BID on May 23 and May 24, 2018 discussing whether the Palisades BID should send a rebuttal letter to the Palisades News with respect to an article that had just been published in the Palisades News constitutes a violation of the Brown Act at Section 54952.2(b)(1).
In order to avoid unnecessary litigation and without admitting any violation of the Ralph M. Brown Act, the Palisades BID hereby unconditionally commits that it will cease, desist from, and not repeat the challenged past conduct as described above.
The Palisades BID may rescind this commitment only by a majority vote of its membership taken in open session at a regular meeting and noticed on its posted agenda as "Rescission of Brown Act Commitment You will be provided with written notice, sent by any means or media you provide in response to this message, to whatever address or addresses you specify, of any intention to consider rescinding this commitment at least 30 days before any such regular meeting. In the event that this commitment is rescinded, you will have the right to commence legal action pursuant to subdivision (a) of Section 54960 of the Government Code. That notice will be delivered to you by the same means as this commitment, or may be mailed to an address that you have designated in writing.
Very truly yours.
Elliot Zorensky /s/
President. Pacific Palisades Business Improvement District (Palisades BID)


Image of Elliot Zorensky is ©2018 MichaelKohlhaas.Org and is, as usual, based on the usual picture of Elliot Zorensky cause he, like his brethren in other varieties of organized crime, are understandably reluctant to let their pictures be taken. See e.g. Chandler's The Little Sister for a Angelenocentric dramatization of this phenomenon.