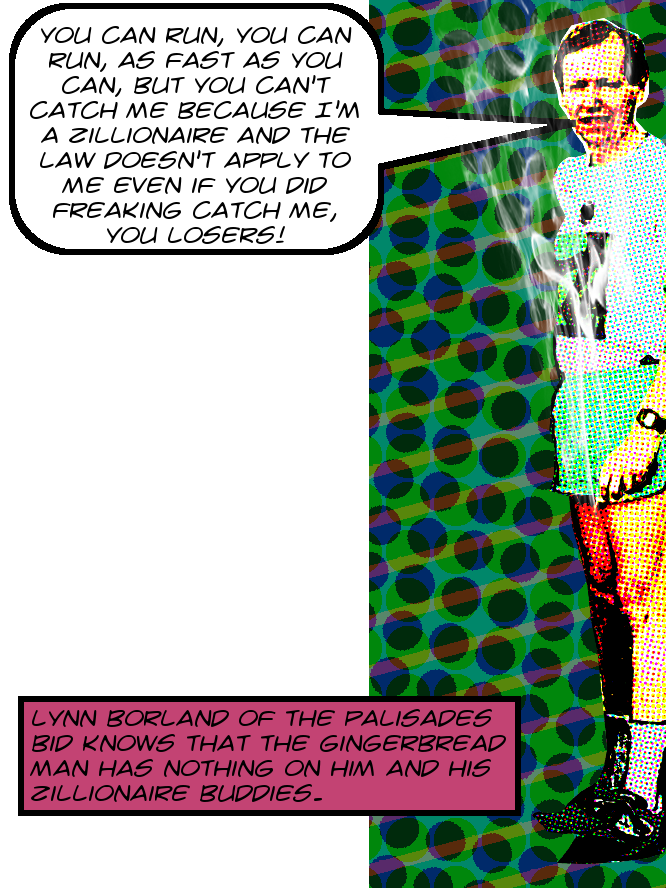 A couple weeks ago I published some evidence of mind-blowingly egregious Brown Act violations by the Pacific Palisades BID, which, what with Zeck Dreck (ret.) Laurie Sale's twisted lurching obstructionism and Board Member and Caruso minion Rick Lemmo's willingness to break the bank just to thwart my inquiries, has turned out, under the acrimonious influence of the world's angriest CPRA lawyer, which is to say Carol F. Humiston, to be one of this City's most difficult BIDs from which to obtain records in an orderly, prompt, lawful manner.
Nevertheless, persistence has paid off, and I did, eventually, this summer, obtain a big stack of goodies from these evil henchies up in Northwest zillionaireville and, as I said before, I'm gradually prepping this sizzlin' hot mess of a production for publication. The text for today's sermon is a series of emails from April 2016 showing yet another egregious1 Brown Act violation on the part of these littoral lunkheads. Here's what went down. Laurie Sale2 emailed her damn Board on April 20, 2016, and this is what she had to say for herself:

From: Palisades BID <laurie@palisadesbid.org>
Sent: Wednesday, April 20, 2016 11:26 AM
To: 'Asvina Narain'; 'Benjamin Gold'; 'DeeDee West'; Don Scott; Elliot Zorensky; 'Joyce Brunelle'; 'Laurie Sale'; Lee Ford; 'Lynn Borland'; Rick Lemmo; Shaun Malek; Susan
Carroll
Cc: 'Sharon Shapiro'
Subject: SPECIAL MEETING OF PALISADES BID BOARD
Attachments: Agenda Special Meeting April 28, 2016.docx
Dear Board Members,
Elliot and I spoke about setting up a SPECIAL BID meeting for next Wed., the 27th at 8:30. We'd like to have a resolution (ACTION ITEM) about formally supporting the Caruso Project. As you know, there is still some local opposition, but all of the other community organizations have given their support, and we'd like to know your thoughts on the matter. There is a planning committee meeting on Thurs. the 28 th We'd like the Caruso folks to know where we stand, and so, have decided to call this meeting, prior to the planning meeting.
The agenda is attached, and, as you will see, it's simply a one topic special meeting. We'd really appreciate your attendance if possible.
I know it is last minute, but if you CANNOT attend, would you please email me with your written support or opposition to having the BID officially support the project. You may also call in to the meeting, at 8:30, and become part of the discussion, if you wish. Here is the number for the conference call:
Dial-in Number: ■■■■■■■■■
Access Code: ■■■■■■■■■
Also, at 8:00 on Wed., the folks from Spectrum, who are doing the power washing, will be there, so we can take photos for the press, and well be able to witness the completion of our first BID project.
Please rsvp to me
Thanks,
Laurie

No doubt you've spotted some problems here, and there are others that become clear only on reading the responses. Turn the page for links to emails, transcriptions, and discussions of all the juicy illegal details!

First take a look at the agenda for this so-called special meeting. It says, in whole:

Pacific Palisades BID
SPECIAL BOARD MEETING
Location: UDO Real Estate 15233 La Cruz Drive Pacific Palisades,
WED. April 27, 2016 8:30 AM
PLEASE BRING YOUR COPY SO WE DO NOT INCUR ADDITIONAL PRINTING COSTS AGENDA:
Public Comment:
Welcome & Introductions:
Discussion: Action Item: Official BID support of the Caruso Project
Adjourn
The Pacific Palisades BID follows the California Ralph M. Brown Act – all meetings shall be open and public except when the Brown Act authorizes otherwise.

See in Laurie Sale's email where she announces teleconferencing and even gives a call-in number? As I'm sure you're aware by now, because we discussed it in detail with the East Hollywood BID and also with the South Park BID, the Brown Act at §54953(b) has strict requirements for teleconferencing in relation to covered meetings. In particular, there has to be a dedicated location where the public can teleconference too, and certainly this has to be announced on the agenda, which it was not in this case.
Tangentially, isn't it literally ironic how they announce that they comply with the Brown Act on the very same agenda whose deficiencies constitute a violation? It's like they think if they said it that makes it true. Of course, that's generally the case for zillionaires, so it's not usually a bad bet for them to make. And now back to the story!
First to respond, Board Member Don Scott emailed Laurie Sale to say yes! he would be attending. No comment from him on the fact that Laurie Sale's announcement solicited Board members to vote by email or phone, a violation of the Brown Act at §54952.2(b), which prohibits the Board from taking action outside of a meeting. Board member Joyce Brunelle emailed soon thereafter, and from her also no comment on the illegalities.
But the real kicker came a few hours later when Board member Lynn Borland emailed Laurie Sale saying that he could not attend the meeting and could she please register his vote as yes. Not only that, but he CCed his response to the rest of the Board, thus providing an actual as opposed to merely a threatened violation of §54952.2(b):

From: Lynn Borland
Sent: Wednesday, April 20, 2016
To: Palisades BID
Cc: Shaun Malek; Rick Lemmo; Benjamin Gold; Asvina Narain; Don Scott; Susan Carroll; Lee Ford; Sharon Shapiro; Elliot Zorensky; Joyce Brunelle; DeeDee West
Subject: Re: SPECIAL MEETING OF PALISADES BID BOARD
Laurie:
I will be in Washington state on that date and cannot attend the meeting. Please register my vote as yes, being in favor.
Lynn Borland

And on April 27, 2016 the meeting came off as planned. You can read the minutes here to see that not only did Lynn Borland teleconference in, but Board members Shaun Malek and Asvina Narain did so as well. Caruso minion Rick Lemmo had the what-passes-for-ethics-amongst-zillionaires to recuse himself from the vote, but nevertheless the proposition passed "whole heartedly and unanimously."3
And that's the story, such as it is. For an interesting but tangential perspective on things, take a look at the picture of Lynn Borland and his running buddies from which I sourced the opening cartoon. That picture is worth far, far more than a thousand words on the demographics of the Pacific Palisades and the nature of local political power out there in Northwest Zillionaireville, is it not?

Image of Lynn Borland is ©2018 MichaelKohlhaas.Org and was ripped, clipped, and flipped from this gang trophy right here.

Who almost alone amongst BIDdies (Blair Besten is in this elite category as well) manages to transcend every insult of which I can conceive in the shocking sense that none of them are really insulting enough.
The similarity of zillionaire political reporting to Stalinist political reporting is an as-yet-unexplored quirk. Probably it shows that power is power and overdetermines culture norms regardless of whether it's wielded by self-proclaimed communists or their opposites in the BIDs (and elsewhere, to be sure).